By Brad Lee
As we mentioned in the reminder, the draft lottery is on about every hockey-related cable channel known to man as well as on NHL.com. The only way to make it more available is to beam it straight to your brain.
This is a work in progress. Please be patient with us.
The Blues have 10.7 percent of winning the lottery. Tampa has the best odds but just a 25 percent chance. Carolina has the worst odds as the 14th best team. Thye have just .5 percent chance of winning.
Al MacInnis is representing the Blues. He's sitting on a TV set in Toronto. Also at the desk is Luc Robitaille. That dude has not aged in 20 years.
Here's the top prize, Steven Stamkos: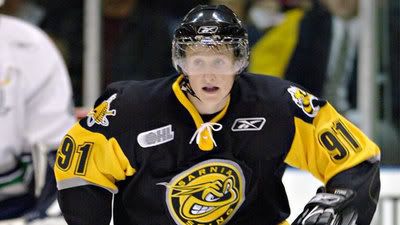 Here are a few accolades thrown toward Stamkos.
From ESPN.com:

"Most top junior forwards have to learn how to find their end of the rink," one Eastern Conference scout said. "They're ranked at the top on the strength of the offensive game, but Stamkos is the rare kid who also knows what to do defensively and is willing to do it. People are going to go home thinking about those goals, but what stuck with me was the way, in a close game, he skated back to break up a 2-on-1. He passed everybody on the ice, like he saved an extra gear for his defensive responsibilities."
From the
Ottawa Sun
:
"He's the only player in the league who can move faster with the puck than without it," Stamkos' roommate Mark Katic said. "He's got another gear. He's a great defensive player, too. He can pretty much do it all."
And here we go.
Picking fifth: Islanders. That means Blues still alive for the top.
Picking fourth: ....the Blues. Fuck.
Well that was anti-climatic.
Picking third: Atlanta
No one has moved up. It's either L.A. or Tampa.
Picking first in the draft: Tampa Lightning.
Well that means the Lightnings will have another No. 1 overall pick after winning the lottery some season back and getting Vincent Lecavalier.
You think Al MacInnis feels a little weird going all that way to be on camera like two minutes and then seeing his team still draft fourth?

GT Prospect Department Says:
April 7th, 2008 at 6:18 pm e
I still say that, if the Blues don't get the first overall pick, they should think about going for Boedker with their first pick, and going after two of the highly-rated "second-tier" d-men with their two second-round picks.
Boedker's stock has risen phenmenally in the last few weeks.
During the second intermission Saturday afternoon, I was talking with some readers and I said, "You watch, the Blues will take a defenseman with a top-five pick and the Blues' fan base will implode with angst." I'd love to see an impact forward get taken with their first pick. But they shouldn't pass up the best guy possible.
And I think it's funny Mike Milbury is providing insightful commentary for the lottery. His teams earned enough lottery chances over the years with as shitty as they were.

Jessica Says:
April 7th, 2008 at 6:25 pm e
by the way, is there some kind of 12 step program that we should be looking into? live-blogging draft lottery?
You're only reading and providing some snarky comments. I'm the one writing the thing and looking for info and clips. Gallagher's comment to me this afternoon was if we can live blog a draft lottery, we can live blog ANYTHING.
Just to review, the draft will follow the final standings exactly.
1. Tampa
2. L.A.
3. ATL
4. STL
5. NYI
Those were the only teams able to move up to No. 1.
Well shoot. The Blues didn't get bailed out by the lottery Gods. And since the Blues never were really in contention for the best chance at the lottery, hopefully this puts to rest the idea that fans should have been rooting for the Blues to tank games down the stretch. While we didn't exactly get upset at the mounting losses in February and March, we didn't revel in them either.
We had 27 comments in less than 30 minutes of draft lottery broadcast. We thank you for your time. Remember to keep coming back as we chug into the playoffs with our two teams we're rooting for. Think of them as temporary tattoos.
See you later, figureskaters. And remember, Otto Von Bismarck once said, "The secret of politics? Make a good treaty with Russia."