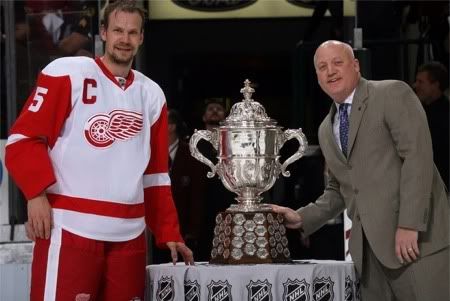 By Brad Lee
Dear reader, let me breakdown what has happened to me personally during the 2008 playoffs in a hypothetical manner.
Say you're a hockey diehard who gets mixed in with the wrong crowd and somehow gets inspired to write for an underground hockey newspaper sold outside your favorite team's home games. And say the shady guy who is in charge of it starts a blog and somehow you find the time to make some witty funny potty-mouthed insights. And the blog somehow gains a small, but hungover rabid following. And hypothetically, you write one headline about a Detroit Red Wings player being a coward and the Wingnuts come out the woodwork. So you hypothetically fight back. You make some pronouncements. You declare that the Wings are too soft and too Euro and not defensive enough to win the Stanley Cup. Oops.
***
Next to my desk is the free Blues calendar they gave away on opening night. The player featured for the month of May is Fragile Jay McKee. Granted, it's better than the months when Doug Weight and Bryce Salvador were on the calendar and both had been traded, but Fragile Jay has this glassy-eyed stare about him. He's probably looking for the puck or trying to find a teammate down-ice to miss with an errant breakout pass. But you could also sense on his face this quite desperation, a feeling of gloom or despair. I am mirroring this expression today as the Red Wings have advanced to the Cup Finals. Only the messiah of the NHL, his Russian friend and a three-named goalie stand in Detroit's way. I have never rooted for a Pittsburgh team more than I am right now.
Detroit cannot win this thing. They just can't. Our server for this blog might suddenly burst into flames. It would be one of the darkest days in Game Time history, alongside the Great Copier Meltdown of '07 and that one time we predicted the Blues would probably make the playoffs. It would be Yzerman from the neutral zone over Jon Casey's shoulder all over again.
As Blues fans, we know that the Red Wings have been on a terrific run for more than a decade now. They epitomize what it means to be a great team. And any great team will have its fair share of hatred from rival teams.* It's just a fact of life. Why do you think the Patriots have been raked over the coals for months about this spygate thing?
*As much as Wings fans will not admit, the Blues and Wings do have a rivalry. I don't care if the Detroit fans think it's one-sided. Why do you think so many Wings fans show up in St. Louis for games? Why do the Blues play harder against them than almost any team? Why do you think we'll get some gloating around here if they win?
We're almost at Defcon 1 around here, just waiting for the bomb to drop and a parade to be launched in Detroit. Won't help our bar bills this month. Please hold us in your thoughts during this trying time. And for good measure, here's a photo you can provide some captions for along with your "fuck Detroits" in the comments. What do you suppose Chris Osgood and Marty Turco would say to each other after the Wings elminated the Stars?