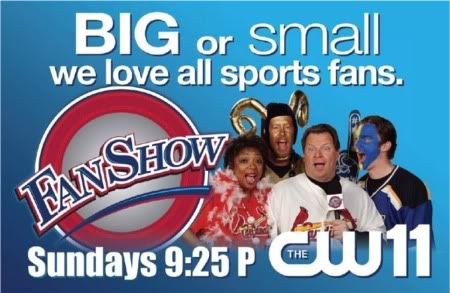 By Brad Lee
If you're in the St. Louis area (sorry Marcus in Sweden), you've probably seen the best only low budget Sunday night sports show that broadcasts live from a bar. They even show drunk people in the bar behind the hosts and during crowd shots. It's totally our type of event. Did we mention it's in a bar?
Since some of us around here are old, married guys, most Sunday nights at 9:25 the last place we'll be is a bar. But this weekend is different -- it's Memorial Day weekend, so we'll be there! Here's the best part. Angella who hosts different fan activities during Blues games at the Drink Scotch Center is featured on the show. I actually talked to her electronically last week and she knows what Game Time is and read some of our friendly jokes about her this season. And she actually figures in to a great story from this season.
During the game, one lucky bastard gets picked to do the lucky puck shuffle. On the jumbotron, they have a cartoon of three hockey skates and they put a cartoon puck inside one. And then they shuffle skates. The person wins if they can pick out in which skate the puck ends up. Well we figured out early in the season that if you took the starting skate and subtracted one, that's where the puck would end up. It NEVER failed...until one of our readers blabbed to Angella after he didn't watch the skates and still got it right. The day after Thanksgiving, they changed it. Because she asked them to fix it. While that would tend to make us mad that she ruined the joke for us and our dozens and dozens of readers, it got her started reading the paper. And if her messages to me are true, she's not even that upset that we spelled her name Angelllla or that we suggested they trade her at the deadline. We've offered to buy her a beer. Maybe she'll tell us why the big blue mascot doesn't wear pants. We can't wait.
So Sunday night, make it down to the Stratford Bar and Grill in Fenton. The show starts at 9:30. We have no idea if it fills up before that or not. We might get there a little early and hopefully catch a seat close to this guy.
That's right, Mickey Carroll, one of the last living munchkins from the Wizard of Oz was a regular at the Fan Show when it was downtown. We can only hope he knows how to get to Fenton.
See you there?