By the Game Time Staff
Our Friday links of NHL and non-NHL time wasters continues. Enjoy!
Don't get us wrong, we love the guys at Puck Daddy, but we still feel like we might have to report them to the authorities after they posted this picture from their visit to the NHL Store in New York City.
Speaking of the NHL and their all-encompassing desire to separate hardcore fans from their hard earned cash, to celebrate the Flyers' elmination from the playoffs and hitting the golf links for the summer, the shop at NHL.com offered a sleeve of golf balls with the purchase of a hat.
Locally, to celebrate his son's decision to quit playing the drums, this guy is offering his used, unmatched drumsticks for just $7. Of course, you have to drive to Hercufuckinglaneum and get yourself covered in toxic smelter dust to get said, used, crappy $8 drumsticks of two different sizes.
We're sure that our own Answer Man will be excited about this news: the mullet of cars is making a comeback. Call it what you will, Pontiac, but that thing is an El Camino.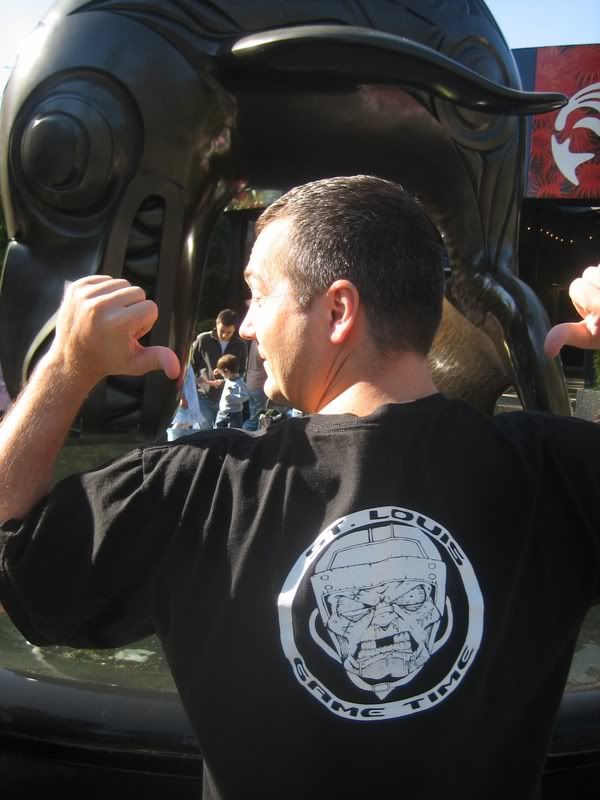 Yes, our Game Time Gear has gone international. This smart-looking fella managed to bust his logo in Vancouver in front of some wacky giant fish sculpture. He also sent us a photo of a minature Statue of Liberty that he saw in BC. Weird you say? Well, even weirder, the green lady was also wearing a Canucks jersey. We have no idea what the message there could possibly be.
We're not trying to drive up the bidding, but you find some cool shizz when you search for "Plager" on the Ebays.
Of course, with the good comes the bad on Ebay.
And finally, some inspired genius from something called Knob Hockey.
Feel free to post your own productivity-killer links in the comments.