By Brad Lee
So that "Let's root for the Montreal Canadiens and the team playing Detroit" strategy we deployed at the beginning of the playoffs is working swimmingly! Detroit has played two games over the minimum in getting to the conference finals and Montreal was lucky not to lose in the first round against a team it had beaten eight times in the regular season before bowing out to the Flyers. Hey, didn't Philadelphia really suck not that long ago?
We've had three series end in the last two days. For your "pleasure," three photos of dejected and suddenly sad playoff hockey teams. Your captions in the comments, please.
Tomas Plekanec of Montreal:

Martin Straka of the New York Rangers:

Joe Thornton and Evgeni Nabokov of San Jose (who lost in the fourth overtime at about 1:30 a.m. Monday):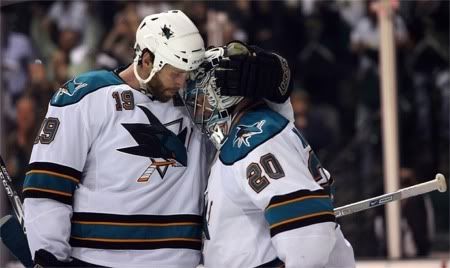 If anyone wants us to jinx any of the four remaining teams, our allegiance (estimated value: -$1 million) is up for grabs.