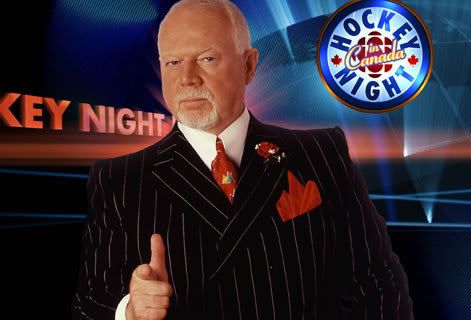 By Brad Lee
Sure the World Wide Leader in sports has John Buccigross and the mulleted Barry Melrose to talk pucks, but they've decided to kick it up a notch. They're going to put Don Cherry on SportsCenter here in the U.S. Anyone who is prone to seizures caused by garrish suits or negative commentary about European hockey players may want to change the channel.
AOL Fanhouse gives us some details (via the Globe and Mail):

"I guess they like my jackets," the Hockey Night in Canada personality said yesterday.
Cherry and Hockey Night host Ron MacLean will leave the CBC's Toronto studio for the road to cover the Philadelphia Flyers-Pittsburgh Penguins series, which will start on Friday.
Cherry will do live hits by remote for ESPN's SportsCentre at the end of each Flyers-Penguins game.
Of course Cherry will be following the Eastern Conference. Shocking development there.
Cherry was on NBC playoff broadcasts last season and was mostly unmemorable. But ESPN, home of Gasbags on Parade according to Al Michaels, gives its personalities a much longer leash to be opinionated and even controversial. And while you may disagree with Cherry's brand of rock 'em, sock 'em hockey (that's fine), this is still a good thing. By getting the most recognizable, spirited, opinionated media guy from Canada exposure with the NHL on ESPN, the league will gain some inroads for returning to the most popular sports cable channel in the world and maybe even grow the sport among some non-hockey fans who happen to be watching. We just hope he's not wearing this: