By Brad Lee
Ah, the NHL draft: the first opportunity for the crappy teams in the NHL to make news since they gave up all hope for making the playoffs in February or March. Of course it's also another step in teams building their foundations for success somewhere down the line when these guys getting drafted Friday night and Saturday finish puberty. And it's also an excuse to fire up the live blog machine and get the gang back together to talk a few pucks during the summer.
We'll be talking a lot come Friday night with a live blog of the first round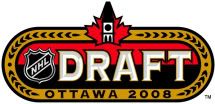 here at St. Louis Game Time. Of course we haven't seen most of these guys getting drafted play one minute of hockey. That won't stop us from giving some opinions, breaking down some of the "logic" behind the picks and making plenty of jokes. I can't wait to make the first "Pat, I'd like to buy a vowel" reference when a difficult to pronounce Euro is picked by the Senators or Rangers. So remember to tune in to the blog 6 p.m. St. Louis time Friday night for all the anctics.
Of course the Blues are hosting a draft party at Drinkscotch Center Friday night during the first round. Proceeds go to charity, so it's not a bad idea if you're interested. And if you do go, think about sending us reports or photos. You can e-mail us at gtbradlee@gmail.com or if you're planning on going, e-mail beforehand and maybe we can set something up where you can call us with some humorous stories from the party. Think of yourself as an embedded reporter out in the field sending dispatches back to the folks on the homefront gathered around their laptops just waiting for any snippets of information you can provide. The GT Prospect Department will be on the hotline giving us his expert opinion from the proceedings. He's even angling for an interview with a team official. Or the big blue mascot, whichever is available.
And don't forget to stop by the rest of the week. We'll have a preview of the draft and some of the players we think fit the mold for the Blues. We may even try to intercept more text messages from Teeej and Eeeej. Fun times.