From the Fantasy Files
From the team's official website:
"St. Louis Blues President John Davidson announced today the club has acquired a 2008 3rd round draft pick, 70th overall, from the Toronto Maple Leafs in exchange for forward Jamal Mayers."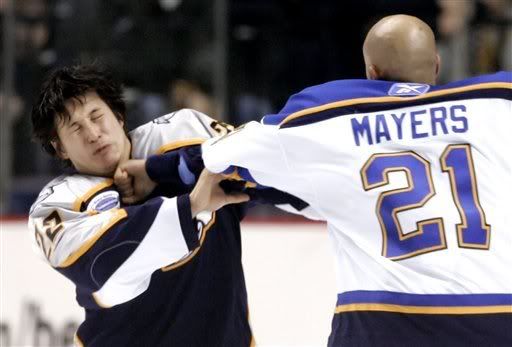 His very presence was a controversial statment about the direction of the franchise, but it's tough for me to argue against a guy who constantly busted his ass for the team and would skate through a brick wall if Coach Murray asked him to. He's never the most talented player on the ice, but the former longest tenured player of the franchise, drafted in 1993's fourth round, gave everything that he had for the Blues and for St. Louis, and for that we thank him.
In Toronto he'll have a chance to play for in front of his hometown, and we wish him the best of luck.
The 33 year-old winger was slated to earn $1.4 million in each of the next two seasons, which leaves the Blues with nearly $16 million in salary cap room for the upcoming campaign. This deal is the opening salvo in what could potentially be a flurry of draft-weekend activity from the Blues front office.
***UPDATE***
The Mayers deal has parlayed into the Blues flipping New York's 4th-round selection (111th overall), acquired at last season's deadline in exchange for Christian Backman, to Nashville in exchange for 32 year-old goaltender Chris Mason.
***SECOND UPDATE***
After consulting a trusty paper copy of St. Louis Game Time, Jamal Mayers' title of "Longest-Tenured Blue" now passes to...Matt Walker for two weeks until the team fails to re-sign him. Then the guy with the organization the longest will be defenseman Barret Jackman, drafted in the first round in 1999. The second longest is somehow Jay McClement who was drafted in 2001.