By Brad Lee
Welcome to the live blog for the 2008 NHL Draft live from my living room.
As we mentioned in the reminder earlier this week, we are skipping the Blues' draft party to live blog this thing. And if the Blues don't trade down from No. 4 overall, we have no idea what we're going to do with this thing after that. But we'll muddle through.
The draft doesn't start for awhile. In the comments before we get rolling, tell us who you think the Blues should take at No. 4 in the event that they don't trade down.
Howdy folks. Broadcast has started. Apparently there has been a three way trade with some picks and an order calamari. Also, Alex Tanguay is on the move agian. We're just firing up the live blog machine (it's diesel) so we'll get to that shortly.
By the way, Filatov looks like a girl.
Great start to the broadcast, TSN. Some girl tried talking with Stamkos. Her microphone was not quite working. I think she asked if he had a girlfriend and what his signing bonus will be. Allegedly.
Bettman walks out, gets booed. Shorty says, "Hello Ottawa, love your passion." More boos. Sweet.
By the way, people were selling draft passes online for upwards of $100. Of course you could get them for free from the Senators.
And now we have the Lightnings called up to the stage.
JOKINEN TO PHOENIX. NOT ST. LOUIS.
Pick 1. (By the way, the little speech each team gives is uberstupid. Like Tampa really wants to congratulate the Wings.) Stamkos. Duh.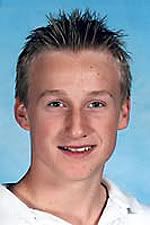 Hey, the Lightnings had a sweater with his name on it. Are you saying they knew who they were picking for awhile? Weird.
By the way, when reached for comment, Alexander Daigle thinks Stamkos is overrated. And I think it's a little weird they're playing the interview live over the PA at the draft. I hope he totally says, "I can't wait to beat up on the Maple Leafs."
Los Angeles now on the clock. TSN says Drew Doughty, the first of the big defensemen, is the pick here. But they might like the girl, Filatov.
Pick 2. Drew Doughty. TSN says he's comparable to some guy named Bourque. I hope the Kings give him No. 77 to take the pressure off.
He used to be a fatso. His actual nickname is Doughnuts. Hope his agent already has Tim Horton's on the phone for a commercial or two. He also owned an L.A. Kings trash can.
The guy with the Kings at the desk when asked about Doughty and Bogosian said they were really close. I think Doughty kicked him under the desk.
The trade is official. Oli Jokinen to Phoenix for Keith Ballard, Nick Boynton and the 49th pick. Booing ensues in Ottawa. The Game Time Prospect Department texted me: "FLA got hosed. That's all they got for Jokinen?" Yep.
Atlanta on the clock. They just hired John Anderson as their new coach. Will they still let him do SportsCenter on ESPN with Buccigross?
Pick 3: Zack Bogosian, the second defenseman. TSN says he's like Rob Blake. Bob McKenzie on TSN is trying to sell the Bogosian family RV. Nice.
ST. LOUIS NOW ON THE CLOCK.
GTPD says defenseman Luke Schenn is his educated guess.
Trade: Montreal trades pick 25 and a second rounder next year to Calgary for Alex Tanguay and Calgary's fifth rounder this year. Montreal needed another passer? Really?
Report from the Blues draft party: the Blues broadcasters on stage are talking up Schenn right now.
TSN talking up Alex Pieterangelo. He's the one with a lacerated spleen and mono.
Grandfatherly-looking John Davidson at the mike.
Pick 4: Thanks the Ottawa region. Hello to the Drinkscotch crowd. Thoughts about the Midwest flooding. Jarmo now has the floor. ALEX PIETRANGELO! TSN says he's close to a Zubov type guy.
Bob McKenzie says he likes all the talent coming up in St. Louis.
Pietrangelo: (Asked how many points he can score, 50, 60, 70?) I have to score my first.
He bought a bumper sticker from the Seen Stamkos movement. JD says he was looking for a puck-moving d-man. JD saw him during the winter. Good transition guy, key part of the future. Had a lot of discussions with a trade. "Care to say what you were offered?" "Ha. No."
Here's what TSN says about the newest Blues prospect:

From TSN: A big, mobile puck mover who makes doing things with the puck appear easy. Scouts believe his upside is huge because he's only just started to tap into his physical presence and as he matures they believe he could be a dominant force at both ends of the ice, although some scouts say he's only paid cursory attention thus far to the game without puck. His off-season conditioning has been significantly set back because of the spleen injury that ended his season prematurely, but in the long run there will be no ill effects.
From NHL Central Scouting: Alex is very poised out there on the ice. A tall player, who is still growing in to his body, Alex brings a keen ability to know when to pass the puck out of the zone, when to carry the puck out of the zone and he's unflustered in the face of a hard forecheck. He probably needs to get a little more assertive.
We'll look for more breakdown.
By the way, I am approving commenters at the same time. It may take a few minutes to get them in. Seen a few regulars who for some reason had to go through approval again.
Cliff Fletcher gets booed on the big screen in Ottawa. Awesome.
And commenter Tim from the draft party texts: Kerber's first comment - he'll have to learn how to pronounce the kid's name soon.
Toronto is trading up. Is that a smart move by a team that really, really needs players? They're now trading more picks (remember they sent a pick for Mayers last night).
The trade is Islanders first rounder (No. 5) to Toronto for No. 7 and at the Islanders' option: No. 60 and 09 third or Toronto's No. 68 and their 09 second. Huh?
This is Hockey News' take on Pietrangelo:

There once was a defender named Pronger, who plays for the Blues no longer, they want a clone, so Pietrangelo is shown and the defense corps becomes immensely stronger.
Love the booing of Toronto. If I was a Leafs fan, I would have contemplated suicide about 20 times the last few years.
Pick 5: No speech. Just the pick, defenseman Luke Schenn. I think they didn't want to get booed anymore.
Draft party report from commenter Tim: "Offensive upside was the reason JD and LP chose Pietrangelo over Schenn.
Way to run the draft, fellas. TSN says there is a trade. Then they show Bettman basically announce it's Blue Jackets on the clock.
And the TSN guy says the Ottawa fans would boo Santa if he had Leafs gear on. Can't tell if they're playing the interview over the PA at the stadium. I kind of doubt it.
Cliff Fletcher looks like he's 109 years old.
Ok, there is a trade. Morons. Columbus trades pick No. 19 and a third round to Philly for R.J. Umberger and a fourth rounder.
Draft Pary update from Timmy: Kelly Chase is talking up goaltender in the second round. Of course they have more than one second round pick. And they were talking Schenn up (who Andy Strickland said he thought the Blues would pick, which is nice.) before the Blues picked at No. 4.
Filatov wears panties. He/she has to.
Pick 6: Forward Nikita Filatov to Columbus. Is Nikita a boy's name? McKenzie says he's trilingual. I think he's bicurious.
From our Internet friend Greg Wyshynski and his Puck Daddy blog:
That's actress Amanda Bynes on the right pretending to be a boy to play sports. Eery, really.
And Nashville trades up to pick next. They gave up No. 9 and 40 to the Islanders.
Pick 7: Colin Wilson goes to Nashville. He's a centre, according to TSN.

Milo Says:
June 20th, 2008 at 6:22 pm e
I am reading on a few blogs that the Isles wanted Filatov and traded down because they didn't get him.
Milo, I thought we had something. And now you admit to reading other blogs behind my back. I'm going to start editing your comments to include lots of references to bestiality and liking the Red Wings.
Pick 8: Gretzky gets a standing ovation. Apparently Ottawa doesn't hate everybody after all. The pick is Mikkel Boedeker. He was wearing No. 88 in the highlights. Gallagher disapproves. "He's got a Sidney Crosby-like stance when fighting for the puck," McKenzie said. Whatever the hell that means.
The Islanders may finally make a pick after trading down twice. Weird. Afterall, it is Wang's world. I love that joke.
Pick 9: Garth Snow should have thanked Mr. Wang for giving him a job. The pick is Josh Bailey. He's a center.
And suddenly the comments dry up. Sweet. I just asked one of our "correspondents" at Drinkscotch for a new report. I'll also post photos of Pietrangelo as soon as they're available.
Pick 10: Vancouver picks Cody Hodgson. He's a center. McKenzie is a big fan.
Let's mix things up. Quick you make the caption in the comments. This should be a slam dunk: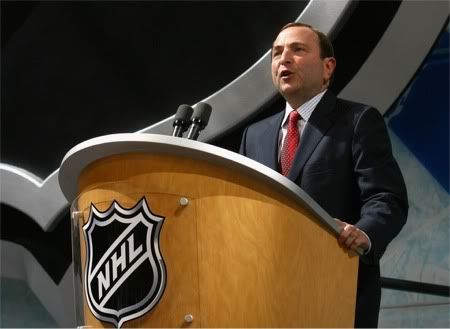 Ok, go.
Pick 11: Kyle Beach. Compared to Claude Lemieux. Acts like Sean Avery. That means he's a dick. Fitting he's going to Chicago.

You forget, I don't work in the prospect department. I'm proud I had heard of the guy the Blues drafted.
And Timmy at the draft party says he thinks there is about 500-700 folks at the Drinkscotch but Blues officials said more than 1,000 people went through the turnstile.
Pick 12: Buffalo trades up one slot with L.A. Tyler Myers, a 6'7" defenseman. McKenzie called him a project. Man, he's skinny.
They think the next pick could come from the Regina Pats. And that's Regina, sounds like Vagina.
Pick 13: Kings take Colten Teubert, a 6'3" defenseman. He's physical. First two highlights were a check and a fight. Kings take two defensemen in the top 15. They'll still suck for awhile.
McKenzie is now 13 for 13 with his mock draft.
Pick 14: McKenzie was right again. Zach Boychuk. Apparently he's fast. He better be, he's under 5'10".
Nashville trades No. 15 to Ottawa for No. 18 and a third rounder next year.
Commenter Milo says the Rumor Monger thinks Weight could go back to the Blues.



Milo Says:
June 20th, 2008 at 7:11 pm eBrad: Over on hockeybuzz.com Eklund had him at 80% STL, then downgraded him to 60%.After reading more of Eklund's stuff, I think he just pulls names out of a hat (or stuff out of his ass).


Fiction
. There is no way in hell the Blues will sign a guy they asked twice to waive his no-trade and had to threaten no playing time to accept a trade. Yeah, I bet he can't wait to come back to St. Louis.
Pick 16: Erick Karlsson from Sweden gets picked by Ottawa's captain. I hope they kiss each other on the cheek.
Pick 17: Boston takes Joe Colborne. He's a center. That's all I know.
Pick 18: Anaheim takes Jake Dardiner. He plays defense.
Suddenly, the guy who kind of looks like Chris Mason says:

Thanks, buddy.
Pick 18
: Nashville takes the first goalie, Chet Pickard.
And for all the diehards still sticking with it, here's a possible view of the future:

Pick 19:
Philadelphia takes a defenseman named Luca Sbisa. He's from Sweden but played in Canada last year. He does not like the song about Luca living on the second floor. Just a guess.
Pick 20: Michael Del Zotto, a greasy looking douchebag defenseman. He looks like his hair is dripping with gel. Perfect that he's going to the Rangers.
Devils trade pick 21 for Alex Ovechkin. I mean for picks 23 and 54. Sorry, lost my head for a second.
Pick 21: Washington takes Anton Gustafsson. He's from Sweden. His dad is a former two-way player in Washington.

LosBri Says:
June 20th, 2008 at 7:52 pm e
Yawn…
Yeah, this thing may go on autopilot soon. I'm half expecting Vs. to switch over to bullriding any second.
Remember a few years ago when the Blues had the last pick in the first round and ESPN 2 was so dedicated to the league, they cut off coverage of the draft about one pick before the Blues? That was the Shawn Belle pick. So maybe it's best we didn't see that one.

Fronick (yeah, it sounds like Roenick) Says:
June 20th, 2008 at 7:12 pm e
What, no talk of the "master of the Mullet" Barry Melrose returning to coach Tampa?
Yeah, that is an odd choice. I hope he hires Brian Engblom as a coach.
Pick 22: Edmonton takes...their sweet ass time making the pick. Glenn Anderson (questionable Hall of Famer) is talking about some dude who died this year. "Let me tell you a quick story..." Gee. Thanks (no disrespect to the dead guy). The pick is Jordan Eberle.
New Jersey trades Pick 23 to Minnesota for Pick 24 and the Wild's third rounder next year.
Pick 23: Oh my God this will never end. And TSN just said they would be right back to the nation's capital. That sounds weird. Minnesota doesn't know who is going to make the pick. And screw Detroit for congratulating them on winning the Cup. Defenseman Tyler Cuma is the pick. Nice boobs on the girl he just hugged behind him. His brother has a fauxhawk. THat's wrong.
All right kids. We're leaving on vacation this weekend. The comments will be open if you'd like. Thanks for hanging out for awhile. This was fun before it got extremely boring.