By Brian Weidler, "Game Time" Prospect Department
Still working on bringing together all of the scouting reports on each player from the various sites (McKeens, THN, ISS, Central Scouting, etc.)
(The following was originally posted 06-23-08)
This Draft Review is taking longer than I thought, folks... I'm trying to be as thorough and in-depth as possible, but I've run out of time for today, as I have to go to work (at my real job, since this gig doesn't pay...).
I spent all day yesterday putting together the players' season breakdowns, in many cases by having to go back through their schedule game-by-game and totaling goals, assists, plus-minus, PIM, etc.
Here's a taste of what I'm working on, though. I have a chart like this for each of the Blues' ten draftees, and I'm working on compiling scouting reports and putting together comparisons of where each of the major scouting services had these guys ranked.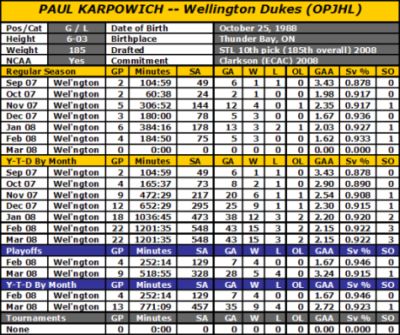 As our buddy Randy Brickland always says, "more to come." As soon as possible, I promise.
Until then, remember... "if we do not prepare for ourselves the role of the hammer, there will be nothing left but that of the anvil." Auf wiedersehen.