By Brian Weidler, "Game Time" Prospect Department
Last weekend, the Blues added ten new prospects to the organization, drafting a potential franchise defenseman (Alex Pietrangelo), a possible franchise goaltender (Jake Allen), two defenseman with limited size but plenty of skill and competitiveness (David Warsofsky and Kristoffer Berglund), a second-line scoring forward with something to prove (Philip McRae), three top-nine secondary scorers and checkers (Jori Lehtera, James Livingston and Anthony Nigro), a grinder and tough guy (Ian Schultz), and a relatively-unknown goaltender with upside (Paul Karpowich).
In this series, we at "Game Time" will present the most complete statistical and analytical package available on each of the Blues' new prospects, beginning with the three selections in the Top 34 of the draft.
========================================
========================================
McKeen's 2008 Draft Guide
At the start of the year Pietrangelo dazzled everyone with his all-around dominance at both ends of the rink, but midway through the season he began making more mistakes, his confidence waned, and his intensity sagged.
Suddenly he wasn't looking like the top defensive prospect in the draft like he had at season's start, and scouts were starting to bring up negatives.
"He's big and can play both ends of the rink," noted one scout. "His skating's not great, his stride is a little short, but he gets there. He skates fine for a big man. He's more complete than Doughty."
It's that complete package and long-term upside that have some teams ranking Pietrangelo as the top defensive prospect in this draft.
"He's one of the best defensive prospects to come out of the draft since (Chris) Pronger," said one scout, "and he even reminds some of Pronger other than the lack of a mean streak."
"Not many defensemen can offer the total package, and if Pietrangelo puts it all together, he'll be a franchise defenseman for 15 years."
Pietrangelo picked up his game again at the end of the season and in the playoffs before being sidelined with mononucleosis and a ruptured spleen, which kept him from working out at the combine."
http://mckeenshockey.rivals.com/viewprospect.asp?pr_key=50856&sport=4#commentary
01/26/2008 - Leading his team in scoring on the backend and just outside the top ten in league scoring among defenseman despite missing six games with a lower body injury .. he lacks true explosiveness in his stride but since he is such a big player, he gives off this perception that he is not moving very fast when even though he is .. his overall athleticism is impressive, as he is so coordinated for a player his size .. he can stop and go and curl away from pressure .. he marries his skating with his puck rushing skills and is a threat every time he leaves the zone .. defensively he can lose focus .. he does not appear to have a good handle at times when opponents run picks .. was tested against a strong Sault Ste. Marie team and struggled considerably .. he made countless poor decisions and ended up a minus-two for the night .. was easily pushed aside by some of their bigger, stronger players and coughed up the puck on numerous occasions .. his hockey sense came into some serious contention after this game .. will have to continue to monitor, as this type of performance against better competition is usually what sets top prospects apart.
International Scouting Services, FUTURE NHL STARS, Vol. 6, Issue 5, Mar. 1, 2008
CHL Top Prospects Game
Effective moving the puck out of the D zone quickly. Appeared calm with the puck when under pressure – showed good puck skills. Did a nice job of driving puck wide then moving it to open man. Made a great play sliding back to break up 2 vs 1 preventing pass and what likely have been a very good scoring chance against.
Road Report
-- Very good frame
-- Good skater – good mobility
-- Moves puck well
-- Physically strong
A huge player with a physically imposing frame. Logs lots of minutes in all situations for the Icedogs. Moves the puck up the ice with quick first pass or if open ice is available he as the skills to carry it up ice. A good skater, he shows an ability to use quick bursts of speed to beat defenders. At times when entering the offensive zone he may hold onto the puck to long and run out of options to make a play. When opportunity for shot on goal presents itself, he takes advantage of good shot to get the puck at the net.
The Hockey News St. Louis Blues' 2008 Draft Review
http://www.forecaster.ca/hockeynews/hockey/_s1on59a5a7mi/draft-team.cgi?StL&DraftID=19#6590
Scouting Report: The 6-3, puck-moving blueliner was playing his best hockey of the season during the OHL playoffs when he was sidelined by a case of mononucleosis. He finished the postseason with five goals and nine points in just six games... has consistency issues but also a world of all-around potential from the back end... when on his game, he quarterbacks the power play and also intimidates the opposition with big hits... is related to former NHL goalkeeper Frank Pietrangelo... led all IceDogs defensemen with 13 goals and 53 points in 2007-08...
Impact: The Blues have great depth on defense, and already have a right-handed franchise blueliner in Erik Johnson playing in the NHL. Therefore, Pietrangelo will probably be back in the OHL next season since St. Louis can afford to wait for him. One day, the Blues will have double-barrel action on the point of the power play, with Johnson and Pietrangelo--two big shots from the point. The Blues' future defense corps, led by Johnson, Pietrangelo, Ian Cole, Steven Wagner, Roman Polak and veterans Barret Jackman and Eric Brewer, appears to be in great shape.
NHL Central Scouting website, Draft ID P36681-D
Mississauga's 1st pick, 3rd overall in the 2006 OHL Priority Selection – Member of Team Ontario for the 2007 Under-17 Canada Winter Games – Member of Team Canada for the Under-18 Ivan Hlinka Memorial Tournament – Member of Team OHL for the 2007 CHL ADT Canada Russia Challenge – Voted to the 2008 OHL All Star Game in Sault Ste. Marie – Voted to the 2008 CHL Top Prospects Game in Edmonton – Voted to the 2007 OHL All Rookie Team and the 3rd OHL All Star Team.
NHL Director of Central Scouting E.J. McGuire at NHL.com
Strengths: Alex is very poised out there on the ice. A tall player, who is still growing in to his body, Alex brings a keen ability to know when to pass the puck out of the zone, when to carry the puck out of the zone and he's unflustered in the face of a hard forecheck.
Areas to improve: Alex probably needs to get a little more assertive. There are times that he plays with that calm, cool and collective attitude and scouts might often question his assertiveness. But believe me that is there and he certainly doesn't play with any kind of fear for what is coming at him.
Outlook: He might have the best top-end (potential), and he might have the most under the cover that an 18-year-old could blossom into maybe the best player in the entire 2008 draft. He has (Chris) Pronger-like size and visibility attributes. A lot of scouts say that he might be playing better now than Pronger played when he was in his last year of junior.
Niagara Ice Dogs assistant coach Mike McCourt at NHL.com
"Alex is an exceptional talent who possesses quality leadership traits. He has the ability to dictate the pace and tempo of games. His poise and vision combined with his physical attributes make him an extraordinary player."
Niagara Ice Dogs General Manager Dave Brown at NHL.com
"He has the ability to control a game with his skill set and do things that most kids are unable to do at 17 years of age. Alex, with continued hard work has the potential to be a very good NHL player. His hockey smarts, puck skills, mobility and physical play make Alex a can't-miss NHL draft prospect."
========================================
McKeen's 2008 Draft Guide
McRae is one of those perplexing North American prospects who ends up playing better on the larger ice surfaces in international tournaments than he does on the smaller OHL arenas despite growing up playing on the smaller rinks.
The son of former NHL tough guy Basil McRae, Phil isn't going to beat up everybody on the other team, but he has better hands than his old man in addition to inheriting his size, so scouts are keeping him under consideration for the top two rounds despite what many considered to be a disappointing season.
McRae was expected to be one of London's better producers and he ended the season with a disappointing total of 18 goals.
McRae needs to work on his intensity, agility and strength, but to his credit he has become decent defensively.
"He's probably a third-line guy, and a third-round pick in this draft after looking like a first-rounder in the summer," said one scout. "He's big and has good hands, he gets in position to shoot the puck, but he just has no knack around the net."
http://mckeenshockey.rivals.com/viewprospect.asp?Sport=4&pr_key=46715#bio
02/11/2008 - Not fast, nor physical, McRae just skates along the wing not doing much - barely noticeable .. attempts at physical work are not suited for what looks like a skilled winger .. skating keeps him from getting to open spots .. questionable decision-making, as he just shot the puck out of his own zone to avoid being hit, instead of placing a pass to a nearby outlet .. can try to do too much on his own with the puck and does not pass it very much .. gained the zone on the power play and skated the puck into the corner - could use his teammates better .. he did the same thing in the second period (a constant this game), doing too much on his own .. let his man get a stride ahead and then tried to stickcheck/hook the Majors forward on the first goal against London .. can be a little too predictable with the puck, making defenders play him closely, knowing his arsenal does not include much passing .. can seemingly frustrate teammates that attempt to get into open spots or get to the net, with what becomes a wasted effort on their parts.
International Scouting Services, FUTURE NHL STARS, Vol. 6, Issue 5, Mar. 1, 2008
CHL Top Prospects Game
Phil McRae, London – OHL
ISS January 2008 Ranking: # 49
Was very quiet during the Top Prospects game. Did not make any real noticeable plays positively or negatively.
The Hockey News St. Louis Blues' 2008 Draft Review
http://www.forecaster.ca/hockeynews/hockey/_s1on59a5a7mi/draft-team.cgi?StL&DraftID=19#6590
Scouting Report: A first-round pick by the Knights in the 2006 OHL Priority Selection, he is the son of former NHLer Basil McRae... in his second season with London, he produced 18 goals and 46 points in 66 games in 2007-08, but was held pointless in four playoff games... at 6-2, 189 pounds, he has a very projectable frame and plenty of playmaking skills... needs to improve his play without the puck and in the defensive zone, as well as generally work on consistency, in order to maximize his big-league potential...
NHL Director of Central Scouting E.J. McGuire, at NHL.com
Philip is a power forward just like his dad, Basil, was. He brings a scoring ability that I think will carry over when he becomes -- and he will become -- an NHLer. Philip needs to work on his skating and he needs to get a little more polished; as of right now he's more of a "bull in the china shop'" type power forward which every team can use. But to be a full, all-around player he needs to keep working. And there is no evidence to say the improvements that he has made this year won't continue on into his career in the skating department.
========================================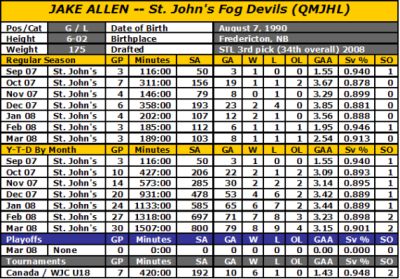 McKeen's 2008 Draft Guide
No Canadian player raised his stock more than Allen at the U18's.
The New Brunswick native wasn't on most teams' top 50 list, before the event, but after playing every game and backstopping Canada to a gold-medal triumph with near-flawless goaltending, Allen forced a lot of scouts to reassess him as a first-round candidate.
"We knew he was pretty good, but not this good," said one scout who had him ranked as a third-round prospect before the U18's. "I only had the chance to se him play once, as he was the backup in St. John's."
Allen may owe Hockey Canada's chief scout Al Murray a "thank you" for including him on the Canadian roster, as it looks like he's a pretty sure bet to go in the top 35.
Allen has the size, technique, and quickness scouts are looking for in a high-end goalie prospect. He also displayed good composure and is competitive. Perhaps even more importantly, he stops pucks and wins games.
"He had some real tough games at the tournament and he was big," said a Western Conference senior scout who would love to see him drop to his team's slot in the second round.
"We know that's not going to happen though. The cat's out of the bag."
http://mckeenshockey.rivals.com/viewprospect.asp?pr_key=81578&sport=4#commentary
05/05/2008 - Laid back (both on and off the ice) is the best way to describe Jake Allen .. don't let his laid-back demeanour fool you, though, because his preparation on and off the ice is exceptional .. an extremely focused individual on the task at hand, strong mentally .. during intermissions at Mile One Center, Allen can be spotted outside the Fog Devils dressing room bouncing a ball off the wall (helps to keep him focused/relaxed) .. demonstrated repeatedly that he is ready to battle and compete once he is between the pipes .. prepared for each game as if he was going to be the starter, and as a result, was more than ready when called upon to replace Timo Pielmeier, which he did nine times during the course of the regular season and twice during the playoffs .. definitely confident in his ability and it is clearly evident with his play on the ice (extra jump/bounce on his skates after a big save, positive body language) .. battled hard for teammates and in return they clearly battled for him .. as the season progressed, the Fog Devils seemed to play a better overall game in front of Allen and were more comfortable taking chances offensively .. has proven that setbacks do not bother him, at least not with respect to his play on the ice, as he works twice as hard after a loss or off game .. not an extremely vocal goaltender on or off the ice, but his leadership qualities come through because of the way in which he plays the game .. definitely a team player, as he accepted and excelled with his role on the team .. the 6-foot-1, 175-pound Fredericton, NB native is a butterfly-style goaltender (an athletic goaltender that is both agile and mobile) .. set stance, keeps his glove high, his feet set and his eyes zoned in on the puck, not much movement outside the butterfly .. solid on his skates, has good balance, moves extremely well around his crease and when leaving his crease to play the puck .. loves to play the puck, whether that means leaving his crease to stop the puck for his defensemen or leaving his crease to headman the puck to a teammate to catch the opposition off guard .. like his idol Martin Brodeur of the New Jersey Devils, Allen's puckhandling and playmaking ability are strong points .. demonstrated the ability to do both on a consistent basis .. aggressive playing the puck at times, and made smart decisions more often then not .. focused on the play in both ends of the ice, keen in his puck pursuit in the defensive zone .. solid positionally, displayed quickness moving up and down and post-to-post (lateral) .. smooth movements and recovers extremely well .. square to the shooter more often than not .. exceptional rebound control overall, but sometimes gives up large rebounds, though usually they are kicked well out, not in the scoring areas .. possesses a quick glove hand and is effective with his pads along the ice .. effective in using his blocker as well, plus has shown that he is not afraid to use the pokecheck on occasion .. displayed the ability to read/react/anticipate the play in front of him .. not afraid to challenge shooters (making himself big), but is also comfortable deep in his crease (relying on his quickness) .. does have a tendency to commit (drop down in butterfly) a little early on occasion .. suspect high glove side on occasion .. demonstrated that he is capable of dealing with the physical grind of playing his position .. displayed repeatedly that he is not bothered by traffic, being bumped or screened .. never displayed signs of fatigue on a busy night between the pipes .. a steady, cool, calm and collected individual, who's body language does not change no matter if his team is winning 6-1 or losing 6-1.
International Scouting Services, FUTURE NHL STARS, Vol. 6, Issue 6, Apr. 1, 2008
Rising
Jake Allen, St. John's Fog Devils (QMJHL)
St. John's Fog Devils goaltender Jake Allen was named the TELUS defensive player of the week for the period extending from February 25 to March 2. Natural athlete, great mental toughness, easy to coach, great work ethic, progressed all season, square to puck, Handles puck well, good size, needs to challenge shooter better. Good anticipation. Active stick. Playing with a lot more confidence and poise than early in the season. Will improve as his co-ordination improves
The Hockey News St. Louis Blues' 2008 Draft Review
http://www.forecaster.ca/hockeynews/hockey/_s1on59a5a7mi/draft-team.cgi?StL&DraftID=19#6590
Scouting Report: After backstopping the Canadian squad that earned the gold medal at the 2008 IIHF World Under-18 Championships in Kazan, Russia, he was also recently named to the Canadian summer evaluation camp for the 2009 WJC... was named Top Goaltender and MVP at the world under-18 tournament, so he already has garnered a reputation for stepping up his game... spent the 2007-08 campaign as the backup to Sharks prospect Timo Pielmeier with the St. John's Fog Devils, but is expected to take over the starting job for the club in 2008-09...
Is Allen the best, or the eighth-best goalie?
John McGourty, NHL.com (June 11, 2008)
NHL Central Scouting Director E.J. McGuire stresses, again and again, that scouting is the ultimate YMMV -- your mileage may vary -- experience.
For instance, in the upcoming NHL Entry Draft, scheduled for June 20-21 in Ottawa, it seems pretty clear Sarnia Sting center Steven Stamkos will be the first pick. Scouts and team officials at the recent Scouting Combine in Toronto were in agreement that any one of a half-dozen players could be the No. 2 selection. Is No. 2 better than No. 10? In some people's eyes, yes -- but not all.
Canadian goalie Jake Allen, the No. 8-ranked North American goaltender, is a prime example of the YMMV dynamics. As a rookie this past season with the St. John's Fog Devils of the Quebec Major Junior Hockey League, Allen battled respected second-year goalie Timo Pielmeier for the starting job and wound up playing in 30 games. Then he led Canada to the gold medal in the World Under-18 Championship and was named most valuable player of the prestigious tournament.
And that gets you No. 8?
"He's still a little unpolished," explained Corey Hirsch, a former NHL goalie who now is Hockey Canada's goaltending consultant. Hirsch was Allen's goalie coach at the U-18 tournament. "But he has great athleticism and he has the potential to be a pretty good NHL goalie.
"He's very strong mentally. He showed that at the World Under-18s that he can handle the pressure of a situation like that. With the single-elimination format, he basically played what I would call three Game 7s and he was our No. 1 star in all three of them."
Former NHL goalie Al Jensen scouts goaltenders for NHL Central Scouting, and he was surprised by Allen on his visit to Newfoundland.
"He came from nowhere," Jensen said. "He was playing for St. John's and all of a sudden he started to play more and got more and more confidence. I went to see him, and when I did, I thought, 'Wow.' His potential just rose right there for me. Jake is big (6-foot-2, 175 pounds) and strong, athletic, and he handled the puck very well. His net coverage was very good.
"I saw NHL goalie written all over him. He's probably the best puck handler among North American goalies."
Hirsch agrees with that last statement.
"He's very good with his stick," Hirsch said. "Probably the strongest junior goalie I've seen at that level. He helps his defense and thwarts the forecheck with the way he plays the puck."
========================================
In Part Two of the "Game Time" Draft Review, the Blues' third- and fourth-round selections. Until then, remember... "if we do not prepare for ourselves the role of the hammer, there will be nothing left but that of the anvil." Auf wiedersehen.