By Brian Weidler, "Game Time" Prospect Department
As promised, here is the skinny on the Blues' selections in rounds three and four of the recent NHL Entry Draft.
========================================
========================================

http://mckeenshockey.rivals.com/viewprospect.asp?pr_key=60667&sport=4#commentary
01/17/2007 - A skilled center, who has been able to overcome his shortcoming lately .. starting to break through in SM-liiga .. second time eligible player for the draft with late -87 birthdate .. his weaknesses are well known are reported .. has good size and good reach as a result .. doesn't play a physical game however, and can be stopped with hard hits .. has to improve his skating speed and acceleration .. must keep his feet moving more instead of stopping on the ice .. clearly most useful when with the puck .. has very good puck handling skills .. has good vision too, and can find his wingers from all kind of spots .. always looks for passing opportunities instead of shooting himself .. clearly a project type prospect, but has been proving his doubters wrong in every level so far.
The Hockey News St. Louis Blues' 2008 Draft Review
http://www.forecaster.ca/hockeynews/hockey/_s1on59a5a7mi/draft-team.cgi?StL&DraftID=19#6590
Scouting Report: As a player born in 1987, he's an older draft-eligible prospect with more experience at higher levels than most of his peers... in his second season in the SM-Liiga with Tappara Tampere, he broke out with 42 points and a plus-12 rating in 54 games in 2007-08... has good size and all-around ability, but must prove he can continue to produce good numbers going forward...
========================================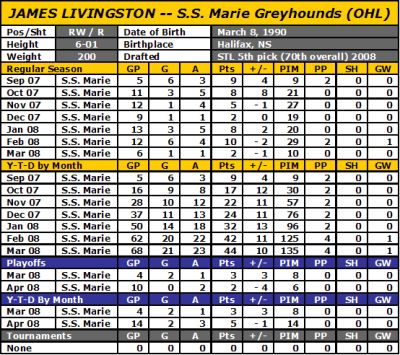 McKeen's 2008 Draft Guide
One of the draft's enigmas, scouts aren't sure what type of player he is -- more than one referred to him as a 'tweener.
Somewhere between being a tough guy and a skilled player, but not big or strong enough to be a heavyweight fighter and not good enough hands or skills to be an offensive player at the NHL level.
Reports came back early that he was competitive; then reports came in soon after that he was standing around doing nothing. Some say his skating is fine, yet one scout told McKeens that "it looked like he was skating in quicksand" the last time he saw him play.
Livingston scored six goals in his first five games, but managed only 15 more the rest of the regular season.
He has decent hands for his size, and if he can play with more consistency he may have a shot at playing on a fourth line in the NHL someday. He should go somewhere in the third round.
http://mckeenshockey.rivals.com/viewprospect.asp?pr_key=38921&sport=4#commentary
10/04/2007 - The towering winger has already come close to matching last season's statistical totals in his first two games .. he has had consecutive three-point games and was named second star for both .. a tall power forward in the making, he goes to the net with his stick down and finishes down low, often the receipt of garbage goals .. has the unique skill of being able to bury his chances .. long, fluid stride that is powered by lower body strength and good push-off .. he can shoot in motion and is able to get considerable power on his shot .. he has good offensive instincts but would better his game if he did not rush things .. when he takes an extra second he is much more effective, as he can evaluate his options better .. has the frame to shield the puck so once his confidence grows, he should gauge how long he can hold onto the puck .. has a mean streak, looks to hit, and is not afraid to fight, as was witnessed against the 6-foot-6 Breen (Saginaw) .. is a player the opposition already hates playing against .. possesses NHL size and a maturing skill set .. should he be able to bolster his point totals it can only increase his chances of making it to the NHL .. a player who is definitely on the rise.
International Scouting Services, FUTURE NHL STARS, Vol. 6, Issue 6, Apr. 1, 2008
Road Report
-- Strong
-- Great skater
-- Great along the board and in front of net
-- Soft hands
This young man is very consistent. He works extremely hard every shift on the ice and carries himself with a great deal of class. He was very good in the offensive zone and causes many problems with his ability to cycle the puck, work the boards and create space for his wingers. He always drives to the net and he is very creative on the PP, as well as effective on the PK.
International Scouting Services, FUTURE NHL STARS, Vol. 6, Issue 5, Mar. 1, 2008
CHL Top Prospects Game
James Livingston, Sault Ste Marie – OHL
ISS January 2008 Ranking: # 39
Big player with a good frame, but did not really jump out during the Top Prospects game. Despite having good size, he did not show much in the way of physical play.
The Hockey News St. Louis Blues' 2008 Draft Review
http://www.forecaster.ca/hockeynews/hockey/_s1on59a5a7mi/draft-team.cgi?StL&DraftID=19#6590
Scouting Report: Rated 53rd among North American skaters in Central Scouting's final rankings, he led the Greyhounds with 135 penalty minutes and tied for fifth with 21 goals in 68 games in 2007-08 ... plays a sound up-and-down game and never takes a night off ... possesses the work ethic, grit and two-way presence to play an important role in the National Hockey League ... lacks hockey sense, which may limit his ability to produce points at the highest level ... is considered one of the safest picks in the 2008 NHL Entry Draft...
NHL Director of Central Scouting, E.J. McGuire, at NHL.com
"James started the year as a pure sniper on the Sault power play – he's developed his game to the point where he plays all-around penalty kill and power-play. A big, loping skater that is criticized at times for being a bit slow, but I think any time those long stride skaters get going they are anything but slow. What he needs to work on perhaps is the quickness department, the first couple of steps. He is a fearless forechecker and he finishes his check all over the ice. He's an affective player at this level and projects to be an affective player at the next."
http://www.hockeyhotstove.net/
37) JAMES LIVINGSTON, SAULT STE. MARIE (OHL), 8-Mar-1990, 6'1" 200 lbs, RW/R
Very meat and potatoes kind of player and a very talented one at that … his all around game is very good and he's a force when he's got the puck … another player who people unfairly knock for lacking hockey sense.

========================================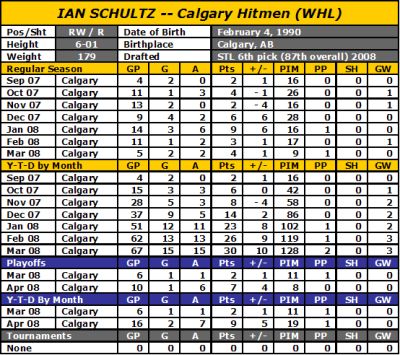 http://mckeenshockey.rivals.com/viewprospect.asp?Sport=4&pr_key=73258#commentary
03/02/2008 - Works hard, is creative with the puck, and shows lots of good character and leadership traits .. a strong skater with a good stride and excellent work ethic .. he has shown flashes of nifty moves and good stickhandling with the confidence to challenge opposing players using his speed and agility .. he needs to work a little harder on his defensive game especially his backchecking and rejoining the rush with the puck going the other way .. this is something that will come with experience and coaching, otherwise, he will look only as a one-dimensional player .. he could develop into a good two-way player with the potential for some upside to score.
International Scouting Services, FUTURE NHL STARS, Vol. 6, Issue 6, Apr. 1, 2008
Rising
Schultz has been a pleasant surprise this season with the top ranked Hitmen. He is very hard-nosed and tough in all aspects of the game. His skating is average and needs to increase his first few steps and gain a top gear. He is not afraid to drive the net and have a net front presence. Plays in all situations and has played on the top line with White all season. Has the tools to develop into a good power forward in the next few seasons. Is a prototypical pro prospect and a tough 'Dub prospect.
The Hockey News St. Louis Blues' 2008 Draft Review
http://www.forecaster.ca/hockeynews/hockey/_s1on59a5a7mi/draft-team.cgi?StL&DraftID=19#6590
Scouting Report: As a WHL rookie, he produced 30 points in 67 games with the Hitmen in 2007-08. He also led the club with 128 penalty minutes ... was rated 92nd among North American skaters in Central Scouting's final rankings ... has projectable size (6-1, 179 pounds) but must prove capable of continuing his overly physical style of play at higher levels...
========================================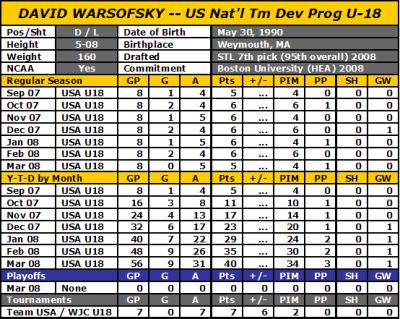 http://mckeenshockey.rivals.com/viewprospect.asp?pr_key=50705&sport=4#commentary
04/11/2008 - A mobile, puckmoving defenseman who can work in all three zones .. displays proper positioning on defense, as he does an effective job of cutting down angles and getting in the shooting lanes .. not afraid to initiate contact and get in the face of opponents .. utilizes the boards well, particularly in pressure situations .. plays a clean game for the most part, as he makes safe and precise passes in his own end .. has the capacity to skate the puck out of trouble as well .. can be dangerous in transition, as he possesses the gentle hands and smart vision to make a quality outlet pass .. also capable of keeping the puck and leading the rush himself .. does not look to shoot from the point that often, as he prefers to utilize his productive passing game to set up teammates .. however, he will pinch at times, as he loves to crash the net and be on the receiving end of a one-timer .. because of his puckmoving abilities, he sees regular time on the man advantage.
http://mckeenshockey.rivals.com/content.asp?SID=960&CID=821115
June 25, 2008
NHL Draft: Disappointing Year for New England
Vincent Montalbano, McKeen's Hockey Prospects Staff
The 2008 NHL Draft was disappointing for many New England prospects. Only five players at the prep or junior level in New England were drafted. Other New England-area picks included college players Colin Wilson and Ben Smith, along with former prep players David Warsofsky and Jimmy Hayes. In a two-part series, McKeen's correspondent Vincent Montalbano looks at the players that were drafted and other notable prospects that were not.
Part One - Drafted Players
David Warsofsky (StL), D, U.S. Under-18 – fourth round, (95th overall)
Scouting Notes From 2006-07 Prep Season (Cushing) and Pre-Draft Summer Tournament:
Committed to Boston University for 2008 .. despite lack of size (5-9) he is an extraordinary player with exceptional skill, especially on the powerplay .. a smooth skater with a strong stride .. tremendous vision and really moves the puck up the ice well .. tremendous patience and poise with the puck and hockey sense .. great one-timer with rocket of a shot and accurate, especially on the PP .. has a pro-like shot and may have the best shot for someone his age or even older .. finds open areas on the PP for good shooting lanes .. can be physical if needed and strong along the boards .. logged a ton of icetime .. has the ability to shake checks with his quickness and stick skills and ability to take hits and keep going.
What Other Scouts Are Saying (Jack Barzee, NHLCentral Scouting):
Warsofsky is a small, smart defenseman with quick feet. He has good speed jumping into the play and a big shot from the point. At his size, he needs to take better care of the puck and continue to get stronger, but overall, he comes to play and plays bigger than his size.
Synopsis:
An excellent pick by the Blues and if he was even 5-11, he probably would be a first or second round pick. He is extremely talented and playing at Boston University will really help his development. He tallied 32 points (nine goals, 23 assists) in 48 games last season.
http://www.nhlentrydraft2008.com/featuredPlayersDetails.aspx?type=sel&page=profile&playerID=1081
-- Got his start in hockey at the age of three because he had three older brothers already playing and credits his parents for having the most influence on his career for their support and guidance.
-- Played on his first hockey team with the Bay State Sharks and also played minor hockey for the Boston Icemen.
-- The best advice he has received came from John Hynes – "Never be self-satisfied, there is always someone out there looking to take your spot".
-- Patterns his game after Ray Bourque and his pre-game superstitions include always getting dressed the same way and always hitting the crossbar at least once during warm-up.
-- His most memorable hockey moment was winning the Five Nations tournament in Finland – "it was such a good tournament and to leave there winning gold was awesome".

========================================
Tomorrow afternoon, Part Three of the Draft Review featuring the Blues' selections in the fifth, sixth, and seventh rounds. Also included in Part Three will be a rundown of each 2008 draftee's potential in the organization, comparisons to active players, and observations on the play of those 2008 draftees who attended the 2008 Development Camp (McRae, Livingston, Schultz, Nigro and Karpowich).
Until then, remember... "if we do not prepare for ourselves the role of the hammer, there will be nothing left but that of the anvil." Auf wiedersehen.