By Brian Weidler, "Game Time" Prospect Department
Here is the lowdown on the Blues' picks in the fifth, sixth, and seventh rounds of last weekend's NHL Entry Draft.
========================================
========================================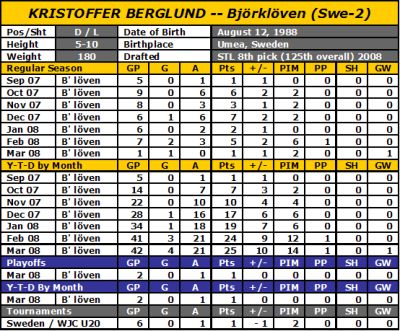 McKeens 2008 Draft Guide
The World Junior tournament was a coming out party for the 1988-born Swedish defenseman.
"He has really improved his skating," said one scout who didn't have much interest in Berglund two summers ago when he was first draft eligible. "He has a good sense for the game, good decision making and sound first pass. He reminds me a bit of John-Michael Liles."
An adept puckhandler with excellent anticipation and hockey sense, Berglund is very strong in the transition game.
So what would possess a team two spend one of its top three picks on a 5-10 defenseman who will be 20 years old at training camp?
"Just the way the NHL is going in terms of puck moving, mobile defensemen; look at Detroit," said one scout. "He proved he could play a mature, all-around game at the World Juniors."
A good positional defender, Berglund knows how to play the body, but he's by no means a physical player.
"If there's a rap on his game it's that he lacks the size to play physically, but he knows how to defend," said the scout. "He has improved his skating and overall game considerably in the past two years."
International Scouting Services, FUTURE NHL STARS, Vol. 6, Issue 4, Feb. 1, 2008
U-20 World Junior Championships
Sweden National Junior Team
Berglund, Kristofer # 4
Excellent PK player. Eats up pucks with his stick and skates. Great hit to start 3rd. This player always seemed to be doing good things. Was very strong on 1 on 1 battles. Stays with the body and closes out very well. Excellent defender, has been impressive all tournament.
NHL Central Scouting website, Draft ID B28758-I
Smooth, fine speedy skater ... very good mobile d-man who moves well in all directions ... leader on the ice ... very good over all skill level ... strong on his stick, gives fine opening passes ... sees the ice well and can read the game ... a finesse type of player ... smart, composed ... effective but smallish all-round defenseman with very good offensive instincts ... used in all game situations, effective on the power play with his excellent vision ... compensates for his lack of size with attitude and intensity ... competes very well with great work ethic ... plays with a lot of confidence ... has improved a lot during the 07-08 season playing regular, with a big role, on Björklöven in the Swedish Division I ... top Swedish d-man at World Junior U20.
http://www.eliteprospects.com/player.php?player=3705&lang=en
Berglund's two most noticeable assets are his hockey sense and skating ability. He is an extremely smart player that makes smart decisions and usually delivers excellent passes. When it comes to his mobility, he has good overall speed and also accelerates well. Although perhaps a bit more noticeable in the offensive zone, Berglund definitely contributes both ways and is smart and rather solid in his own end.
He is of smallish stature and does not play overly physical, but compensates for this by solving tricky situations with his on-ice-vision and puck handling skills. To take his game to the next level, the already all-round defenseman needs to add more strength.

========================================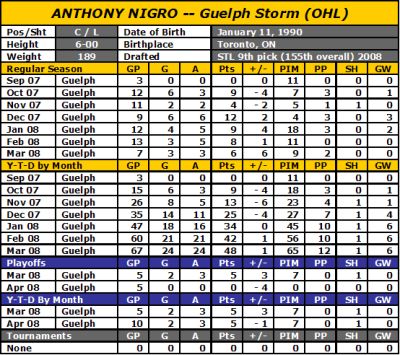 http://mckeenshockey.rivals.com/viewprospect.asp?pr_key=49367&sport=4#commentary
02/29/2008 - Nigro has finally started to put it together and remains a good scoring threat in a secondary role .. tough combatant, he has shown that he is not afraid to drop the gloves, as witnessed in his tilt with Della Rovere early this season .. an average skater, his speed does not serve him well to get back into plays .. he often is caught playing too deep offensively .. he relies on his anticipation, which is ok at this level and should see him be a productive scorer at 19 .. nonetheless, his lack of speed prohibits his NHL draft chances .. could be selected as a later pick due to his tenacity and his ability to battle in front to score .. his hands are well served in front, as he can get the puck up in an instant .. his stickhandling is ok so he needs to get in close, as he cannot beat many guys one-on-one in this league.
International Scouting Services, FUTURE NHL STARS, Vol. 6, Issue 4, Feb. 1, 2008
Rising
Anthony Nigro Guelph Storm (OHL)
Nigro is one of the most improved players in the OHL since the start of the season. This young man has
become much more confident and as a result, has been one of Guelph's better forwards. Skates well. Not an overly creative player, but he does a few things well, which include jumping into holes and going to the net with his stick on the ice, and working hard for the second and third chances. His defensive side of the game has been excellent, and he is always committed to taking care of that. Great character.
NHL Central Scouting's Al Jensen, at NHL.com
"Anthony is a hard working, responsible two-way player who has the ability to produce. While he needs to continue to improve his skating and puckhandling ability, he does compete hard, protects the puck well and is good on faceoffs."
Guelph Storm head coach and GM Dave Barr, at NHL.com
"Anthony is a very intelligent two-way player with very good hands and a goal scorer's shot."
========================================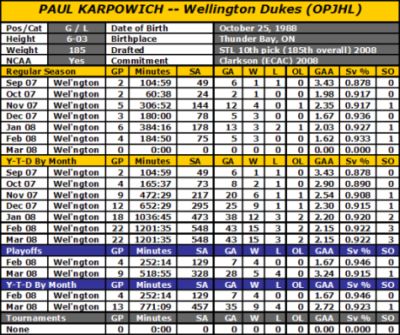 http://www.wellingtondukes.com/profile_player.php?search=3
Worth Noting
Drafted by the Plymouth Whalers ... graduate of the Thunder Bay Kings ... will attend Clarkson in 2008 on NCAA scholarship.
Coaches Comments
Paul is a very hard-working goaltender who has fit right into our program; we expect a lot from him this year.
http://www.wellingtondukes.com/news_story.php?search=148
WELLINGTON GOALIE FACTORY PRODUCES ANOTHER ONE - CLARKSON NCAA PRESS RELEASE - April 24th, 2008
With one of the best seasons in its 86-year history recently completed, Clarkson University Hockey will look to build toward the future, and the Golden Knights will count upon the Class of 2012 to play a key role in the tradition-rich program's continued success. Head coach George Roll, who will begin his sixth year at the helm of the Green and Gold next season, along with associate coach Greg Drechsel and assistant coach Jean-Francois Houle, have proven to be among the best recruiters in college hockey, and this year's incoming class should provide another cornerstone in the Knights' foundation as an elite national program. Five talented and exciting forwards, one well-rounded defenseman, and a promising goaltender make up Clarkson's incoming group of recruits for the 2008-09 campaign. Forwards Julien Cayer, Jake Morley, Louke Oakley, Corey Tamblyn, and Nick Tremblay, defenseman Mark Borowieki and goaltender Paul Karpowich are expected to provide a boost to a Clarkson squad that will graduate six highly regarded seniors from this year's team.
'"We are extremely pleased with the guys that we have committed," stated Roll. "They have a good mixture of speed and skill along with some grit. We have guys that can really get up and down the ice and play a physical game. It is a class, I think when they are all said and done here, will rival the accomplishments of this year's graduating seniors."
"The forwards we have coming in really have speed and skill to help replace what we lost in our senior class and give us some added depth up front," Roll added. "We have very good speed with Tremblay, Oakley and Tamblyn. Cayer and Morley are both very skilled, physical guys who can play at both ends of the ice. On defense we suffer a big loss with Grant, but we feel Mark Borowieki can step in and be an impact player for us. On the backend, Paul Karpowich will compete with Timmy Potter for the number one job."
As the goaltender for the Wellington Dukes in the OPJHL, Karpowich (10/25/88) posted a 15-3-2 record, including three shutouts, on a 2.15 GAA and .922 save percentage in 22 games during the regular season. The 6-2, 185-pound native of Thunder Bay, ONT, put up a 9-4 record in postseason play. "Paul had a very good year for the Wellington Dukes. He is a big, strong goaltender who handles the puck extremely well and knows how to play his angles. He has a tremendous upside. It will take him some time to make the transition to the college game, but he is a guy we feel can step in and compete with Timmy (Potter) for the number one job."
========================================
I have literally hours of video to edit and post from Development Camp and the Future Stars 2008 game; that's all forthcoming as I get to it. With no "official" hockey on tap now until training camp opens in September, Mrs. GTPD is demanding more of my time for her "honey-do" list (she's going to be awfully mad when I tell her about Traverse City in August), so updates may be fewer and further between for the next few weeks.
As for comparisons to active players, as promised previously, here's a very preliminary list based solely on my personal observations of the guys who particpated at the Development Camp:
McRae -- definitely not his old man; much faster, and better hands. I see him as very much a Lee Stempniak-type player for the Blues down the road; a scoring forward who, once he learns the defensive reponsibilities necessary at the NHL level, will be a dangerous third-liner who won't be out of place on a second line for extended periods.
Livingston -- a somewhat smaller David Backes. Livingston can skate, he knows where to be when the puck is in the offensive zone, and he seems aware of his defensive assignments as well. He's been accused of not having the ephemeral "hockey sense," but I personally feel that's a very overused cliche, given to players by scouts who happen to catch the player on an off day. Unfortunately, that kind of tag tends to stick with a player in the scouting community, so Livingston will have to work a little harder to shed that label. A breakout season in the OHL next year will go a long way towards that end, and Livingston has the nose for the net to be able to do it.
Schultz -- Tyson Nash with cojones. It might be tough for Schultz to play his agitating, physical style in the NHL until he bulks up a little, but he doesn't mind getting his nose dirty. He knows his role and sticks to it, and he has some stickhandling and shooting ability as well.
Nigro -- Didn't honestly stand out all that much to me at camp, which probably means he's competent enough to do all the little things right and fly under the radar. He's not as fast as a Ryan Johnson, but he will probably fill a similar role for the organization in the future unless he really develops as a scorer.
Karpowich -- Honestly, very impressive. I think he was the best goalie of the four in camp this year, taking that honor away from Reto Berra. His mechanics look very good, he's pretty quick into and out of the butterfly, and he keeps it simple and lets the puck hit him, for the most part. He didn't get many opportunities to display his puck-moving abilities, but the few times he did, he seemed comfortable with it and confident about it. Karpowich has the potential to be a real late-round steal for the Blues, and style-wise, I'd compare him to a guy like Miika Kiprusoff. Not saying he'll definitely be as good as Kirpusoff, but the potential is there.
The Blues can stash him away at Clarkson for as long as four years, or until the goalie logjam in the organization straightens itself out, and let him develop at the same level, in the same league, that Ken Dryden (another big Ontario boy who went the Ivy League route) did almost forty years ago -- has it really been that long?
That's it for now. Until next time, remember... "if we do not prepare for ourselves the role of the hammer, there will be nothing left but that of the anvil." Auf wiedersehen.