By Brad Lee
It seems like almost every playoff season, Blues fans have the same complaint besides not winning the Stanley Cup. "I'm tired of watching former Blues players win the Cup after leaving St. Louis." And while a list of those players includes a current Hall of Famer, some future HOFers and some future zamboni drivers, Dallas Drake is the 15th individual former Blues player to lift the Stanley Cup over his head since the 1997 playoffs*.
*This does include Doug Weight who only kind of got it above his head with his bum shoulder in Carolina in 2006.
Here's the list:



1997 Brendan Shanahan


1998 Brendan Shanahan


1999 Brett Hull, Tony Hrkac, Guy Carbonneau


2000 Scott Stevens


2001 none


2002 Brett Hull, Brendan Shanahan, Steve Duchesne


2003 Scott Stevens, Pascal Rheume


2004 no one lifted the Stanley Cup because of the damn lockout


2005 Cory Stillman


2006 Cory Stillman, Rod Brind'Amour, Bret Hedican, Doug Weight


2007 Chris Pronger


2008 Dallas Drake, Chris Osgood, Aaron Downey


Obviously that list and the complaint of Blues fans have been fueled by some very high profile former-Blues who many fans wish never left town. Brendan Shanahan was the most popular player on the team when he porked Mrs. Craig Janney, influencing his trade to Hartford. Brett Hull had worn out his welcome with many folks in the organization. Scott Stevens was stolen away by the league as punishment for being active in the free agent market and driving up salaries. Chris Pronger's trade to Edmonton was forced by a billionaire owner who was in the middle of trying to sell the team. Obviously they were all integral parts of Cup-winning teams, something they all could have accomplished here in St. Louis.
And then there is Pascal Rheume. And Aaron Downey. And Dallas Drake. This past season Downey totaled a mere three points on the season, the worst of any former Blue on the above list. He was only marginally worse than Rheume who had five points in 2003 and Drake's total of six points this season. But all those players have something in common: their names will all soon appear on the Stanley Cup. Why did that pesky bartender wander away again?
Look, we know Drake was the captain of this team -- during one of the most brutal stretches in Blues history. He led with his grit, his determination, his toughness. But he probably should have retired the first season after the lockout. Instead the Blues gave him a two-year deal, only playing one in St. Louis before getting bought out and playing this past season in Detroit. With Drake, it's always a mixed bag. He always played hard, but you could argue not very well. Here's a quick snapshot of his career:



Games: 1,009


Goals: 177


Assists: 300


PIM: 885


We won't begrudge any player for taking his chance to win the Cup. It's obviously the thrill of a lifetime. Part of us feels kind of happy for Drake when we see this photo that culminates his career:
But when we see this picture of Drake and Chris Osgood, it's hard to refrain from throwing something large through our computer monitor: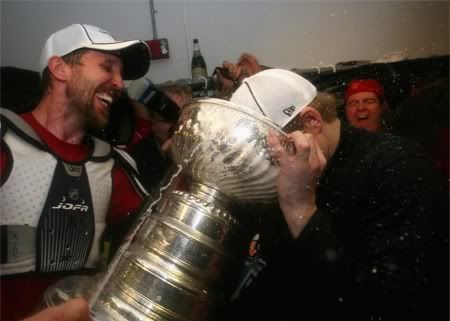 Like we said, you get the good and the bad from Dallas Drake. So tell us Blues fans, what do you think about when you see guys you used to cheer for in St. Louis* lift the Cup in another city wearing another uniform? The comments are yours.
*We're not sure anyone cheered Downey while he was here.