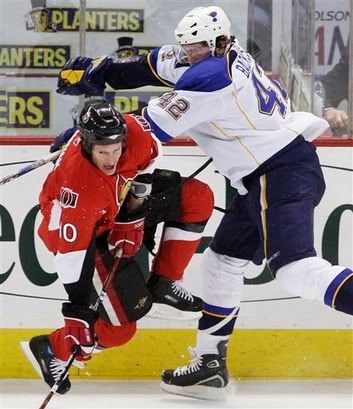 By Brad Lee
According to TSN, the Vancouver Canucks have signed restricted free agent David Backes to an offer sheet. The contract is a three-year deal worth $7.5 million. The Blues now have seven days to match the offer and take on that contract for Backes or allow him to move to Vancouver and receive a second round pick in next year's draft as compensation.
The Blues Web site indicates the offer has other details including a $1 million signing bonus in the contract and this quote from team president John Davidson:

"We will review the offer and base our decision on what is best for our organization," said Davidson.
Interesting. If the Blues thought the decision to match the offer was a slam dunk, wouldn't they have said they'll match the offer? Maybe Backes should start packing his bags.
Last season Backes had 13 goals and 31 points in 72 games, which was a letdown after he had scored 10 goals and 23 points in just 49 games the season before. He just turned 24 in May.
What's most notable about Backes is how seemed to transform his game late in the season. As the team limped to the finish line for the third season in a row out of the playoffs, Backes put on a nightly physical display. He wasn't intimidated by anyone. He played a hard-hitting game that was fun to watch. And he has shown flashes of being a 20-30 goal-scorer when he clicks with his linemates. And when he's physically able to see the puck...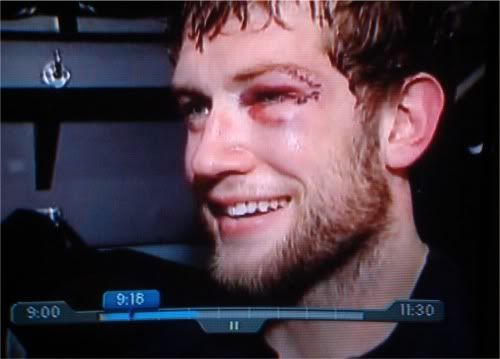 This morning when thinking about the Blues not being active in free agency, Backes was definitely one of the players this team planned to build around. A cap hit of just over $2 million a year isn't great but not a deal breaker. Backes should probably remain in St. Louis.
What do you think?
UPDATE: The Blues wasted little time to announce they are matching the offer and will keep Backes. Here's the confusing quote from the Blues:

"Dave Checketts (Chairman and Principle Owner) was very supportive of this decision to sign David," said Davidson. "David is a major part of our youth movement in St. Louis and we expect him to play a huge role as we move forward."
Chris Gift said that reads like, "My name is Larry. This is my brother Darrell. This is my other brother, Darrell."
So the Blues now have a 13-goal scorer from a year ago making $2.5 million once you factor in the signing bonus. Probably not the most ideal situation. But this is a precedent-making decision.
The Blues will hopefully have a lot of young players with meaningful roles the next few years. It seems in the new NHL, guys are getting big money based on potential and when they're unrestricted free agents. What happens when Perron, E. Johnson, Oshie and Berglund come up in succession? Granted, it's a nice problem to have. But the Blues had to send a message quickly that they will fight to keep their players. And they also showed earlier this year by signing Boyes to a nice contract that they will do everything they can to get a guy signed to prevent this situation from happening.