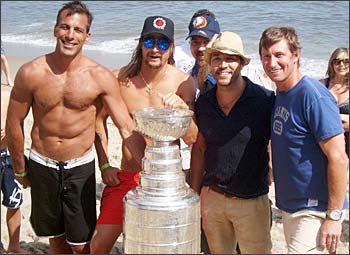 By Brad Lee
Sorry to put up a shirtless Chris Chelios and Kid rock (with their friends actor Jeremy Piven and Wayne Gretzky). But obviously the NHL rinks are dark and Stanley is still relaxing at the beach. And the NHL season, which seems like it will never end after it starts, seems like it will never arrive.
Don't get us wrong, we love summer. All the baseball and barbecues and family vacations and bug bites. It's a blast. And as I look at my Blues promotional calendar which has Jamal Mayers on it for July*, the realization happens that we haven't had Blues hockey since the first week of April.
*For the record, this marks the third month where the featured player was no longer on the team when the month arrived. That's probably worth its own blog post.
As the free agency period winds down and the Blues are reduced to signing guys to two-way contracts and 5'-9" defensemen, it's getting harder to populate this little corner of cyberspace. So we're going to work on a few things and hopefully get the readership involved a little as we slowly grind our way toward training camp in September. So keep coming back. We'll write more. Honestly.
In the meantime, check out our friend Puck Daddy at Yahoo! Sports. That dude must type in his sleep. Plus he gives us lots of links and stuff. So overlook the fact that he's a Devils fan and check him out. You'll find plenty to read and react to on his blog.