By Brad Lee
What year is this, 1993? The Shanahans, Brendan and Michael (no releation), are back in the news for two very different things.
Michael Shanahan Sr. pled guilty this week to a federal charge related to a stock backdating scheme involving his former business Engineered Support Systems Inc. Shanahan is the former owner of the St. Louis Blues and oversaw one of the most exciting times in franchise history from the emergence of Brett Hull to the signings of Scott Stevens and Brendan Shanahan to the trades for Chris Pronger and Al MacInnis. With Ron Caron as the general manager, there was always meat on the burner.
No matter what happens to Mr. Shanahan (he could still face a federal prison sentence in the case), most Blues fans will still feel indebted to the former owner for being aggressive and honestly chasing after a chance at the Stanley Cup. And most of us will always feel it was wrong how the Kiel Center Partners forced him out of power on the team.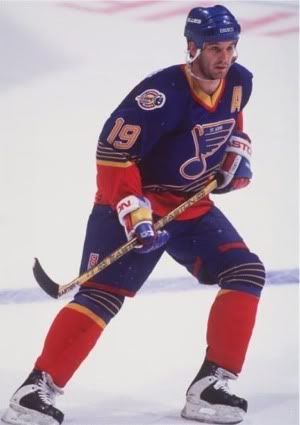 As has been documented on all of the Blues fan message boards, Brendan Shanahan is easily the best player still available in free agency. Even at age 39, he's pretty much a lock to score more than 20 goals in a season and contribute on the power play. He's a veteran leader and a former heart throb here in St. Louis with many a puck bunny still sporting his jersey to games even to this day.
He's been rumored to go to Vancouver, but that may not be true. He was linked to the Devils at the opening of free agency. And of course one local hockey guy says the Blues are interested, but no offer has been made.
According to Jeremy Rutherford of the Post-Dispatch in his online chat last week, don't get your hopes up.




Matt: With Brendan Shanahan still on the market. Do you think the Blues or Shanahan have any intrest. I think he could fill the void in the locker room, when Weight was traded. He could also fill Jamers old role, but with a bit more scoring.




Jeremy Rutherford: It's a nice thought, but it will never happen. The Blues inquired about Shanahan a couple of years ago, but there wasn't a match. He wanted to play in NY or Detroit and settled in NY. You're right . . . Shanahan could fill some of the leadership responsibilities, and give the Blues some scoring help, but it's not going to happen.



If leadership responsibilities include
stealing the wife of your supposed best friend and then marrying her
, he'd be a perfect fit.