By Sean Gallagher
It was with a touch of sadness and a touch of bewilderment that we received the news this week: The Mighty CW11 has apparently decided to cancel "The Fan Show". The news was confirmed to us by email from a person we would call 'very close to the show' who said, "I am a little saddened about the Fan Show - but you know how budget cuts go...."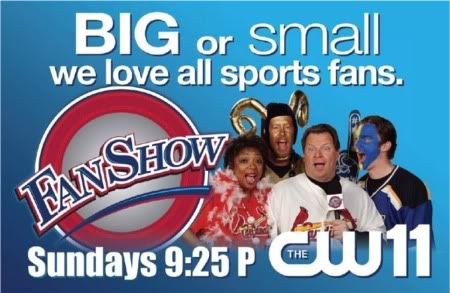 For those unfamiliar with the late Sunday night stagnant pool of sports, kitsch, intentional and unintentional comedy, local 'news' and other odd bits of flotsam and jetsam, it truly stands alone in the St. Louis entertainmentscape as an original. For example, what exactly is this supposed to be:
As we began to call our friends to decide which one of the last two shows we would attend (the September 7th show will be the last), we were stopped by one particularly fervent supporter of the show. He demanded that we use our website (which, honestly, doesn't have much in Blues news to discuss lately) to bring attention to the plight of The Fan Show and attempt to do something about it.
During his diatribe we thought, "he's saying it better than we can," and decided to pick up the standard for this cause. Let's Save The Fan Show. If you need to know why, let Tim Thompson explain:

One can only hope that the rumors of the demise of the Fan Show, are just that---rumors.
In a pre-packaged, polished, everything the same Wal-Mart world, the Fan Show had personality, and character. In the arena of live local television here in St. Louis, it has NO peers, no equals.
Marlon Brando stopped memorizing his lines and used only cue cards by the time he starred in The Godfather. He did this because he believed memorizing the lines over and over made the character less real and less believable. To that end, Rich "24 Carat" Gould doesn't even use cue cards. How much more real can you get?
Don't go Fan Show, Don't Go. Don't go Fan Show, Don't Go....join in any time.

To that end, we have a couple suggestions: First, send the link to this story to every local site you know and get this story some attention. Second, contact the powers that be at CW11. There are several ways:
Email General Manager Bill Lanesey and the Program Director Gwen Moore.
Use the CW11 comment form to demand the continuation of The Fan Show.
Call the main line at 314.447.1111 and ask to speak to either of the people named above.
Third, attend the show either this Sunday or next and bring your "Save The Fan Show" shirts and banners and posters. We'll be there. 24 Carat Gould compels us to be there.