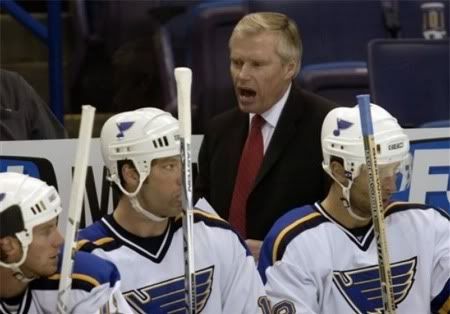 By Chris Gift
Okay, fellers and fellerettes, enough with saving a Sunday night sports show, dressing up Jay McKee like Marilyn Monroe, or finding out from each other how we became crack-addicted Blues fans.
The season is right around the corner, and it is time to start looking to what the Boy(e)s of Winter have to offer this season.
Once again, the Blues will be coached by Andy Murray, and in a recent column on espn.com, columnist Terry Frei (I wonder what it is like to be a columnist for a site that nobody goes to...oh wait) ranked the NHL coaches.
Some were easy to rank highly. He had Nashville's Barry Trotz, Minnesota's Jacques Lemaire, Buffalo's Lindy Ruff, and Detroit's Mike Babcock ranked in "The Elite..."- the first three were ranked there for annually making chicken salad out of chicken shit, the latter was there for staying the hell out of the way and winning a Stanley Cup.
Then there was "The Proven" category. That category consisted of Randy Carlyle (Anaheim), Ken Hitchcock (Columbus), Peter Laviolette (Carolina), Craig MacTavish (Edmonton), Murray, Tom Renney (New York Rangers), Michel Therrien (Pittsburgh), and the newly hired Ron Wilson (Toronto, late of San Jose).
For those of you that hate Mike Keenan like the rest of us, he fell in the bottom category, "The Suspect."
While each coach had a comment (that wasn't nearly as entertaining as if we'd have written it) what Frei said about Murray kind of makes one wonder if maybe Murray has all of us, including Louie, Jeffio, Angella, and Blues upper management just a tad on the brainwashed side.
Frei said about Murray: If you don't believe he's one of the best coaches in the league after his work in Los Angeles and then with the Blues, just ask him.
Okay, what the hell is that supposed to mean?
Does it mean that Murray is a self-centered, egotistical prick that never admits to being wrong?
Does it mean it is a "my way or the highway (but you'll have to detour to 170 to get around the construction" way of coaching with him?
In the name of Brian Noonan, I realize that certain coaches have certain players that they can count on, but the cryptic "If you don't believe he's one of the best...just ask him," makes you wonder.
One of the beefs (beeves?) with Keenan was that when the team won it was "we" and when the team lost it was "them." Is this what we're headed towards with Murray? Is it a "look how great I am, except when John Davidson and Larry Pleau's players underperform" type of situation?
This is a coach that hasn't led a team to the playoffs in his last five seasons behind the bench (four full seasons, one partial season taking over for Mike Kitchen). If Frei's "he'll tell you," is accurate, what is he telling us?
The last time the Blues made the playoffs, Joel Quenneville started the season behind the bench. That same Quenneville that made the playoffs two out of three years in Colorado, and is 155 games over .500 for his career.
Funny, I've never heard a "just ask him," for the Jack Adams Award winner (just ask Murray how many of those he has won) who was immensely popular with the fans here in St. Louis and won quite a bit while he was here too.
By the way, he's looking for a job. I wonder if we can ask Murray how good Quenneville is if they decide to go in a different direction.