11: Decided whom to feign interest in by throwing a dart at the NHL free agents that had reached their age of dwindling returns. After heated debate and the realization that plastic darts will not stick in a horsehair dart board, Brendan Shanahan was bulls-eyed.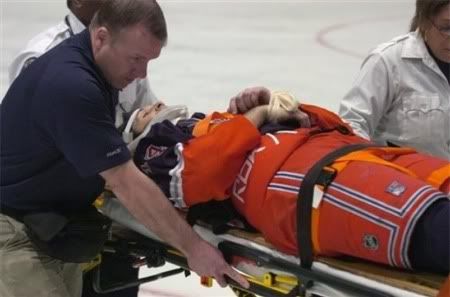 10: Hired noted Feng Shui designer Kenny Hoo to decide the optimal number of desks/assistants to stick in Larry Pleau's office. It was twelve.
09: Figured that by keeping more fans out of 14th and Clark for the Wild Turkey, more fans would come to 14th and Clark for the Wilds game.
08: With firm backing from three separate statistical analists, they arrived at Cam Janssen's optimal number of minutes per game- 0.23.
07: Kissed more Bettman Butt than normal, yet the Steinberg Rink remained "Winter Classic" free.
06: Selected two finalist for the position of designing the new Blues advertising slogans. Have yet to decide the winner.