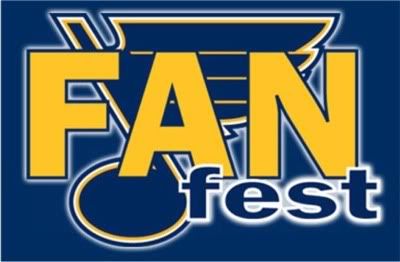 By Brad Lee
The summer of our discontent is nearly over. Blues players arrive at the Mills training facility on Friday for the old turn your head and cough routine. Practices open to the public begin Saturday in Hazelwood and then move downtown to the Drinkscotch Center for the FANfest* all day Sunday.
*Hey Blues, we get it. Fanfest is all about the FAN! Whooo! But do you really need to put the word fan in call caps? We. Get. It.
Last year was the first year for the FANfest event. After a scrimmage, players were placed everywhere around the arena with lots of free events, photos and autographs. It was a genuinely good day for fans to immerse themselves back into Blues hockey. So we have high hopes...for the event. For the team this season, eh. And judging by the reaction of the GM Translator 2000 EZ after I fed it the press release announcing the FANfest (the machine hated the capitalization too), the leadership of this team is aware of this feeling amongst the fanbase.
Here is what Blues president John Davidson said in the release:

"This is a great opportunity for the St. Louis Blues family to come together -- from the fans to the alumni to the current players -- and gear up from the 2008-09 season. Fans are able to get an up-close and personal look at this year's team, as well as collect a few autographs and win some prizes. It's a fun, free event that everyone enjoyed last year and we're happy to be bringing it back again."
Sounds innocent enough. GM Translator 2000 EZ, please work your magic and tell us whata Davidson
really
said.
"This team we've built could really suck. And if we don't come together and rally around this feeling of family, we're going to be screwed at the box office. So come on down and see how bad this team could be so you're prepared from day on what this 2008-09 season could be like. I'll be geared up -- with catcher's gear. I pray the crowd doesn't get out of hand. Hopefully we can ply them with free crap. Better yet, we'll put the players out there after the scrimmage so if the fans want to attack anyone, they've got good targets that don't look like me."
GM Translator is a little more pessimistic about the season than most of us. You never know, it could turn out...ok. The Blues might be...not completely horrible. Maybe.