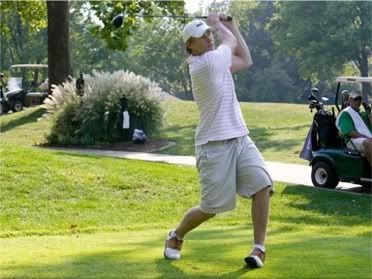 By Brad Lee
Erik Johnson injured his knee this week on the golf course. We wish we were making this up. They don't know how bad it is, but he's out for at least the first three days of training camp. On the Blues' Web site, the only explanation was a non-hockey-related injury. In a call with reporters earlier today, team president John Davidson gave a rather odd explanation for how the former No. 1-overall draft pick was injured.

"This is a hard one to believe, but it's the God's honest truth . . . he was playing golf and he pulled the golf cart up to where his ball was. And he took his left leg and put it on the ground and the right leg, he sort of reached back and put it on the brake. A lot of us do it . . . I do it all the time myself. As he pushed the brake, he missed a little bit, his leg got caught under there and he slipped and that wrenched his knee."
The GM Translator EZ just exploded. Blowed itself up. But it did spit out a few short words before breaking down. This is what Davidson
really
said:
"I swear he wasn't drunk on the golf course, but..."
Here's the best part: the Blues don't know how badly he's hurt. Awesome. More Davidson via Stltoday.com:
". . . There's swelling there. We're not going to speculate on this thing because we don't know. And we're going to have everything hopefully cleared up by Tuesday as to what it is and if there's a length of time or not."
When he said, "There's swelling there," we would bet one of the reporters mumbled, "That's what she said."
This happened on a course at Lake of the Ozarks as part of a bonding trip amongst the veteran players before camp opens with physicals on Friday. According to Jeremy Rutherford of the Post-Dispatch, the accident happened on Tuesday and the first MRI was inconclusive with all the swelling. We're sure that's a positive sign, right? Massive swelling that clouds MRI = good news? Has to.
Well we pledged to start the season positive, so we're positive this news sucks. In the comments, have at it. Are the Blues constantly snakebitten or is it just our impression? Should T.J. Oshie and Patrik Berglund be placed in bubble wrap before getting shipped home from the prospect tournament in Traverse City, Mich.? Tell us in the comments.
(By the way, the picture at the top is from the Blues' charity golf tournament last year.)