By Sean Gallagher
One of the unplanned benefits of being the guy whose phone number and email is published in every issue of the paper is that I get lots of strange email and calls. For instance, I just got off the phone with a guy who wanted to let me know that "the Red Berenson Cowboy you guys always talk about is a fraud. The Blues didn't use nameplates until 1974, so a true Berenson jersey is either No. 7 with no name or it's a No. 9 with a nameplate. So mine is the legitimate one. I even told the Cowboy that."
I told him I would be sure to let everyone know.
I also got a bizarre request from a Red Wings fan for pre-season video of a fight between Aaron Downey and some random Blue from last year. From a game that wasn't televised. There's so much wrong with that request that I don't even know how to start responding to that email.
And then there are the random messages that go back and forth among the various writers for the paper, one of which ended up with a crazy postulation that I yell out, "by the power of Gravyskull!" when I pee.
I assure you that I do not.
So, in a effort to give you a peek into the mind of one of our regulars, here's an email that was sent to Brad Lee and me on Wednesday after the Tuesday home game by our own Answer Man. Mind you, this wasn't in response to the "Flash Points" article we just ran about the KC game - that hadn't even been published at that point - this is just the kind of stuff that we get from the AM when he's bored. Enjoy.
The Answer Man Crew represented at the Blues game last night. It was Sweet Rich, Bill The Thrill and Catfish. The boys were looking sharp. It was awkward when Bill and Rich both tried to wear the same Iron Maiden T-Shirt. We settled it with a 3 out of 5 falls leg wrestling match.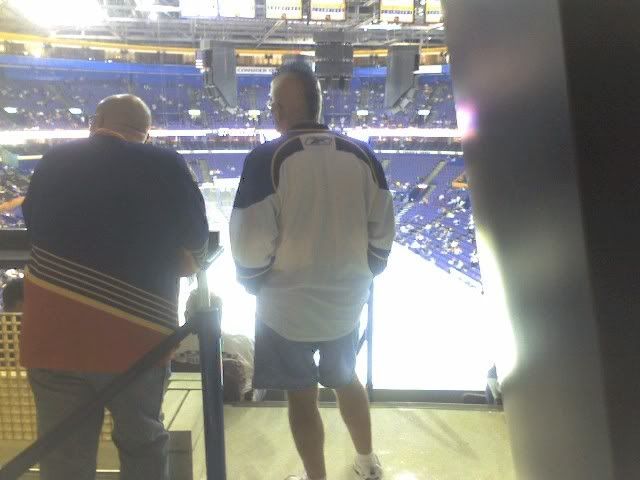 Needless to say The Thrill was sporting the Fly Maiden T for the night. Sweet Rich was close and settled for a KISS '78 World tour T instead.Cue the ZZ Top music on this on folks.
Crowd was small but because the gaylords...I mean the Cardinals had a game as well.
In Game Activities.
We witness the biggest/hardest body check I have ever personally seen live. Thrown by none other than Cam Janssen. WOW. It seriously gave me goosebumps. I have no idea who he hit but he destroyed him and stood over him like it was prey. Janssen knew someone was going to come after him and Krys Barch handed him a dance card. Very good fight. Big punches thrown and landed. Both took big hits to the face. Not sure who the victor was.
Later in the game Hinote took on Barch and jumped about 3 feet in the air to get the fight started. It was great.
Andy MacDonald was a on a mission last night. He was everywhere making everything happen. Man he looked good.
Berglund, um, is he seven feet tall? Yeow! Played well, he belongs in the NHL. Had some flash but nothing that really stood out.
TJ Oshie was everywhere doing everything. I was very impressed at his drive. He is going to be fun to watch.
Pietrangelo had two assists and he looked pretty confident out there. Had a couple of rookie mistakes but that is to be expected. He is a big kid too. He has a solid future.
Then there is Steve Ott and Sean Avery. Ott was hitting everything and everyone. He got into it with Jackman and while laying on top of Jackman was still hitting him. Shit move that REALLY set Jackman off. This is not the last time we see something with them.
The refs broke up Avery and Janssen but it seemed like Janssen was hitting him when he was down. This is not a code violation in my book because Avery is a shithead to play against. I'd love him on the Blues but I hate him because he plays for those scumbag Stars.
The game was great. VERY entertaining. Catfish was still talking about it in the morning when I took him to the airport.
Top players of the night were Janssen, MacDonald, Oshie and Pietrangelo.