By Sean Gallagher
With the new season not exactly roaring up on us (who knew the offseason would be 19 months long?), finding anything interesting to talk about has been a real chore lately. That said, most news one can find about the Blues tends to be about the youngsters who we all hope will have an inpact on the team this year. For those who haven't seen these various stories, here's your primer:
For starters, NHL.com did a story about the young Blues, which was of course co-opted by the Blues site.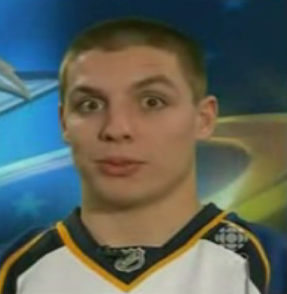 Jeremy Rutherford attempts to head off all the concern about David Perron and his potential attitude/playing time issues by quoting Perron and John Davidson all saying the right things. And yet we wonder, "what does Andy Murray think?"
The maniacs informed posters over at Hockeysfuture.com had a lively discussion about TJ Oshie's potential impact in the NHL. Personally, we're officially on board with The Teej, even if were already on record that we do not approve of uniform numbers that scream 'look at me!'
Besides, one or two plays like this and The Teej is going to quiet any remaining doubters out there.
Speaking of Hockeysfuture.com, they think pretty highly of the Blues' prospect pipeline, rating it the best in the NHL.
The Blues' first pick this summer is already under contract, opening the door for him to make the roster and bump one of the prospective top-sixers down to Peoria. With the season looking to be full of youthful mistakes and lots of trips and bumps along the learning curve, we're officially in the "bring on the Petro" bandwagon. We also believe that it's pronounced Peter-angelo. Or Pet-rangelo. Or Orangelo. Or Lemongelo. Or whatever.