From the Fantasy Files
If, like me, you're counting down the days to the Oct. 10 regular season opener against the (sexual) Predators, I've got a pair of suggestions as to how you might occupy your time in a legal and generally morally acceptable manner while still quenching your appetite for hockey.
First, this week marks the release dates of both NHL 2K9, Sept. 8, from 989 Studios for all consoles (including the Nintendo Wii), and of EA Sports' NHL '09, Sept. 9, for the XBox360 and Playstation 3. Unless you're stranded with just a Wii and 2K9 as your only choice, for visual stimulation, overall realistic hockey feel, and the most-likely-to-make-me-fail-out-of-my-senior-year-of-college-Be-A-Pro mode, I've got to give my full recommendation to EA's NHL '09. I spent quite a bit of time on the free downloadable demos of each game, and 2K9 doesn't even begin to compare to EA's latest hockey product.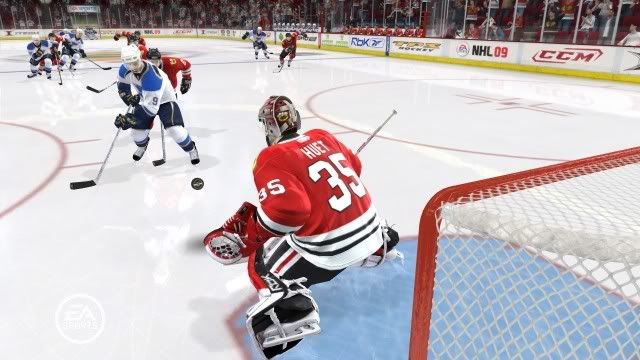 The Blues as a team, of course, are rated miserably after finishing a solid 14th in the West last season, and players like Brad Boyes, Erik Johnson, and Manny Legace are horribly under-rated given last season's performances. Petro, Berglund, and Oshie aren't in the game yet, and won't be officially available until your console's online service updates the rosters at some point early in the season, but that's nothing that you can't fix with the create-a-player mode if you're looking to get your dynasty started now.
If video games aren't your thing but you're still looking for a hockey fix, then come one, come all to St. Louis Game Time's 1st Annual Bob Plager Invitational Fantasy Hockey League! Current team owners include Gallagher, Brad Lee, Childhood Trauma, and GT's very own Prospect Department, and we're looking to fill the league out with loyal readers to make it a season full of mockery, ill-advised decision-making after heartbreaking home losses, and Otto Von Bismarck references.
If you're interested in joining the league leave a response containing your name and an indication of said interest, and I'll screen you personally to make sure that you're not some Canadian who knows a whole lot more about this sort of thing than the rest of us.