By Brian Weidler, "Game Time" Prospect Department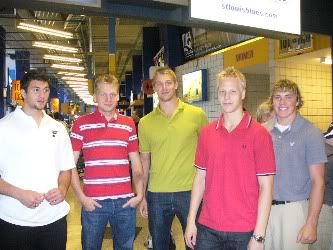 The Blues' organization will be well-represented at the 2010 American Hockey League All-Star Game on Jan. 19 at the Cumberland County Civic Center in Portland, Maine.
Center Lars Eller will join four other former first-round selections on the PlanetUSA squad (made up of AHL players born in the United States and Europe), and defenseman Jonas Junland will be making his second All-Star appearance in as many seasons as the PlanetUSA team takes on the AHL's finest Canadian-born players.
Eller (28 GP, 6-20-26, even, 36 PIM, 1 PP, 2 GW) and Junland (33 GP, 8-16-24, +11, 26 PIM, 6 PP, 1 GW) currently lead the Peoria scoring parade. Eller's 26 points are good for a five-way tie for 26th overall in the AHL scoring race, and third among AHL rookies. Junland is second in AHL defenseman scoring, behind only ex-teammate Andy Wozniewski, and his plus-11 mark is only six off the pace of the league leader, rookie John Carlson of Hershey at plus-17.
40% of these players will be appearing in the AHL All-Star Game in January. From left, Anthony Peluso, Jonas Junland, Patrik Berglund, Lars Eller, T.J. Oshie ("Game Time" photo by Brian Weidler).