Tomorrow's Blues Online with Brian Weidler
That's the question that we hope to answer in this series of draft reviews and previews, leading up to the NHL Entry Draft on June 26 and 27.
After decades of neglect, both from their own scouts and from the hockey media at large, the Blues' drafting and player development units have come into their own under the supervision of chief scout and all-around draft wizard Jarmo Kekalainen.
Hired from the Ottawa Senators organization after the start of the 2002-03 season, Kekalainen made his name with the Sens by overseeing the drafting and development of NHL-caliber talent like Marian Hossa, Mike Fischer, Martin Havlat, Antoine Vermette, and Jason Spezza. Once hired by St. Louis, it didn't take him long to start putting that stamp of success on the Blues' organization, snagging a pair of NHL'ers in his very first draft with the 'Note.
Of 56 total players drafted in the Jarmo Kekalainen era (six Entry Drafts, 2003-08), eight players have reached the NHL as of the 2008-09 season. Alphabetically, those players are: David Backes, Patrik Berglund, Ben Bishop, Erik Johnson, T.J. Oshie, David Perron, Roman Pola'k, and Lee Stempniak.
8 of 56 equals 14.29% of Kekalainen's draft picks with the Blues have made the NHL as more-or-less full-time players. Additionally, four other Kekalainen draftees -- G Chris Beckford-Tseu and Marek Schwarz, and D Jonas Junland and Alex Pietrangelo -- have played at least one game in the NHL as of the 2008-09 season.
Of those 56 Kekalainen draftees, 12 (21.43%) are no longer with the organization. Most have been traded, but three picks -- D Mike Gauthier (169th overall, 2005), F Jonathan Lehun (189/2003) and F Jonathan Michel Boutin (277/2004) -- are either no longer playing, or are playing at levels below semi-pro.
One of the draftees no longer with the organization -- F Lee Stempniak -- was traded for two players on the Blues' current NHL roster (D Carlo Colaiacovo and F Alexander Steen), and another -- F Michal Birner -- was part of the trade that brought Andy McDonald to St. Louis.
Alphabetically, the draft picks no longer with the organization are: F Juhamatti Aaltonen (284th overall, 2003), G Chris Beckford-Tseu (159/2003), D Shawn Belle (30/2003), Birner (116/2004), F Alexandre Bolduc (127/2003), Boutin, D Zack FitzGerald (88/2003), Gauthier, Lehun, F Carl Söderberg (49/2004), Stempniak, and F Konstanin Zakharov (101/2003).
Additionally, the Blues have drafted five players from Russia in the Kekalainen era. Of those five, only F Nikolai Lemtyugov has played professionally in the organization (96 games with Peoria in 2007-08 and 2008-09), and only Lemtyugov and F Evgeny Skachkov (in 2007) have ever shown up for a Development Camp. The others -- G Konstantin Barulin and D Nikita Nikitin and Andrei Pervyshin -- are longshots at best to ever come to North America, although there have been rumors of both Nikitin and Barulin at least considering attendance at the next Development Camp.
Let's take a closer look at the draft, year to year, and see just where, and with whom, the Blues have had their recent draft success.
The Draft, Season-By-Season:
The 2003 Entry Draft -- Kekalainen's first with the Blues -- has been, by and large, a failure. Only David Backes (chosen 62nd overall) and Stempniak have developed into NHL players, and only Backes and three of the Russians (Barulin, Skachkov and Pervyshin) remain connected with the Blues' organization.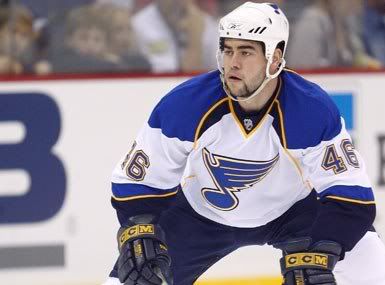 The players chosen in the 2004 Entry Draft have hardly fared any better. D Roman Pola'k (a steal at 180th overall) is the only Blues draftee from that year to have developed into a full-time NHL player, and only Pola'k and Schwarz remain solidly with the organization, though Schwarz' hold on an organizational roster spot is tenuous. The Blues continue to hold the rights to Nikitin, as well as forwards Viktor Alexandrov (83rd overall) and David Fredriksson (211th overall), but of the three, only Fredriksson has attended a Development Camp (2008), and he has little to offer other than excellent size (6'2, 214).
2005 first-round pick (24th overall) T.J. Oshie, and third-rounder (85th overall) Ben Bishop, completed their rookie seasons with the Blues with the traditional handshake at center ice following the first-round sweep by Vancouver. Two other 2005 picks, F Ryan Reaves (156th overall) and Nick Drazenovic (171st overall) skated for Peoria this season, and Lemtyugov (219th overall) started the year in Peoria, and finished it with Severstal Cherepovets of the KHL. Lemtyugov has a contract with Severstal for next season, but he has noted in interviews with Russian media that he thinks he may have left North America too soon, and has hinted that he may be back.
As of the 2006 draft, every player selected remains with the organization. First-round picks D Erik Johnson (1st overall) and F Patrik Berglund (25th overall) have developed into solid NHL players. F Tomas Kana (31st overall) and D Jonas Junland (64th overall) and Alexander Hellström (184th overall) are solid minor-pro contributors, with Junland the most likely of the three to earn an NHL spot in the near future. Swingman Ryan Turek (94th overall) left Michigan State earlier this year amid some controversy, but he has settled in with Alaska (ECHL) and is contributing to their playoff run. G Reto Berra (106th overall) is a yearly attendee at Development Camp, but may find no room in the Blues' North American organization for the furtherance of his career, and college F Andrew Sackrison (124th overall) and Matthew McCollem (154th overall) continue to develop at Minnesota State and Harvard, respectively.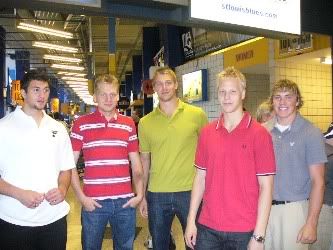 The 2007 Entry Draft may well be the Blues' finest hour at the draft table since 1976, when Bernie Federko, Brian Sutter, and Mike Liut were all added to the fold. F David Perron (26th overall) has already established himself as an NHL regular, and fellow first-rounder F Lars Eller (13th overall) will receive every opportunity in the 2009 Development and Training Camps to do so as well. F Brett Sonne (85th overall) broke out with a 100-point season in Calgary (WHL) in 2008-09, earning him WHL Player of the Year honors; he signed an entry-level contract with the Blues for 2009-10, as did fellow F Aaron Palushaj (44th overall) and Anthony Peluso (160th overall).
Sonne and the top-raked Calgary Hitmen have unexpectedly found themselves in a 0-3 hole against the upstart Kelowna Rockets in the Western League final, while Peluso and the OHL's Brampton Battalion have clawed their way back into the OHL Final series against Windsor with a 4-2 win on Monday night. Palushaj, meanwhile, got a head start in his pro career by leaving Michigan after the Wolverines' NCAA season ended and skating for Peoria on an amateur tryout (ATO) contract.
And the talent pool from 2007 goes deeper still. F Simon Hjalmarsson (39th overall) skated for Sweden in the U-20 World Junior Championships in Ottawa last winter, and still found time to lead his Allsvenskan club (HC Borås) in scoring. D Ian Cole (18th overall) and Cade Fairchild (96th overall), veterans of the US National Team Development Program, continue to hone their skills at two of the nation's top college hockey programs, Notre Dame and Minnesota, respectively.
Finally, the most recent Entry Draft (2008), has further deepened the Blues' talent pool by adding a second potential franchise defenseman in fourth-overall pick Alex Pietrangelo, who started the 2008-09 season in St. Louis before returning to junior in November, and joining the Peoria Rivermen for their playoff push. Pietrangelo was joined in Peoria by Finnish draftee Jori Lehtera (65th overall), who crossed the pond on an ATO contract after his season in Finland came to a close. 70th overall pick James Livingston also spent some time with the Rivermen after his junior season ended, but did not see any game action and was apparently there simply to get a feel for what he has to do yet to earn his way to the pros.
Budding power forward Philip McRae, son of ex-Blue Basil McRae, and goaltender Jake Allen were chosen back-to-back in the second round at 33rd and 34th overall, respectively, and are also major contributors to the excellence of the Blues' stable of young talent. Defenseman David Warsofsky (95th overall) is small at 5'8, 160, but played a huge role as a freshman in Boston University's 2009 NCAA championship, and RW Ian Schultz (87th overall) teams with Sonne in Calgary to provide the Hitmen with toughness and scoring pop up front.
Next time in the online edition of "Tomorrow's Blues," we'll analyze the Blues' draft round by round over the last six seasons, and identify any trends in the selections over the years before offering a more individual look at some players who seem to fit the mold of the "typical" Blues' selection in each round. Until then remember... "if we do not prepare for ourselves the role of the hammer, there will be nothing left but that of the anvil." Auf wiedersehen.