Tomorrow's Blues Online with Brian Weidler
At 5' 8", 170 pounds, David Warsofsky was hardly the biggest guy on the ice at the Blues' Pro Orientation Camp earlier this month. But, as the saying goes, "it's not the size of the dog in the fight, but the size of the fight in the dog," and Warsofsky -- no dog, he -- has plenty of fight in him.
Your Game Time Prospect Department sat down with the Boston University sophomore for a chat after a practice at the P-O Camp, and after the jump, you'll get the scoop on what the Marshfield, MA native thinks about winning last year's national championship, and about his chances of cracking the Blues' star-studded lineup of defense prospects.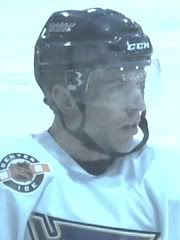 Warsofsky, the Blues' fourth-round selection (95th overall) in the 2008 NHL Entry Draft, joins the organization after a stint as captain in 2007-08 with the US National Team Development Program U-18 squad. His seven assists at the 2008 U-18 World Junior Championships helped pace Team USA to a bronze medal, and he followed that up with a strong freshman debut at NCAA powerhouse Boston University.
Warsofsky appeared in all 45 games for the Terriers and legendary coach Jack Parker last season, tallying three goals and 23 points, along with a nifty plus-26 mark. He was named to the All-Tournament team at the mid-season Denver Cup tournament, which was won by BU, and picked up an assist on the first goal of the championship game against Miami, his only point in the two games of the Frozen Four.
Prior to joining the NTDP in 2007, Warsofsky spent two seasons at Cushing Academy in Ashburnham, MA, where he was the 2007 US Hockey Report Prep Defenseman of the Year after scoring 49 points (15g, 34a) in 29 games. While at Cushing, Warsofsky was named to the US Select 17 Team for the 2007 Ivan Hlinka Memorial Tournament.
An offensive-minded defenseman, Warsofsky is working on improving his strength and defensive play under the tutelage of Parker and BU strength coach Mike Boyle, and took a few minutes to speak with us at "Game Time" after a practice at the Blues' Pro Orientation Camp in early July.
---
GAME TIME: First of all, David, welcome to St. Louis; this is your first time here for the Development Camp, right?
WARSOFSKY: Yes, definitely. It's nice to be here; I wasn't able to make it here last year, so it's nice to finally get here and see what it's all about.
GAME TIME: OK. First question, then, is about the national championship -- and congratulations, by the way. Walk us through that experience, if you would, as a freshman coming in to a pretty storied program there at BU. What was that like for you?
WARSOFSKY: Well, I've always wanted to go to BU my whole life, growing up in the Boston area. Going into this year, we had a strong team, and they'd had a strong team the last year, but they had some troubles at the end (of the season). But this year, I thought we had a group of freshmen that could definitely make an impact, and we had some seniors who were great leaders. We got off to a great start (11-4-1 in 16 games before Christmas 2008), and kind of went with it from there.
GAME TIME: Did you get a defined role right from the start, or did you have to sort of grow into a position there?
WARSOFSKY: Well, Coach Parker kind of knew what type of player I was, kind of an offensive guy. He put me with a kid named Eric Gryba (Ottawa's 2nd pick, 68th overall, in 2006 Entry Draft), who's a defensive-minded defenseman, and he and I worked well together.
I kind of eased my way in, got some power-play time, killed penalties... so I think there was maybe a role at the beginning, and then it changed up and I kind of just went with it from there.
"...there's definitely a lot of good defensive guys here; just looking at this camp, you notice all the talent we have here on "D." But I think I just have to keep on working... I'm trying to show St. Louis that I can be that kind of player they're looking for."

--David Warsofsky
GAME TIME: Now, it took you a little while to get your first collegiate goal; tell us about that experience a little bit, what was it like getting that first one?
WARSOFSKY: Yeah, the first one (Feb. 6, 2009 vs Mass-Lowell, the 27th game of the season) was a tough one to get. I think I was just trying too hard; every time I was shooting, I was trying to place it somewhere. So I kind of just settled down and started getting the puck to the net, and let everything happen for itself, more than anything.
GAME TIME: Coach Parker had you paired with Gryba, a defensive guy; was that what you were getting when you were with the NTDP, being paired with a more defensive-minded player so the two of you could sort of balance each other out?
WARSOFSKY: Yeah, definitely the same idea. I used to play a lot with Sean Lorenz (Minnesota's 3rd pick, 115th overall, in 2008 Entry Draft) and Ryan Grimshaw there, and they're both the same type of player. So it kind of gave me the freedom to move up in the play when I wanted, and know that they were always back there to support me.
GAME TIME: What was the transition like for you, going from the NTDP to Division I? With the national team, you guys would play the Division I teams a lot, but what was it like to play every game against top competition?
WARSOFSKY: Yeah, with the NTDP you'd play them but you weren't always getting their best game, and you kind of knew that. They knew they were playing against younger guys, but it's definitely a good learning experience. You kind of get a feel for the speed of the (college) game playing them day in and day out.
So it's a lot different, but I think that playing in Ann Arbor (with the NTDP) was definitely a stepping stone for college.
GAME TIME: You're in an organization now that's pretty deep with good young defensemen, yourself included. In the last four drafts, the Blues have taken a defenseman in the first round in each one of those drafts; what do you see as your role in this organization, and how do you see yourself fitting in?
WARSOFSKY: Well, there's definitely a lot of good defensive guys here; just looking at this camp, you notice all the talent we have here on "D." But I think I just have to keep on working; my biggest issue is my height, and I have to keep on getting stronger, but I think at BU with Mike Boyle, that's one of the best teachers they have, and I think I'm going to get a lot stronger there. I'm trying to show St. Louis that I can be that kind of player they're looking for.
GAME TIME: Do you work a lot with Nelson Ayotte, the strength coach here, on that kind of stuff?
WARSOFSKY: We do a little bit, but right now I'm living in Boston, taking classes at BU, and I work out there with Mike Boyle, who's a pretty highly-regarded workout guy, so everything's going well there, and we pretty much do a lot of the same stuff as Nelson does.
GAME TIME: OK, what does next year look like for you at BU? What's the outlook for this coming season?
WARSOFSKY: Well, we lost a lot of guys (including Hobey Baker winner Matt Gilroy), but we also have a lot of guys returning. We had ten freshmen come in last year, and I think a lot of us are going to be looked at to play a big role with the team this season. We don't have many upperclassmen, so I think we'll be called upon to do a lot.
We have some good young freshmen coming in (including 2009 38th overall selection Alex Chiasson), and that'll definitely help us out, but we've got a good core coming back this year, and hopefully we can repeat (the national championship).
GAME TIME: All right, last question: If you would, describe what you think are the strengths of your game, and some of the things you think you might need to work on.
WARSOFSKY: I think definitely my offensive ability from the blueline; I can see the ice well, make the right play, and make a good first pass.
Some things I need to work on would be getting stronger off the ice, and my defensive play down low. But I think all that comes with maturity, and getting to the next level. I think once I get stronger, those things will come.
GAME TIME: All right, well, we'll look forward to seeing you back here again next year, and in the Bluenote real soon.
WARSOFSKY: Thank you very much.
GAME TIME: Thanks a lot, David, Take care.
---
WARSOFSKY SCOUTING REPORT

 

"A mobile, puckmoving defenseman who can work in all three zones .. displays proper positioning on defense, as he does an effective job of cutting down angles and getting in the shooting lanes .. not afraid to initiate contact and get in the face of opponents .. utilizes the boards well, particularly in pressure situations .. plays a clean game for the most part, as he makes safe and precise passes in his own end .. has the capacity to skate the puck out of trouble as well .. can be dangerous in transition, as he possesses the gentle hands and smart vision to make a quality outlet pass .. also capable of keeping the puck and leading the rush himself .. does not look to shoot from the point that often, as he prefers to utilize his productive passing game to set up teammates .. however, he will pinch at times, as he loves to crash the net and be on the receiving end of a one-timer .. because of his puckmoving abilities, he sees regular time on the man advantage."

-- McKeens Hockey Prospects website
---
DAVID WARSOFSKY ... D, shoots L, 5' 8", 170 lbs., born May 30, 1990 in Marshfield, MA
Season
Club
League
GP
G
A
Pts
+/-
PIM
PP
SH
GW
Pt/G
PM/G
2008-09
Boston University
HEA
45
3
20
23
+26
28
1
1
0
0.511
0.622
2007-08
USNTDP U-18 Team
USA
56
9
31
40
...
34
3
0
1
0.714
0.607
USA U-18 Team
WJC
7
0
7
7
+ 6
2
0
0
0
1.000
0.286
2006-07
Cushing Academy
HS-MA
29
15
34
49
55
...
...
...
...
1.690
1.897