Tomorrow's Blues Online with Brian Weidler
Since taking over as the Blues' Director of Amateur Scouting, Jarmo Kekalainen and his team have found a number of pretty solid hockey players in the late rounds of the NHL Entry Draft. The recently-signed Roman Pola'k was a 180th-overall seclection by Kekalainen and the Blues in 2004, and the year before that, Kekalainen found a college0bound kid named Lee Stempniak with the 148th-overall selection.
Going back to Kekalainen's days in Ottawa, he was able to find NHL'ers Greg Zanon, Martin Prusek, and Brooks Laich with the 156th, 164th and 193rd picks, respectively.
It's beginning to look like Kekalainen and his scouts have found another late-round gem in Blues' prospect Anthony Nigro, the 155th-overall selection in last year's NHL Entry Draft. Your Game Time Prospect Department sat down with the Ottawa 67's top returning scorer from the 2008-09 season after a practice at the P-O Camp, and after the jump, you'll get the scoop on what Nigro thinks about St. Louis and the Blues' fanbase, his strengths and weaknesses, and much more.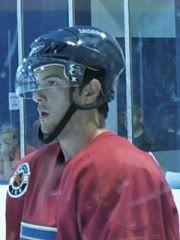 Nigro, the Blues' sixth-round selection (155th overall) in the 2008 NHL Entry Draft, looks to be developing into yet another late-round steal for Jarmo Kekalainen and the Blues' scouting staff.
After a solid draft year in 2007-08, in which he posted 24 goals and 48 points for the Guelph Storm, Nigro took it to another level in the 2008-09 season. The six-foot, 189-pound winger started the year back in Guelph, and put together a respectable 7-11-18 scoring line (1 PPG, 2 GWG) in 25 games before being dealt to the Ottawa 67's in mid-season.
The change of scenery -- and of his team's playing style -- was just the spark Nigro needed to make his move towards the ranks of the OHL's elite scoring forwards. The suburban Toronto native scored at a 1.21 points per game clip the rest of the season, on his way to a career year of 30 goals, 69 points and a plus-17 in 67 games.
An offensive-minded player, Nigro also learned to play in his own end of the ice under the tutelage of former Blue Dave Barr in Guelph. "Game Time" caught up with Nigro after a practice at the Blues' Pro Orientation Camp in early July, and here's what the emerging prospect had to say about his breakout season, and his future with the Blues.
---
GAME TIME: First of all, Anthony, nice to see you here in St. Louis for the camp... so what's with the red sweater out there? Is there an injury we didn't know about?
NIGRO: Yeah, just this past Thursday, working out in the gym, I hurt my upper back area, where the shoulder blade is. At first I thought it was a rib, but when I got here to St. Louis, the doctors took a look at it, and thankfully it wasn't a rib, just a strained muscle. So they're keeping me out of all contact drills and the (Blue-Gold) game just to prevent any further injury.
GAME TIME: So it's nothing that's going to inhibit the start of your season or anything?
NIGRO: No, no, it should be fine in the next week or so.
GAME TIME: OK, let's talk about last season a little bit. You started out in Guelph, and then about halfway through the year, got traded to Ottawa, and your offensive production really took off from there. What was the difference between how you were being used in Guelph versus how you being used in Ottawa, and what do you think is the reason why your production went through the roof in Ottawa?
"Every year, you come here trying to make the team...

...you don't come here just for the scenery, to have a good time and hang with the boys. You want to come here and give it your all, leave a good impression on the ice, and make it hard for them to send you home for another year."

-- Anthony Nigro
NIGRO: Well, growing up, I was always mainly an offensive player... goal-scorer, playmaker, whatever you want to call it. But I came up to Guelph, went in the first round, got drafted there, and (Guelph coach and ex-Blue) Dave Barr was big on defense and penalty killing, and he kind of put me into that, which was good for my career. It taught me about the other side of the ice, and I played a lot of defense, a lot of penalty kill.
And then, after I got traded to Ottawa, they're more of a run-and-gun style (team), they play a lot more offense. They're looking for their top skill players to make plays and score some points, and that's exactly what (legendary OHL coach) Brian Kilrea allowed me to do. He allowed me to worry a little bit more about the offensive zone, and playing with a great player like (San Jose 2007 first-rounder) Logan Couture definitely helped me out a lot.
GAME TIME: OK, now, one of the questions that my readers wanted me to ask you is, do you hate Detroit yet?
NIGRO: (Laughs) I always kind of had a little thing (against Detroit) actually, because my best buddy back home always wanted them to win the Cup, and whoever they'd be playing, I'd root for the other team. And now I guess I have to, in order to be part of St. Louis...
GAME TIME: Good answer. Now, here in St. Louis, the hockey fans take the Blues very seriously, and the team generates a lot of passion, as you can probably tell from how well-attended this prospect camp is. What are your thoughts about being part of an organization that generates this kind of passion, from you guys, the rookies, all the way to the big-league players?
NIGRO: Oh, it's great just to see a small thing like this, a development camp where you've got the prospects out for a skate, and you've got all kinds of fans here, more than at some OHL games, probably.
You've got the fans out here, with jerseys on... it's great for all the guys that are out here, even though we're pretty much nobodies to the city of St. Louis, just some prospects who've come out here to skate. But it's a great fan base, a great city, a great hockey town, and I think this is a good thing, to give back to the community.
GAME TIME: Now, you'll be going back to junior for next year, correct?
NIGRO: Most likely, yes.
GAME TIME: OK, so what does the upcoming season look like for Ottawa? What kind of team do you think you guys are going to have?
NIGRO: I think we're going to have a good team. We've got some younger guys that did OK last year, and that we're expecting some big years from. We've got Chris Perugini back in the net, whom we're looking to have a big year; it all starts with the goalie.
Everyone will be one year older, and we're only losing about three or four guys, which will be good. There's a lot of returnees, so I think we're going to have a good solid year.
GAME TIME: OK, a personal question... do you have any unusual pre-game rituals or superstitions, anything like that?
NIGRO: All kinds... we'd be here all day if I told you about all of them.
For a 7:30 start on a Friday night, I've got to get to the rink about four o'clock. Most guys are just waking up from their nap and eating their pre-game meal at that time; I like to get in there, have a couple of coffees, get a little bit of a stretch in, go up in the stands, have a little chat with the trainers. That's one of the main things I've got to do, super-early before the game.
GAME TIME: Tell us what you see as the strengths of your game, if you would, and what might be some of the things you think you need to work on?
NIGRO: Well, I think I can be an asset on offense, and I can put up some points when given the chance. But I know as a young guy coming into this league, or the AHL, whatever it may be, that I'll have to work my way from the fourth line up to the first. I know I can play a lot of defense; I've played that (way) before. I can grind, and crash and bang if I have to.
One thing I think I need to work on is my skating. Also, I need to get a little bit bigger and stronger, concentrate on my fitness and get to that pro level.
GAME TIME: OK, last question. What kind of timeline do you see yourself on, as far as first turning pro, and then for actually making the NHL?
NIGRO: Well, all I can really do is come to these camps and give it my all, you know? Every year, you come here trying to make the team; you don't come here just for the scenery, to have a good time and hang with the boys. You want to come here and give it your all, leave a good impression on the ice, and make it hard for them to send you home for another year.
GAME TIME: OK, Anthony, thanks for your time. I appreciate it, and good luck the rest of the way.
NIGRO: Thank you very much.
---
"Nigro (was) one of the most improved players in the OHL since the start of the (2007-08) season. This young man has become much more confident and as a result, has been one of Guelph's better forwards. Skates well. Not an overly creative player, but he does a few things well, which include jumping into holes and going to the net with his stick on the ice, and working hard for the second and third chances. His defensive side of the game has been excellent, and he is always committed to taking care of that. Great character."

-- International Scouting Services, FUTURE NHL STARS, Vol. 6, Issue 4, Feb. 1, 2008
---
ANTHONY NIGRO ... LW, shoots L, 6' 0", 189 lbs., born January 11, 1990 in Vaughan, ON
| | | | | | | | | | | | | | |
| --- | --- | --- | --- | --- | --- | --- | --- | --- | --- | --- | --- | --- | --- |
| Season | Club | League | GP | G | A | Pts | +/- | PIM | PP | SH | GW | Pt/G | PM/G |
| 2008-09 | Guelph | OHL | 25 | 7 | 11 | 18 | - 1 | 31 | 1 | 0 | 2 | 0.440 | 1.240 |
| | Ottawa | OHL | 42 | 23 | 28 | 51 | +18 | 28 | 8 | 1 | 4 | 1.214 | 0.667 |
| | TOTAL | | 67 | 30 | 39 | 69 | +17 | 59 | 9 | 1 | 6 | 1.030 | 0.881 |
| 2007-08 | Guelph | OHL | 67 | 24 | 24 | 48 | + 1 | 65 | 12 | 1 | 6 | 0.716 | 0.970 |
| 2006-07 | Guelph | OHL | 56 | 4 | 13 | 17 | + 3 | 26 | 0 | 1 | 1 | 0.304 | 0.464 |