Tomorrow's Blues Online with Brian Weidler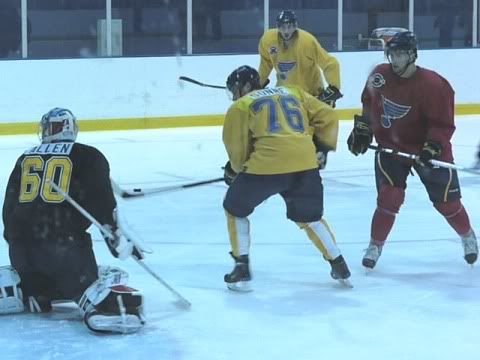 The Blues will be making their annual trip to northen Michigan over Labor Day weekend to take part in the annual Traverse City Prospect Tournament, hosted by the Evil Empire Detroit Red Wings.
Joining the Blues in the Western Conference alignment of this tournament will be Central Division rivals Columbus, as well as Dallas and Minnesota. The host Red Wings lead the pack in the Eastern Conference lineup, joined by Atlanta, Carolina, and the New York Rangers.
This year's tournament will feature some outstanding prospects from the eight teams involved, and the Blues' lineup is second to none in the number and quality of the prospects involved. Nearly all of the Blues' roster for this tournament is comprised of draft picks from the last four drafts (2006 to this year), and there will be no less than 25 recent first- or second-round picks involved in this tournament, including six on the Blues' roster.
After the jump, we'll take a look at the Blues' roster for this year's tournament, and preview some of the top young talent that the Blues will be facing off against.

TRAVERSE CITY TOURNEY -- EASTERN CONFERENCE PREVIEW
...
In the Eastern Conference, the Atlanta Thrashers will be sending three highly-regarded picks from the 2009 draft along with a small-but-skilled lineup. First-rounder Evander Kane (48-48-96, 89 PIM with the WHL's Vancouver Giants in 2008-09)) will be the Thrashers' "go-to" guy in this tournament, and should receive some quality support from OHL-bound USNTDP alumnus Jeremy Morin. Atlanta will also feature good size on defense (averaging 6-03, 201 pounds) and 2009 fourth-rounder Edward Paqsuale, the top-rated North American goalie in this year's draft, between the pipes.
The Carolina Hurricanes' entry features three recent first-round picks -- 2009's Philippe Paradis, a Quebec League goal-scorer; 2008 first-rounder Zach Boychuk, who scored 57 points in 45 games in the WHL last year; and 2007 top pick Brandon Sutter, who spent most of last season in the NHL. The 'Canes will get offense from these players, as well as from Drayson Bowman and Nick Dodge, but they have a suspect defense (only 2006 second-rounder Jamie McBain is considered a top prospect) and may also have the weakest goaltending in the tournament.

Host Detroit will feature a European flavor up front -- no surprise there -- with 2009 second-rounder Tomas Tatar from Slovakia and third-rounder Andrej Nestrasil, a Czech who put up 22-35-57 numbers in 66 QMJHL games last season. The Wings' lineup also features 2009 32nd overall pick Landon Ferraro up front, and a pair of defensemen with solid AHL experience in Logan Pyett (61, 3-11-14, 12 PIM) and Sergei Kolosov (70, 4-7-11, 36 PIM), both of whom made their pro debuts with Grand Rapids last year. Thomas McCollum, who disappointed with Team USA in the World Juniors last year, should get the nod in goal for Detroit.

The New York Rangers' entry will be led by budding star Evgeny Grachev, who scored 40 goals and 80 points in the regular season, and added 11-14-25 numbers in a deep playoff run for the Brampton Battalion of the OHL last year. USNTDP alumnus Ryan Bourque will also chip in offensively, as will Roman Horak, who was a point-per-game player in the Czech junior league last season. On defense, 2008 first-rounder Michael Del Zotto (13-50-63 in 62 OHL games last year) leads the way for the Blueshirts, and highly-regarded Chad Johnson (1.96 GAA, 94.0 save % for Alaska-Fairbanks in 2008-09) splits duties with 2009 draftee Scott Stajcer in goal.
TRAVERSE CITY TOURNEY SCHEDULE -- ST. LOUIS
| | | | |
| --- | --- | --- | --- |
| Date | Time | Event | Location |
| Sep. 6 | 10:30 AM | Practice | David's Rink |
| Sep. 6 | 6:00 PM | Game vs. Dallas | David's Rink |
| Sep. 7 | 10:30 AM | Practice | David's Rink |
| Sep. 7 | 6:00 PM | Game vs. Columbus | David's Rink |
| Sep. 8 | 12:00 PM | Practice | Huntingon Rink |
| Sep. 9 | 10:30 AM | Practice | David's Rink |
| Sep. 9 | 6:30 PM | Game vs. Minnesota | David's Rink |
TRAVERSE CITY TOURNEY -- WESTERN CONFERENCE PREVIEW
...

Facing off against the Blues in the Western Conference will be the Columbus Blue Jackets, who will bring a team loaded with free agent tryout players to Traverse City. One draft pick that should see significant ice time there, however, is 2009 fifth-rounder Tomas Kubalik. The 18-year-old winger has good size at 6' 2, 189 pounds, and spent most of the 2008-09 season with Plzen HC of the Czech Extraliga, where he notched a goal and an assist, with a minus-9 and 64 PIM in 32 games. The Jackets will also be bringing 2009 21st-overall pick John Moore (14-25-39 in 57 GP with Chicago/USHL) to Traverse City, as well as big (6' 6, 209) Quebecois d-man Steven Delisle.
The long-time rival Dallas Stars, by contrast, will be loaded with draft picks, including 2009 eighth-overall selection Scott Glennie (28-42-70 in 55 GP with Brandon/WHL) and Russian defenseman Ivan Vishnevskiy, who managed 6-13-19 totals in 67 games while on loan to the Peoria Rivermen last year. Unheralded Russian import and 2007 draftee Sergei Korostin (13-23-36 in 49 GP for London and Peterborough of the OHL last year) should also provide some offense. In goal, the Stars will rely on rookies Richard Bachman (14-11-10, 3 SO, 2.63, .914 with Colorado College/WCHA) and Tyler Beskorowany (11-12-10, 1 SO, 3.64, .902 with Owen Sound/OHL).

The Minnesota Wild entry will also feature several FA's, but will rest their hopes primarily on 2009 77th-overall pick Matt Hackett (34-15-3, 2 SO, 3.04, .913 with Plymouth/OHL) in goal. Hackett, a 6'2, 170-pounder from London, Ontario, will set up behind a defense that includes offensive-minded Mario Scandella (10-27-37, 8 PP goals in 58 games with Val-d'Or/QMJHL), as well as tryout Bjorn Krupp, son of former NHL'er and dogsled racer Uwe Krupp. Up front, the Wild will look for offense from 2007 draftee Cody Almond (33-33-66, 105 PIM in 70 games with Kelowna/WHL) and FA Czech import Tomas Knotek (69 GP, 22-44-66, +17 with Halifax/QMHL).
The Blues will be taking 22 players to Traverse City, and only nine of those players were not drafted by the team since 2006. Of that nine, defensemen TJ Fast (LA's second pick, 60th overall in 2005) and Mark Cundari (signed as a free agent by the Blues in 2008, after last year's Traverse City tournament) are contracted to the Blues. Further, local product Tony DeHart (a defenseman from Ballwin, MO playing for Oshawa of the OHL) has attended the last two Blues' Development/Orientation Camps, and has one year of major junior eligibility left, so his performance at this tournament may lead to a contract in much the same way as Cundari's performance did last season.
The top seven forwards feature six draftees, and another local product. Jack Combs, a left-shooting winger from St. Louis, is listed as a RW on the roster, but played the left side at the recent Pro Orientation Camp as well as with Saginaw of the OHL this year. While toiling just down the road from Traverse City in 2008-09, Combs picked up 32 goals and 75 points to go along with 102 PIM. A solid special-teams player, Combs racked up 10 power-play goals as well as four shorthanded tallies, and five of his goals were game-winners. In an eight-game playoff run for the Spirit, Combs struck for nine goals (3 PPG, 2 GWG) and 13 points. A player with no major junior eligibility left, Combs' performance at in Traverse City will determine if the 20-year-old ends up in Peoria this year, where the Blues' organization can use some scoring pop on the port side.
The rest of the top six include luminaries such as C Philip McRae (33rd overall in 2008), RW's Aaron Palushaj (44h overall in 2007) and James Livingston (70th overall in 20098), C Brett Sonne (85th overall in 2007), 2009 draftee (108th overall) Tyler Shattock at right wing, and left-shooting center Anthony Nigro (155th overall in 2008), who will likely be asked to play the left wing.
Each of these players scored at least 20 goals in major junior last year (from Livingston's 20 to Sonne's 48), except Palushaj, who still struck for 13 in 39 games while under the tutelage of Blues' legend Red Berenson at Michigan (CCHA). Shattock (19) and Sonne (16) reached double figures in power play goals last season, along with Combs and 6' 4, 211-pound free-agent tryout forward Nick MacNeil (18 PPG; 30-23-53 in 64 games for Cape Breton of the QMJHL). Livingston, McRae and Nigro each chipped in nine PPG on their respective major junior teams, and Palushaj's abilities as a set-up man round out what should be a dynamic assortment of power-play specialists for the Blues' coaching staff to send onto the ice in Traverse City.
Sonne's 100 points in the rough-and-tumble Western League set the scoring standard for the Blues' prospects on this year's Traverse City roster, and Sonne's leadership abilities coupled with his emerging scoring prowess to net him the WHL's Eastern Conference Player of the Year award in 2008-09. He and McRae, who was better than a point-per-game player (29-31-60 in 59 GP) in the OHL last year, will likely find themselves centering the top two lines. Palushaj, Livingston and Shattock (30 G, 69 points last year) will rotate into the two top RW slots, and old Ontario League hands Combs and Nigro should nail down the top slots on the port side.
Even the Blues' bottom two lines feature some scoring pop; RW's Anthony Peluso (20 G, 125 PIM) and Ian Schultz (15 G, 127 PIM) bring a nice combination of size, grit, and scoring touch in a support role, and tryout LW Adam Perry posted 23 goals and 56 points in just 45 games with the Arizona Sundogs of the Central League in 2008-09. Leigh Salters, a free-agent tryout player who also attended the Blues' Orientation Camp in July, brings size (6' 4, 225) and grit to the fourth line, and FA center Brent Borgen comes from St. Cloud of the WCHA to round out the roster up front.
The defense will be led by 2008 fourth-overall pick Alex Pietrangelo, who started 2008-09 with the Blues before returning to major junior with the Niagara Ice Dogs, and then finishing the season in Peoria. Pietrangelo, who reminds many observers of a young Chris Pronger, has the physical attributes of Pronger in his early NHL career at 6' 3 and a slender 206 pounds. Pietrangelo also plays a Pronger-style game in that he makes a good first pass and has good offensive instincts; and again drawing comparisons to a young Pronger, Pietrangelo has yet to fill out and develop the mean streak necessary to be a dominant NHL defenseman. It took Pronger a few years in the NHL to grow into that kind of player, and Pietrangelo appears to be well on the way to the same ultimate destination.
At the other end of the physical spectrum, OHL veteran Cundari will probably fill the number 2 defenseman role. Not the biggest of players at 5' 10 and 200 pounds, Cundari is nonetheless a talented offensive force from the blueline, and his grit and character are evidenced by his role as captain of the Memorial Cup champion Windsor Spitfires last year, as well as his 143 minutes in penalty time over 60 regular-season games. While Cundari does not have the ideal size to play defense in the NHL, he has all the other tools needed, and indeed is of comparable size to Mathieu Schneider, Jaroslav Spacek, Stephane Robidas, Lubomir Visnovsky, and Dan Boyle... all of whom have had long and successful NHL careers.
Big 18-year-old Brett Ponich is another player in the Pietrangelo mold, with a little less-developed offensive skillset and a more highly-evolved physical game than his fellow Blues' prospect. A dark horse draft pick at 48th overall this past June, Ponich impressed most observers with his poise and confidence at the July Orientation Camp, and a strong showing here (and at the regular Blues' camp in two weeks) could lead to Ponich following in Pietrangelo's skates as an 18-year-old starting the year in the NHL.
Fast, who spent most of last year in Peoria, and 2006 draftee Ryan Turek, who started 2008-09 at Michigan State before leaving school in mid-season to skate for the Alaska Aces, will also play key roles in Traverse City for the Blues. Both are "tweeners," in the sense that they're not as offensively-gifted as a Cundari or a Pietrangelo, but not strictly stay-at-home physical defensemen either, although both can play that role when needed. Free-agent hopeful DeHart falls into that category as well, and 2009 sixth-round selection David Shields will use this tournament to work out some development issues before, in all probability, returning to the Erie (PA) Otters of the Ontario League for the upcoming season.
In goal, the bulk of the work is expected to fall to 2008 second-rounder (34th overall) Jake Allen. The Fredericton, New Brunswick native will use this tournament as a tune-up for the QMJHL season with Junior de Montréal, and for a possible shot at the starters' role for Team Canada in the World Junior Championships, after turning a few heads at the recent Orientation Camp. Allen won 28 of his 53 starts, posting three shutouts along the way, and finished with a respectable 2.86 GAA and 91.6% save percentage for la petite Bordeaux.
Backing up Allen will be 2009 draft-eligible Peter DiSalvo of the OHL's Barrie Colts. DiSalvo, an Oakville, Ontario native, was one of the older players eligible for the 2009 draft (a November 1990 birthdate), and managed very respectable numbers in 2008-09 with a 15-13-4 record, three shutouts, a 2.83 GAA and a 91.9% save percentage. DiSalvo may be in the same position as DeHart, in that a solid performance here could very well lead to a contract and return to major junior, as the Blues did with Cundari last year.
---
ST. LOUIS BLUES 2009 TRAVERSE CITY PROSPECT TOURNAMENT ROSTER
| | | | | | | | | | | | | | | | | | |
| --- | --- | --- | --- | --- | --- | --- | --- | --- | --- | --- | --- | --- | --- | --- | --- | --- | --- |
| ## | FORWARDS | Ps/Sh | Ht | Wt | Birthdate | Birthplace | 2008-09 Club(s) | League | GP | G | A | Pts | +/- | PIM | PP | SH | GW |
| 70* | BORGEN, Brent | C/L | 5-11 | 188 | 01-17-85 | Mahtomedi, MN | St. Cloud State | WCHA | 31 | 4 | 7 | 11 | + 3 | 16 | 1 | 0 | 0 |
| 68* | COMBS, Jack | RW/L | 5-11 | 193 | 01-26-88 | St. Louis, MO | Saginaw | OHL | 62 | 32 | 43 | 75 | + 9 | 102 | 14 | 4 | 5 |
| 67 | LIVINGSTON, James | RW/R | 6-02 | 213 | 03-08-90 | Halifax, NS | Sault Ste. Marie | OHL | 66 | 20 | 17 | 37 | -26 | 98 | 9 | 0 | 0 |
| 80* | MacNEIL, Nick | C/L | 6-04 | 211 | 01-01-89 | Creignish, NS | Cape Breton | QMJHL | 64 | 30 | 23 | 53 | +13 | 35 | 18 | 0 | 6 |
| 38 | McRAE, Philip | C/L | 6-03 | 191 | 03-15-90 | Apple Valley, MN | London | OHL | 59 | 29 | 31 | 60 | + 6 | 54 | 9 | 2 | 6 |
| 54 | NIGRO, Anthony | C/L | 6-00 | 189 | 01-11-90 | Woodbridge, ON | Guelph / Ottawa | OHL | 67 | 30 | 39 | 69 | +17 | 59 | 9 | 1 | 6 |
| 52 | PALUSHAJ, Aaron | RW/R | 6-00 | 185 | 09-07-89 | Livonia, MI | Michigan | CCHA | 39 | 13 | 37 | 50 | +25 | 26 | 4 | 0 | 2 |
| 59 | PELUSO, Anthony | RW/R | 6-04 | 235 | 04-18-89 | King City, ON | Soo / Brampton | OHL | 63 | 20 | 17 | 37 | + 1 | 125 | 3 | 2 | 2 |
| 72* | PERRY, Adam | LW/L | 5-11 | 185 | 01-12-87 | Peterborough, ON | Arizona | CHL | 45 | 23 | 33 | 56 | + 1 | 44 | 5 | 4 | 3 |
| 64* | SALTERS, Leigh | LW/L | 6-04 | 225 | 03-27-89 | London, ON | Guelph / London | OHL | 36 | 4 | 7 | 11 | + 5 | 54 | 0 | 0 | 0 |
| 62 | SCHULTZ, Ian | RW/R | 6-02 | 200 | 02-04-90 | Calgary, AB | Calgary | WHL | 58 | 15 | 26 | 41 | +19 | 127 | 4 | 0 | 0 |
| 84 | SHATTOCK, Tyler | RW/R | 6-03 | 190 | 02-03-90 | Salmon Arm, BC | Kamloops | WHL | 68 | 30 | 39 | 69 | - 4 | 82 | 19 | 2 | 5 |
| 76 | SONNE, Brett | C/L | 6-00 | 187 | 05-16-89 | Maple Ridge, BC | Calgary | WHL | 62 | 48 | 52 | 100 | +39 | 58 | 16 | 1 | 11 |
| ## | DEFENSEMEN | Ps/Sh | Ht | Wt | Birthdate | Birthplace | 2008-09 Club(s) | League | GP | G | A | Pts | +/- | PIM | PP | SH | GW |
| 63 | CUNDARI, Mark | D/L | 5-10 | 200 | 04-23-90 | Woodbridge, ON | Windsor | OHL | 60 | 10 | 22 | 32 | +27 | 143 | 0 | 1 | 2 |
| 78 | DeHART, Tony | D/R | 6-02 | 185 | 03-20-90 | Ballwin, MO | Oshawa | OHL | 63 | 7 | 20 | 27 | - 6 | 76 | 2 | 0 | 1 |
| 61 | FAST, T.J. | D/L | 6-00 | 185 | 09-02-87 | Calgary, AB | Peoria | AHL | 46 | 1 | 4 | 5 | + 2 | 12 | 0 | 0 | 0 |
| 27 | PIETRANGELO, Alex | D/R | 6-03 | 206 | 01-18-90 | King City, ON | Niagara | OHL | 36 | 8 | 21 | 29 | + 1 | 32 | 2 | 0 | 3 |
| 56 | PONICH, Brett | D/L | 6-06 | 204 | 02-22-91 | Beaumont, AB | Portland | WHL | 72 | 1 | 17 | 18 | -19 | 117 | 0 | 0 | 0 |
| 58 | SHIELDS, David | D/R | 6-03 | 216 | 01-27-91 | Rochester, NY | Erie | OHL | 61 | 1 | 16 | 17 | +24 | 28 | 0 | 0 | 0 |
| 73 | TUREK, Ryan | D/R | 6-00 | 185 | 09-22-87 | Southfield, MI | Alaska | ECHL | 35 | 3 | 3 | 6 | + 7 | 26 | 0 | 0 | 0 |
| | | | | | | | | | | | | | | | | | | |
| --- | --- | --- | --- | --- | --- | --- | --- | --- | --- | --- | --- | --- | --- | --- | --- | --- | --- | --- |
| ## | GOALTENDERS | Ps/Ct | Ht | Wt | Birthdate | Birthplace | 2008-09 Club(s) | League | GP | Mins | GA | SO | GAA | W | L | OL | Shts | Sv % |
| 60 | ALLEN, Jake | G/L | 6-02 | 175 | 08-07-90 | Fredericton, NB | Montreal | QMJHL | 53 | 3023 | 144 | 3 | 2.86 | 28 | 25 | 0 | 1706 | 0.916 |
| 85* | DiSALVO, Peter | G/L | 6-00 | 180 | 11-14-90 | Oakville, ON | Barrie | OHL | 34 | 1948 | 92 | 3 | 2.83 | 15 | 13 | 4 | 1130 | 0.919 |
---
| | | | | | | | |
| --- | --- | --- | --- | --- | --- | --- | --- |
| | Jake Allen | Brent Borgen | Jack Combs | Mark Cundari | Tony DeHart | Peter DiSalvo | T.J. Fast |
| | | | | | | | |
| James Livingston | Nick MacNeil | Philip McRae | Anthony Nigro | Aaron Palushaj | Anthony Peluso | Adam Perry | Alex Pietrangelo |
| | | | | | | | |
| Brett Ponich | Leigh Salters | Ian Schulltz | Tyler Shattock | David Shields | Brett Sonne | Ryan Turek | |
| | | | | | | | |