By Brian Weidler, "Game Time" Prospect Department
---
PROSPECT PROMOTIONS / DEMOTIONS:
None to report this week.
---
PROSPECT TRADES:
None to report this week.
---
AFTER THE JUMP...:
The Featured Prospect Of The Week returns, as promised, with top defense prospect Ian Cole. We also have, as usual, this week's "Fab Five" of players in the organization who are "Trending Up." Players at every level of the organization stepped to the plate this week, and you'll see five of the best right here. Stay tuned...

...
...
...
FEATURED PROSPECT OF THE WEEK:
The Game Time Featured Prospect of the week for Nov. 28, 2010 is defenseman Ian Cole. The Ann Arbor, Michigan native was raised in the home of USA Hockey and the US National Team Development Program, and caught their eye early on in his career.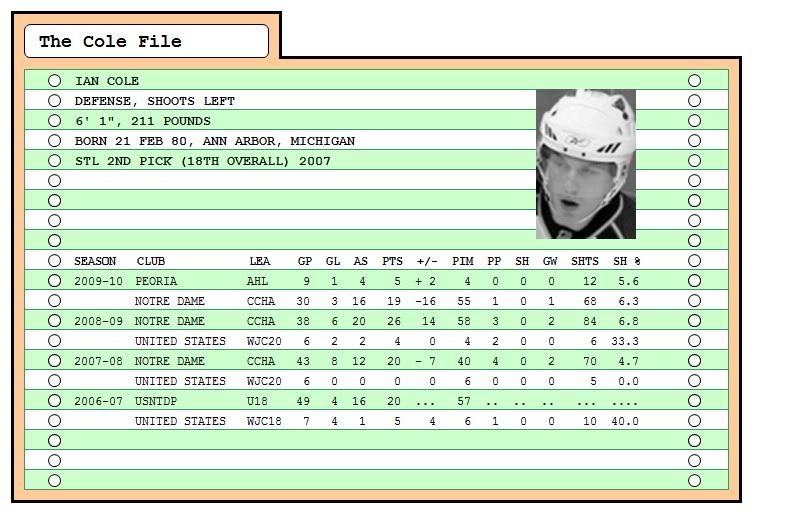 (LINK here to SB Nation asset file for the above graphic.)
Cole is known more for his defensive prowess than his offense, but here's a quick video of him with a good move on Paul Karpowich in the Blues' 2009 Pro Orientation Camp... and an even better move by Karpowich to make the save.
---

| | | | | |
| --- | --- | --- | --- | --- |
| Jake ALLEN | Cody BEACH | Mark CUNDARI | Jonas JUNLAND | Stephen MACAULAY |
| | | | | |
| Peoria (AHL) | Moose Jaw (WHL) | Peoria (AHL) | Färjestads BK (SEL) | Saint John (QMJHL) |
| ** 2 games played this week | ** 4 games played this week | ** 3 games played this week | ** 3 games played this week | ** 2 games played this week |
| ** 125 mins, 2 GA, 2-0-0 | ** 1 G, 3 A, plus-3 | ** 1 G, 1 A, plus-3 | ** 1 G, 0 A, plus-3 | ** 2 G, 0 A, plus-3 |
| ** 0.96 GAA, 97.2% sv pct, SO | ** 12 PM, 0 PP, 0 SH, 0 GW | ** 0 PM, 0 PP, 0 SH, 0 GW | ** 2 PM, 1 PP, 0 SH, 0 GW | ** 0 PM, 0 PP, 0 SH, 0 GW |