By Brian Weidler, "Game Time" Prospect Department
---
NHL DEBUTS FOR COLE, NIKITIN: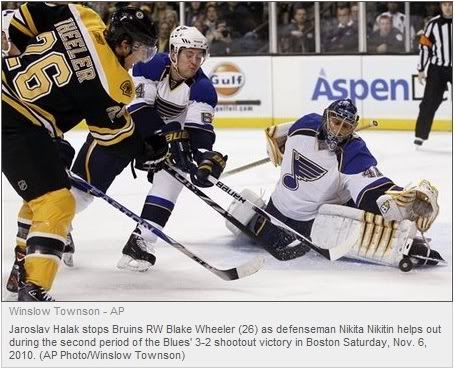 Despite a recent rash of injuries on defense, the Blues are riding high on the crest of a seven-game win streak. With regulars Roman Polak, Barret Jackman and Carlo Colaiacovo all bitten by the injury bug, the Blues took advantage of great drafting and astute system development to seamlessly fill the gaps left by the absence of those three key blueliners.
Russian Nikita Nikitin, just coming off of an injury himself (a broken wrist suffered in pre-season), made his NHL debut in last night's big road win over the Boston Bruins. Nikitin, a fifth-round selection (136th overall) by the Blues in the 2004 NHL Entry Draft, crossed the pond this summer after six seasons in the Russian Superleague (RSL) and it's successor, the KHL. In 264 Russian games played, the Omsk native has tallied 13 goals and 48 assists while racking up 219 penalty minutes.
In his first appearance on NHL ice, Nikitin skated 19 shifts for a total of 14:21 of ice time (including 2:07 on the power play), and registered a shot on goal and an even plus-minus.
Also getting his NHL baptism last night was 2007 first-round pick (18th overall) Ian Cole. The Ann Arbor, Michigan native was called up on Friday from Peoria, where he had posted one assist, 14 PIM, and an even plus-minus.
A physical, stay-at-home type of defenseman, Cole took a tripping penalty in the third period and was on the ice for Gregory Campbell's game-tying goal later in the period, resulting in a minus-1. Cole also saw 1:25 of ice time on the penalty kill, 12:58 of ice time total for the game, and recorded a shot on goal during his NHL debut.
Congratulations to a pair of defensemen who should be contributing to the Blues' success for a good long while.
---
NEW FEATURES THIS WEEK:
As part of our ongoing quest to provide "Game Time" readers with the broadest possible base of prospect knowledge, your Game Time Prospect Department will premiere two new Prospect Sunday features this week.
We'll be breaking out our coverage of the Peoria Rivermen in a completely separate feature called "River Readings." There'll be all the scores and stats from all of Peoria's games in the past week, as well as links to the offical AHL gamesheets from all of the Rivermen games for the year, a running schedule, and links to significant Rivermen news in the "Peoria Journal-Star" and other media outlets.
Our second new feature will be "The Hot List," a quick hit on some of the top prospects available for the 2011 NHL Entry Draft, as well as some news and notes on players that may be flying under everyone else's radar, but not ours here at "Game Time."
Going forward, the schedule for your new-look Prospect Sunday at "Game Time" is as follows:
11:00 AM -- Game Time Prospect Sunday, with the featured Prospect Of The Week and "Trending Up."
1:00 PM -- "River Readings."
3:00 PM -- Game Time Weekly Blues' Prospect Statistics Review.
5:00 PM -- "The Hot List."
---
AFTER THE JUMP...:
After the jump, the Game Time Featured Prospect Of The Week, as well as this week's "Fab Five" of players in the organization who are "Trending Up." The Rivermen have only played one game in the last seven days, so some prospects at other levels get their turn in the spotlight this week. Stay tuned...

...
...
...
FEATURED PROSPECT OF THE WEEK:
The Game Time Featured Prospect of the week for Nov. 7, 2010 is Swedish defenseman Kristoffer Berglund. Blueliner Berglund is no relation to Patrik "Iceberg Vroom Vroom Pahty Stahtah" Berglund, as that's a common surname in Sweden. But what the defenseman and the center do have in common are a high talent level and first-rate hockey sense.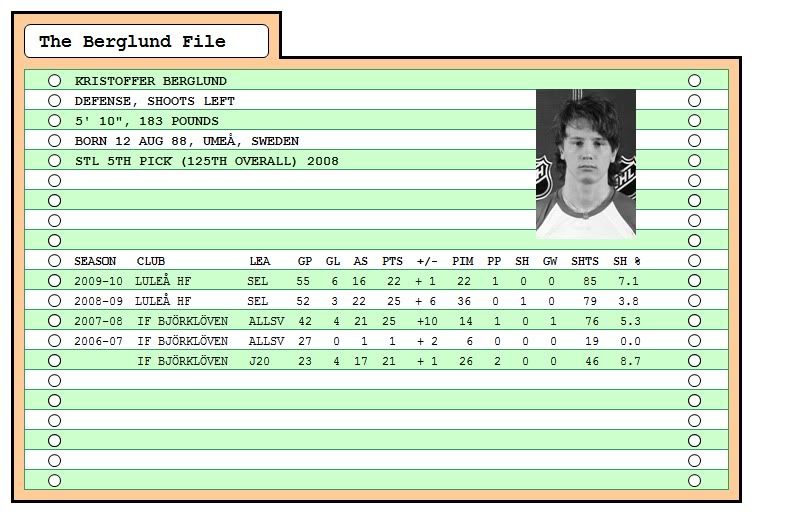 LINK here to SB Nation asset file for the above graphic.)
Trained in the IF Björklöven system in his home town of Umeå, Berglund established himself as an up-and-coming talent to watch in the 2006-07 season with four goals and 26 points in 30 games for Björklöven's J20 club. He also skated in 30 games for the Allsvenskan (second league) club that year, and moved up to the Allsvenskan club for good the following season. Berglund was selected to Sweden's U18 and U20 World Junior teams in 2005-06 and 2007-08, and in 12 total games at those torunaments picked up an assist and four minutes in penalties.
In this week's featured video, Berglund (#16 in green) gets set up for a blast from the right point at the 0:38 mark of this clip. This shot has eyes, as it gets through traffic and beats the HV71 goalie stick side. You get a better look at it in the replay immediately following.
Berglund is a defenseman who relies on speed, skill and positioning to get the job done on defense. He is not big, nor overly physical, but plays a very sound game defensively. His passing and puck-moving skills are excellent, and he has outstanding on-ice vision and hockey sense. Berglund is contracted to Färjestad BK through the 2011-12 season, and has been to St. Louis for Development Camp in 2009.
---

| | | | | |
| --- | --- | --- | --- | --- |
| Cody BEACH | Ben BISHOP | Jonas JUNLAND | Stephen MACAULAY | Jaden SCHWARTZ |
| | | | | |
| Calgary (WHL) | Peoria (AHL) | Färjestad (SEL) | Saint John (QMJHL) | Colorado College (WCHA) |
| ** 4 games played this week | ** 1 game played this week | ** 3 games played this week | ** 3 games played this week | ** 2 games played this week |
| ** 1 G, 3 A, minus-1 | ** 65 mins, 2 GA, 0-0-1 | ** 1 G, 2 A, plus-1 | ** 1 G, 3 A, plus-6 | ** 1 G, 4 A, plus-1 |
| ** 15 PM, 1 PP, 0 SH, 0 GW | ** 1.85 GAA, 94.7% sv pct | ** 0 PM, 0 PP, 0 SH, 0 GW | ** 0 PM, 0 PP, 0 SH, 0 GW | ** 0 PM, 1 PP, 0 SH, 1 GW |