By Brian Weidler, "Game Time" Prospect Department
---
St. Louis Game Time PROSPECT SUNDAYS
---
Four of the best teams in Canadian Major Junior hockey are facing off at Westman Place in Brandon, Manitoba this week, in pursuit of the grandest prize of all at this level - The Memorial Cup.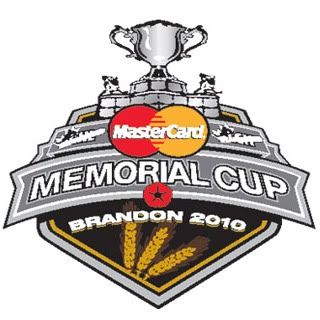 Representing the Ontario League are the defending Memorial Cup champion Windsor (ON) Spitfires, led by likely 2010 Entry Draft first-overall pick Taylor Hall and by Blues' prospect Mark Cundari on defense. The Quebec League representatives are the Moncton (NB) Wildcats, who have gotten solid goaltending from Philadelphia draftee Nicola Riopel, and contributions from another potential high pick in the upcoming draft, defenseman Brandon Gormley.
Brandon, a member of the Western Hockey League, is the host city this year, and so the hometown Wheat Kings are in the mix despite losing the WHL final series, and the Ed Cheynoweth Cup, to the Calgary (AB) Hitmen. For their part, the Hitmen feature a pair of Blues' prospects, forwards Ian Schultz and Tyler Shattock who, like Cundari, will be plying their trade in the pro ranks next season, most likely in Peoria.
Links, playoff scoring stats, photos, videos and more... after the jump.
GAME # 1: BRANDON (WHL) vs WINDSOR (OHL), Fri. May 14, 2010: The host team kicked off the 2010 Memorial Cup tournament by facing off against last year's defending champions. Brandon, the 2010 WHL runners-up, fell behind early to the OHL champion Spitfires, surrendering four unanswered goals in the first five minutes on the way to a crushing 9-3 defeat in front of a packed house of 5300-plus at Westman Place.
LINK to game story at Mastercard Memorial Cup dot com.
LINK to game summary at Mastercard Memorial Cup dot com.
GAME # 2: CALGARY (WHL) vs MONCTON (QMJHL), Sat. May 15, 2010: WHL powerhouse Calgary showed why they're the defending two-time champions of the toughest league in junior hockey on Saturday, mounting an impressive come-from-behind 5-4 win over the red-hot Moncton Wildcats. The 'Cats took an early 3-0 lead, and were up 4-2 late in the third period before the Htmen fired off three unanswered goals in the final six minutes, capped by Tyler Shattock's wraparound game-winner with just over a minute to play in regulation.
LINK to game story at Mastercard Memorial Cup dot com.
LINK to game summary at Mastercard Memorial Cup dot com.
(Photos by Aaron Bell/CHL images, at http://mastercardmemorialcup.com/photosGame1.php)
People named Tyler -- and even people who aren't -- will enjoy this video (courtesy of Mastercard Memorial Cup dot com) of newly-signed prospect Tyler Shattock discussing the game-winning goal in Calgary's 5-4 win over Moncton on Saturday.
In Sunday's action, host Brandon rebounded from Friday's humiliation by Windsor to post a 4-0 whitewash of Moncton. The win evens Brandon's tournament record at 1-1, while dropping QMJHL champion Moncton to 0-2. Monday at 7:00 PM Central Time, Windsor and Calgary put their 1-0 records on the line in a head-to-head showdown for the top spot at the halfway point of the tournament.