"Game Time" PROSPECT SUNDAYS
---
By Brian Weidler, "Game Time" Prospect Department
---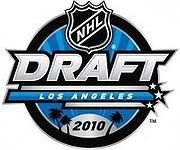 The countdown is on... T-minus 124 hours, and counting...
With less than one week remaining before Jarmo Kekalainen steps up to the podium for the last time as the Blues' draft guru, here's a look at how we here at your "Game Time" Prospect Department think the 2010 NHL Entry Draft -- Kekalainen's last with the organization before taking the reins as GM of Finnish hockey power Jokerit Helsinki -- might pan out.
History:
In the last seven drafts (2003-2009), the Blues have had multiple first-round picks only twice (two in 2006, and three in 2007). In 2010, barring any trades, the Blues will have one first-round selection at 14th overall. In previous drafts where the Blues have had one first-round pick, they've used that pick on a defenseman three times, and once each on a forward and a goaltender. They've chosen two Canadians (D Shawn Belle, 2003 and D Alex Pietrangelo, 2008), one American (F T.J. Oshie, 2005), one Czech (G Marek Schwarz, 2004) and one Swede (D David Rundblad, 2009).
Statistically, then, the odds are that the Blues will use the 14th overall pick in 2010 to select a Canadian defenseman. Realistically, however, the Canadian defensemen likely to be left on the table by the time the 14th overall pick rolls around, don't look like the mythical "best player available" at that point.
To be sure, there are several excellent Canadian-born defensemen -- and two top-notch Americans as well -- available at the top of this draft. Players 4-7 on the Central Scouting Final Rankings are all blueliners, starting with big Erik Gudbranson (6'4, 195, shoots right) ranked fourth overall. Gudbranson is followed closely by American Cam Fowler, a teammate of Blues' prospect Mark Cundari and likely first-overall pick Taylor Hall with the Memorial Cup champion Windsor Spitfires, at fifth in the CSS rankings.
After Gudbranson and Fowler, the sixth seed goes to Prince Edward Island native Brandon Gormley out of the Quebec League's Moncton Wildcats, and the seventh spot is nailed down by Edmonton's Mark Pysyk. At ninth overall, Central Scouting ranks the USNTDP's big (6'5, 198) Derek Forbort as the likely selection.
All of these players are likely to be off the board by the time the Blues pick at 14th overall; of the five top defensemen, Pysyk is rated the one most likely to drop somewhat on draft day, but if he should fall to the Blues' spot, it's likely they would pass him by as well in favor of some more dynamic offensive talent.
Organizational Depth:
The Blues' organization is currently top-full of quality defense prospects, as well as several solid young "prospect-age" (25 or less) defensemen at the NHL level in Erik Johnson (22), Roman Pola'k (24), and Tyson Strachan (25). While a blueliner of the caliber of a Forbort or a Gormley -- or even a Pysyk -- would be hard to pass up should one of them fall to the Blues at 14th overall, the notion of "best player available" can be subjective in an organization with the kind of solid prospect depth in one position that the Blues have.
Where the Blues are paper-thin in the organization, is on the wing -- left wing specifically. They are also lacking in the organization any real "blue-chip" goal scoring ability, and just had to move their top offensive prospect in order to address a long-standing need in the NHL-level nets. With the solid depth that the Blues already have at defense, the "best player available" this year will, in all probability, be an offensive-minded forward. We'll take a look at several of these who project to be available at 14th overall -- as well as our best guesses about the rest of the Blues draft -- after the jump.
Round One (14th overall):
The "experts" at NHL.com, The Hockey News, International Scouting Services, McKeens Hockey Prospects, and elsewhere have been all over the map with their predictions of for whom the Blue bell tolls at no. 14. In the five mock drafts posted at the NHL.com website -- by an anonymous Western Conference scout, an Eastern Conference scout, and by three of NHL.com's bloggers -- three of them have the Blues selecting USNTDP goaltender Jack Campbell.
There are advantages to selecting Campbell -- a Michigan native with great size (6'3, 175) for the position and three World Junior gold medals, including two this year at the U20's and U18's -- and precedent for the Blues to select a goaltender with their first-round pick (Schwarz at 17th overall in 2004).
Already in the Blues' system are third-year pro Ben Bishop, Campbell's 2010 U20 final opponent in Jake Allen, and collegian Paul Karpowich... and the recent acquisition of 25-year-old Jaroslav Halak from Montreal has apparently solidified the NHL goaltending ranks for at least long enough for Bishop, the rookie Allen, and college junior Karpowich to develop at a normal pace without being rushed prematurely into NHL service.
Campbell may well be gone by 14th overall, however, and even if he is still on the board, the organizational shortage of scoring wingers is an area that bears a more urgent addressing than long-term goaltending prospects. The Blues will be able to select a quality goaltender with a later pick, and the list of first-round goaltenders in the last ten years who have busted -- led by ex-Blues Schwarz, Hannu Toivonen, and Jason Bacashihua -- is at least as long as the list of first-rounders who have panned out.
The following five forwards are most likely to be available to the Blues at 14th overall, and all project to be offense-first players with defensive awareness and a good work ethic -- traits that are high on the Blues' "must-have" list:
| | | | | |
| --- | --- | --- | --- | --- |
| Nick BJUGSTAD | Mikael GRANLUND | Ludvig RENSFELDT | Jeffrey SKINNER | Austin WATSON |
| | | | | |
| ** Blaine HS (MN) | ** HIFK Helsinki (FIN) | ** Brynäs Jr (SWE Jr) | ** Kitchener (OHL) | ** Peterborough (OHL) |
| ** 6' 04, 188, C, shoots R | ** 5' 10, 180, C, shoots L | ** 6' 03, 192, LW, shoots L | ** 5' 10, 187, RW, shoots L | ** 6' 03, 185, LW, shoots R |
| ** 25 GP, 29-31-60, +22 | ** 43 GP, 13-27-40, +11 | ** 39 GP, 21-29-50, +20 | ** 64 GP, 50-40-90, + 7 | ** 52 GP, 20-34-54, +16 |
| ** 24 PM, 8 PP, 5 SH, 4 GW | ** 2 PM, 3 PP, 0 SH, 3 GW | ** 37 PM, 4 PP, 0 SH, 3 GW | ** 72 PM, 21 PP, 1 SH, 9 GW | ** 22 PM, 8 PP, 0 SH, 0 GW |
| ** Bjugstad profile | ** Granlund profile | ** Rensfeldt profile | ** Skinner profile | ** Watson profile |
NOTES:
** Bjugstad is the 2010 winner of the Minnesota "Mr. Hockey" award, and accelerated his schooling in order to graduate early and attend the University of Minnesota in 2010-11.
** Granlund is the top-ranked European skater by Central Scouting for 2010, and is the only one of these players to skate in his country's Elite league against players ten years older than he.
** Rensfeldt is projected as a late first-round pick, and is not likely to slip far enough for the Blues to draft him in the second round. He scored high in anaerobic fitness, body fat %, and curl-ups at the Scouting Combine.
** Skinner was second in the OHL in regular-season goals scored (50 in 64 GP), and tied for the league lead in the playoffs with 20 goals in 20 games. He was Kitchener's first pick (20th overall) in the 2008 OHL Priority Selection.
** Watson was part of Windsor's 2009 Memorial Cup championship, and was traded to Peterborough in midseason this year. He's an outstanding penalty killer and a strong net-front presence as well.
GAME TIME RANKING:
Skinner's goal-scoring ability nicely fills the hole that the organization currently has in that aspect of the game. In addition to his 77 goals in two OHL seasons with Kitchener, Skinner struck for 65 goals in 55 games during his last year of major midget with the Toronto Nationals (GTHL). That ability may get him noticed sooner than 14th overall, however.
Granlund, as noted, is the only one of these players to have played in his country's Elite league, where he led all rookies in scoring (28th overall in the SM-Liiga, 17th overall in assists). Watson and Bjugstad have size and work ethic as their leading assets, with Bjugstad having the added advantage of a four-year window for the Blues to hold his rights due to his college commitment, and Rensfeldt combines a healthy dose of size and scoring ability in one package.
1 ... Skinner
2 ... Bjugstad
3 ... Granlund
4 ... Rensfeldt
5 ... Watson
Round Two (44th overall):
Preface this section by noting that any of the players targeted for the first round who happen to slip, should be top priority for selection in this round. Rensfeldt in particular would be a priority target for your GTPD at this position, if still available.
Should the Blues choose a North American in the first round, as expected, there are a number of solid European choices in this round, at all positions including goaltender. In addition, there are a couple of very solid North Americans who should be available here as well. Scoring wingers remain a priority, but either of the two defensemen, or the goaltender, listed here would make a fine addition to the Blues' prospect stable at 44th overall.
| | | | | |
| --- | --- | --- | --- | --- |
| Mark ALT | Beau BENNETT | Patrik NEMETH | Victor OHMAN | Fredrik PETTERSSON-WENTZEL |
| | | | | |
| ** Cretin-Derham Hall HS (MN) | ** Penticton (BCJHL) | ** AIK Jr (SWE Jr) | ** IF Malmö Jr (SWE Jr) | ** Almtuna IS (SWE 2) |
| ** 6' 03, 199, D, shoots R | ** 6' 01, 173, RW, shoots R | ** 6' 03, 201, D, shoots L | ** 6' 01, 202, C, shoots L | ** 6' 01, 169, G, catches L |
| ** 22 GP, 6- 9-15, + 3 | ** 56 GP, 41-79-120, + 0 | ** 38 GP, 1-19-20, + 0 | ** 21 GP, 17-10-27, + 3 | ** 37 GP, 1.89 GAA, .924 |
| ** 12 PM, 0 PP, 0 SH, 1 GW | ** 20 PM, 25 PP, 0 SH, 8 GW | ** 120 PM, 1 PP, 0 SH, 0 GW | ** 14 PM, 5 PP, 0 SH, 3 GW | ** 6 SO, 2135 mins,25- 9- 2 |
| ** Alt profile | ** Bennett profile | ** Nemeth profile | ** Ohman profile | ** Pettersson-Wentzel profile |
NOTES:
** Alt is the son of former Kansas City Chiefs' OT John Alt, who now coaches football at Cretin-Derham Hall. The younger Alt also plays football, quarterbacking Cretin-Derham Hall to a state title.
** Bennett was the leading scorer in the BCHL this season, and the first rookie since 2003 to record over 100 points in a season. He has committed to Denver University (WCHA) for 2010-11.
** Nemeth's size and physical play makes him the secomd-highest ranked draft-eligible defenseman in Europe at 11th overall, behind only Slovakia's Martin Marincin at 10th overall.
** Ohman also spent 21 games with the IF Malmö senior team in the Allsvenskan, posting 1-5-6 totals and a plus-4 mark in 21 games played.
** Pettersson-Wentzel was the top junior-age goaltender in the Allsvenskan this past season, leading the league in goals-against average (1.85), finishing fourth in save percentage (.924), and sixth in minutes played (2135).
GAME TIME RANKING:
Bennett's offensive skills may get him drafted late in the first round; he has the same upside as Bjugstad, and the same advantage to the Blues in that his college commitment gives the Blues a four-year window to hold his rights. Ohman split the season between the junior and senior clubs in Malmö, and performed well for both
Alt and Nemeth both are big stay-at-home defensemen, with Nemeth appearing to be slightly the more aggressive of the two and Alt having a slightly greater offensive upside. Pettersson-Wentzel may be the best goaltender available to the Blues in this draft, if Campbell is chosen before the Blues have a crack at him.
1 ... Bennett
2 ... Petterson-Wentzel
3 ... Ohman
4 ... Nemeth
5 ... Alt
Analysis of Rounds 3 through 6 coming later today; until then, remember... "if we do not prepare for ourselves the role of the hammer, there will be nothing left but that of the anvil." Auf wiedersehen.