By Brian Weidler, "Game Time" Prospect Department
---
AHL WEBSITE PROFILES EMINIAN:
Longtime Rivermen beat writer is featured on the AHL website this week.
The AHL website (theahl.com) has a nice article on Rivermen beat writer Dave Eminian of the Peoria Journal-Star, detailing his 27 years covering the Rivs through the IHL, ECHL and AHL. As promised in Thursday night's print edition of "Game Time," here is the LINK to the article on the website.
Dave Eminian is a true professional, and an invaluable source of information and anecdotes accumulated from covering almost three decades of hockey in Peoria. If you ever get a chance to head up to central Illinois to check out the future of the Blues, and have the opportunity to stop by the press box and talk to the man they call "Cleve" in Peoria, you'll find the experience well worth your time.
---
RIVS' OFFENSE BACK ON TRACK:
Allen struggles, but still gets first win of 2011-12.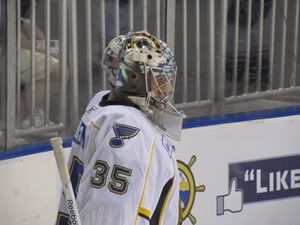 Two weeks ago, the Rivermen were having issues offensively, scoring only five goals in three games over the period Nov. 3 thru Nov. 5, and limping to a 1-2-0-0 record.
Last week, the Rivermen offense came back to life, scoring ten goals in two games and posting a pair of wins to take over second place in the AHL West Division.
On Veteran's Day, the Rivermen shot out to a 4-1 lead and chased Rockford starter Alec Richards in the second period, only to fall behind 6-4 late in the third.
And the Philip McRae took over.
McRae tallied twice on the power play in the last 90 seconds to send the game into overtime, and Adam "Release The" Cracknell fired the game-winner past IceHog substitute goalie Alexander Salak. Jake Allen (pictured at left) turned away 36 of 42 Rockford shots to post his first win of the 2011-12 campaign.
In the Saturday end of the home-and-home series with the 'Hogs, Ben Bishop stopped all 37 shots to post his second shutout of the season. T.J. Hensick, Brett Sonne and Brett Sterling all tallied in Peoria's 3-0 win.
Here's some video of Bishop discussing his shutout after the game Saturday night in Rockford.
---
THE WEEK IN REVIEW:
Peoria 7 vs Rockford 6 (OT), Friday, Nov. 11, 2011.
Peoria 3 at Rockford 0, Saturday, Nov. 12, 2011.
---
THE WEEK AHEAD:

.....
.....
Tuesday, November 15, 2011 ... Game Time 6:30 PM CST at Copps Coliseum, Hamilton, ON. NHL Affiliate: Montreal Canadiens.

.....
.....
Thursday, November 17, 2011 ... Game Time 6:00 PM CST at Quicken Loans Arena, Cleveland, OH. NHL Affiliate: Colorado Avalanche.
Saturday, November 19, 2011 ... Game Time 6:30 PM CST at Quicken Loans Arena, Cleveland, OH. NHL Affiliate: Colorado Avalanche.
---
RIVERMEN NEWS LINKS:
11/11/11 -- Rivermen charge back to beat IceHogs, 7-6, in OT (Peoria Journal Star).
11/12/11 -- Rivermen ride Bishop to 3-0 shutout over IceHogs (Peoria Journal Star).