By Brian Weidler, "Game Time" Prospect Department
---
PROSPECT PROMOTIONS / DEMOTIONS:
01-31-11: Phil McRae, C, called up to St. Louis (NHL) from Peoria.
01-31-11: Nikita Nikitin, D, called up to St. Louis (NHL) from Peoria.
01-31-11: Stefan Della Rovere, LW, sent down from St. Louis (NHL) to Peoria.
02-02-11: Phil McRae, C, sent down from St. Louis (NHL) to Peoria.
02-04-11: Ben Bishop, G, called up to St. Louis (NHL) from Peoria.
02-04-11: Michael Ouzas, G, signed to PTO from Las Vegas (ECHL).
---
PROSPECT TRADES:
None to report this week.
---
2011 NHL ENTRY DRAFT PREVIEW:
As we do every year, your Game Time Prospect Department is participating in a mock draft at the Hockey's Future website. In this mock draft, the Blues had the tenth-overall selection in each round to start, and we have thus far made two moves.
* Traded down with Carolina from 10th to 12th in the first round of the mock. The deal was the Blues' first- and fifth-round picks for Carolina's first- and third- round picks. This move gives the Blues a pick at 12th, 40th, 70th and 72nd in this draft.
* Traded Brad Boyes and Russian netminder Konstantin Barulin to Pittsburgh for Pascal Dupuis, Tomas Kühnhackl (pro-ready forward prospect at Windsor/OHL), Mathias Modig (goalie prospect with Wheeling/ECHL), and Pittsburgh's 6th round pick at 179th overall.
Our first-round selection at 12th overall is left wing SVEN BÄRTSCHI of the Portland Winter Hawks (WHL). A scoring forward with a little grit in his game, Bärtschi leads all WHL rookies in scoring with a 27-34-61 scoring line (plus-18, 50 PM, 9 PP, 0 SG, 5 GW) in 49 games. That point total is good for 18th place among all WHL players, and Bärtschi's 27 goals lead all rookies and are again good for a top 20 position in the WHL.
Bärtschi was ranked the 6th-best prospect in North America by NHL Central Scouting's Midterm Rankings. International Scouting Services (ISS) has him at 24th overall in their January 2011 Top 30, and TSN draft insider Bob McKenzie ranks Bärtschi 14th overall in his mid-season rankings.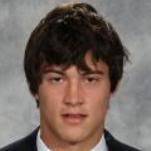 Our second-round selection at 40th overall is this draft's top-rated goaltender, JOHN GIBSON of the US National Team Development Program. The 6' 3, 205-pounder from Pennsylvania is quick and athletic despite his excellent size, and is a solid puckhandling goaltender with good rebound control as well. In 21 games thus far with the USNTDP in the USHL and tournament/college play, Gibson is 8-9-2 with a 3.01 GAA and 91.1% save percentage. He is considered a lock for Team USA in the U-18 World Juniors later this spring, and will be between the pipes for Red Berenson and the University of Michigan next season.
As noted. Gibson was rated the top goalie in North America by NHL Central Scouting at midterm. ISS does not have Gibson ranked in their top 30, but McKeen's Hockey Prospects had him at 16th overall as of December 20. Bob McKenzie at TSN ranks Gibson 46th overall in this draft.
We have thus far made selections for the Blues at 70th overall, 72nd overall, and 100th overall as well. The players chosen in those spots are as follows:
| | | |
| --- | --- | --- |
| Marcel NOEBELS (LW/L) | Johan SUNDSTRÖM (C/R) | Victor BERGLIND (D/R) |
| | | |
| Seattle (WHL) | Frölunda (SWE Jr) | Brynäs (SWE Jr) |
| 6-03 / 195, 03-14-92 | 6-02 / 196, 09-21-92 | 5-11 / 180, 10-02-92 |
| ** 45 games played | ** 13 games played * | ** 31 games played |
| ** 18 G, 17 A, minus-10 | ** 7 G, 8 A, plus-3 | ** 10 G, 19 A, plus-8 |
| ** 19 PM, 6 PP, 1 SH, 1 GW | ** 4 PM, 2 PP, 2 SH, 1 GW | ** 32 PM, 4 PP, 1 SH, 2 GW |
(* Sundström has also played 30 games with the Frölunda senior team in the Elitserien, where he has one goal, a minus-4, and eight penalty minutes)
Stay tuned for more mock draft updates, possibly next week. The later rounds of mock drafts tend to run pretty slowly, and the Blues are now without a pick until the sixth round (160th and 179th overall). We have put out feelers to trade back up into the fifth round, so you'll hear it here first if there's any movement on that front.
---
AFTER THE JUMP:
The Featured Prospect Of The Week this week is big Finnish defenseman Jani Hakanpää. Hakanpää played well for Finland in pre-World Junior exhibition games, but was the last player cut from the squad prior to the tournament. Get a sneak peek at Hakanpää, as well as this week's "Fab Five" of players in the organization who are "Trending Up" after the jump.

...
...
...
The Game Time Featured Prospect of the week for Feb. 6, 2011 is defenseman Jani Hakanpää.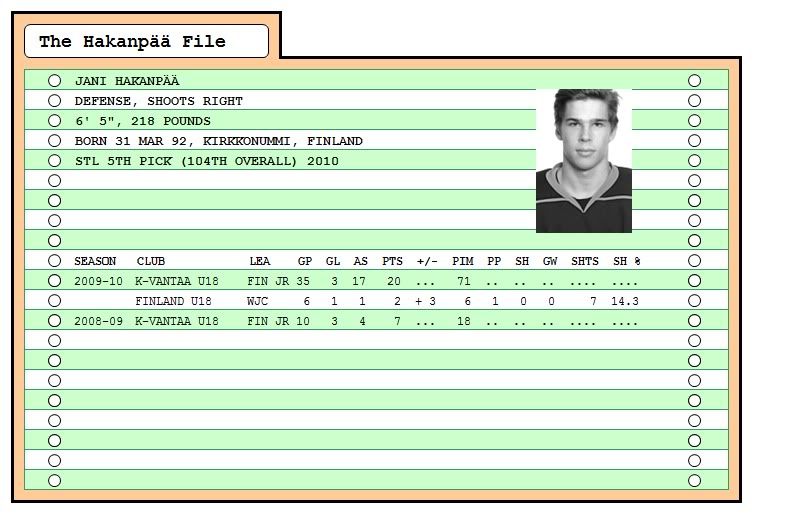 There is very little information about Hakanpää available in English, and not a lot in Finnish, either. Following is a brief scouting report on Hakanpää from the "Hockey's Future" website, written prior to the 2010 draft:
10. Jani Hakanpaa, D, Kiekko Vantaa A Junior (Division I). 6-05, 220, born 03/31/92 in Kirkkonummii, FI.

In a country with so many small, slick-skating, offensive-minded defensemen Hakanpaa stands out simply because of his size. But after he spent the season playing in Finland's second junior league few knew what to expect when he joined Team Finland for the World U-18 Championships.

"He's obviously a good sized kid," said a coach who saw him in person for the first time at the Vierumaki prospect camp in June. "He's not the smoothest skater and his puck handling skills are a bit rough around the edges. But he's got good potential."

Hakanpaa seemed to handle the adjustment to a higher talent level playing in Belarus with the U-18 team - being recognized as a top three player on his team and also registering one goal and an assist in six games for the bronze medal-winning squad. He will have the chance to be tested again this fall when he moves up to SM-Liiga juniors with Espoo. Hakanpaa was ranked 55th among European skaters by CS.
A search of You Tube found no video of Hakanpää in action, and only this clip showing him and several other members of the Finnish U-20 club having dinner with some bigwigs in Finland. Hakanpää appears at about 0:20 of the clip, wearing a grey sweater. The player shown just before Hakanpää is 2010 first-round pick Mikael Granlund:
Here's an interesting photo from the pre-WJC exhibition games played in Toronto before Christmas. These are two Blues' prospects, Hakanpää in blue and Jaden Schwartz in white, mixing it up along the boards.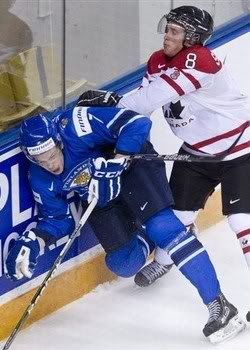 ---

| | | | | |
| --- | --- | --- | --- | --- |
| Ben BISHOP | Jani HAKANPÄÄ | T.J. HENSICK | Stephen MACAULAY | David SHIELDS |
| | | | | |
| Peoria (AHL) | Blues Espoo (FIN Jr) | Peoria (AHL) | Saint John (QMJHL) | Erie (OHL) |
| ** 1 game played this week | ** 2 games played this week | ** 3 games played this week | ** 3 games played this week | ** 3 games played this week |
| ** 60 mins, 1 GA, 1-0-0 | ** 1 G, 2 A, plus-4 | ** 3 G, 2 A, plus-4 | ** 2 G, 2 A, plus-2 | ** 1 G, 1 A, plus-6 |
| ** 1.00 GAA, 97.2% sv pct | ** 2 PM, 0 PP, 0 SH, 0 GW | ** 0 PM, 1 PP, 0 SH, 1 GW | ** 2 PM, 0 PP, 0 SH, 0 GW | ** 0 PM, 0 PP, 0 SH, 0 GW |