..........Remember when the Peoria Rivermen were an ECHL club? Welcome Back to the Future...
By Brian Weidler, "Game Time" Prospect Department
---
WEEK IN REVIEW: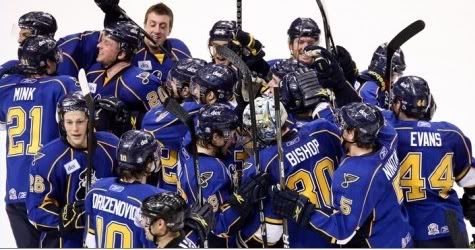 EVERY POINT COUNTS IN TOUGH AHL WEST PLAYOFF RACE:
Despite a 1-2-0-0 week, the Peoria Rivermen remain in third place in the ultra-competitive AHL West Division, and remain (with a little good fortune) in good shape for home ice advantage in the first round of the AHL playoffs
After 70 games played this year, Peoria and Oklahoma City are tied for third place in the AHL West Division with 81 points. Peoria is seeded higher due to a 37-26-2-5 record, where the Oil Barons have just 36 wins. OKC does have one less loss (25) than Peoria, but have two additional SO losses to make up the point difference between 37 and 36 wins.
Every game this week has been a one-goal decision, with the Rivermen losing 2-1 to division leader Milwaukee and 4-3 to last-place Rockford on either end of the week. The team's sole victory this week was a 2-1 SO win vs. Oklahoma City on Tuesday (see links to official AHL game sheets below).
No Blues-contracted prospect scored a goal for the Rivermen this week, as all of their tallies came off the sticks of veteran depth players or temporarily-assigned players from other organizations. Veteran Dave Scatchard tallied twice this week for the Rivermen, while Graham Mink, Derek Nesbitt, and Atlanta prospect Akim Aliu also found the net for Peoria during the last seven days.
Also, veteran defenseman Nathan Oystrick was returned to the Rivermen from St. Louis on Friday, and sat out Saturday night's 4-3 loss to Rockford as the first game of his six-game assessed suspension fromn the AHL for leaving the bench to participate in a fight last week.
Courtesy of the Rivermen and the Peoria Journal-Star, here are some highlights fromn the sole Peoria victory this week, Tuesday's 2-1 SO win over Oklahoma City.
In the article LINKED below, Peoria beat writer Dave Eminian notes that the impending sale of the Blues, Scottrade Center AND Rivermen should not concern Peoria fans overmuch. True, the Rivermen operate at a loss; so do probably two dozen other AHL franchises that are affiliated with NHL clubs.
The new Blues' ownership -- when it materializes -- is not likely to move the AHL affiliate out of Peoria. In addition to having four years left on a five-year, club-friendly lease agreement with the Peoria Civic Center and Carver Arena, there are major obstacles to moving the affiliate to St. Charles (competing with NHL parent for attendance and sponsors) or Kansas City (increased travel costs; NHL-caliber arena and management looking for a major-league club).
True, Carver Arena does lack certain amenities considered essential for success in the current sports economy -- the press box is poorly-situated, poorly-furnished and poorly-equipped, and there are no revenue-generating private boxes -- but most other circumstances align very favorably for a continued Blues and AHL presence in central Illinois.
---
THE WEEK IN REVIEW:
Peoria 1 at Milwaukee 2, Sun, Mar 13, 2011.
Peoria 2 vs Oklahoma City 1 (SO), Tue, Mar 15, 2011.
Peoria 3 at Rockford 4, Sat, Mar 19, 2011.
---
THE WEEK AHEAD:

.....
.....
Sunday, March 20, 2011 ... Game Time 5:05 PM at Carver Arena, Peoria, Illinois. NHL Affiliate: Colorado Avalanche.

.....
.....
Friday, March 25, 2011 ... Game Time 7:05 PM at Carver Arena, Peoria, Illinois. NHL Affiliate: Phoenix Coyotes.
Saturday, March 26, 2011 ... Game Time 7:05 PM at Carver Arena, Peoria, Illinois. NHL Affiliate: Phoenix Coyotes.
---
RIVERMEN NEWS LINKS:
03/13/11 -- Rivermen edged by Admirals, 2-1 (Peoria Journal-Star).
03/14/11 -- Eminian: Rivermen in need of a dandy dozen (Peoria Journal-Star).
03/16/11 -- Rivermen rally to beat Barons 2-1 in SO (Peoria Journal-Star).
03/18/11 -- Eminian: Rivermen fans have little to fear (Peoria Journal-Star.
03/19/11 -- Rivermen stunned by last-place Rockford, 4-3 (Peoria Journal-Star.
---
BY THE NUMBERS:
Peoria Rivermen 2010-11 Scoring and Penalty Statistics.