By Brian Weidler, "Game Time" Prospect Department
---
PROSPECT PLAYOFF REPORT:
...
...
...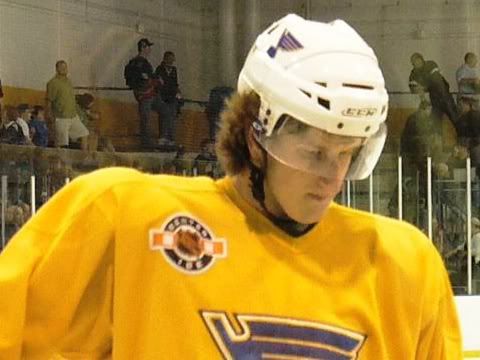 Left wing/center Stephen Macaulay is the only Blues' prospect still in league play in May 2011.
Drafted in the sixth round (164th overall) in the 2010 NHL Entry Draft by the Blues, the 6' 2, 185-pound native of Cole Harbour, Nova Scotia has developed into a reliable checking-line forward on one of the most powerful major junior teams in Canada. The Saint John Sea Dogs (Saint John, NB) were ranked at or near the top of the Canadian Hockey league power rankings all season, and have lost only one game in the 2011 QMJHL Playoffs thus far (see HERE for the QMJHL playoff bracket).
In the semifinal series against the Lewiston MAINE-iacs (the major junior club that David Perron was drafted from), Macaulay scored the series-winning goal at 17:08 of the third period last Wednesday night to give the Sea Dogs a 6-5 road win (see HERE for the scorer's sheet from game 4 of the Saint John-Lewiston series).
Macaulay is getting hot at the right time; his GWG and an assist in Game 4 of the Lewiston series were his fourth and fifth points in his last seven games (4 G, 1A). In 13 playoff games, Macaulay has a 4-3-7 scoring line, a plus-2 mark, 21 PM and two game-winners (in Game 1 and Game 4 of the Lewiston series). In 58 regular-season games, Macaulay put up a 15-16-31 scoring line with a plus-14, 36 penalty minutes, a power-play goal and a shorthanded goal, and four game winners (his last coming on Jan. 2 in a 3-2 overtime win vs. the Moncton Wildcats).
Macaulay and the Sea Dogs are in the QMJHL President's Cup Final, and await the winner of the Gatineau-Quebec semifinal. Patrick Roy's Remparts lead the series 3-2, and can put Gatineau away with a win today. Game time is 6:00 PM CDT.
---
FEATURES THIS WEEK:
RIVER READINGS
"Game Time" takes a first look at what the 2011-12 Peoria Rivermen roster might look like, based on players currently under contract and free agents we expect to be re-signed. Details at 3:00 PM Central Time.