St. Louis Game Time PROSPECT SUNDAY
By Brian Weidler, "Game Time" Prospect Department
---
2011 ENTRY DRAFT PREVIEW SPECIAL SECTION: The Combine
Every year, the NHL invites a hundred or so of the top North American and European prospects for that year's draft to Toronto, several weeks ahead of the NHL Entry Draft.
These prospects are then evaluated physically and mentally by the 30 NHL clubs, using a standard set of psychological and physical tests designed to evaluate the prospect's fitness for an NHL career. There are interviews, questions, and a physical testing circuit that has produced horror stories passed down from one draft class to the next in dressing rooms from Alaska to Zlin and all points in between.
While the physical and psychological tests may be standardized, each of the 30 NHL clubs is looking for different things and evaluating the players in different ways. In this special Draft Preview section, we'll naturally focus on the Blues' approach, as reported by NHL.com staff writer Adam Kimmelman in THIS article at the NHL.com website.
Body type equals commitment for Blues' chief scout
When the prospects first arrive at the Combine site for testing, they are measured, weighed and photographed, and the evaluation process begins at that point. Some teams look at the player and are able to project at that point if he is physically mature or if he still has some filling out to do. Other teams do what they call "postural analysis," which is nothing more than observing how a player moves, how he walks around, seeing if there are imbalances in the stride or obvious muscle/bone movements that predispose a player to potential injury.
For Blues' Director of Amateur Scouting Bill Armstrong, however, there's a slightly different emphasis:
"You're looking at body types. Explosive body types, thick body types. Maybe that kid might be stronger than you originally thought. You want to see how much time they put into their body -- that tells you a little about them. If a kid has really put a lot of time into the weight room you can assume he's got a good work ethic, he's dedicated to what he's doing."
After the jump, hear more of Armstrong's thoughts about the Combine, and find out which of the various physical tests he and the Blues place the most emphasis upon. Plus, see which prospects did the best on the tests that Armstrong identifies as most signifcant for the Blues.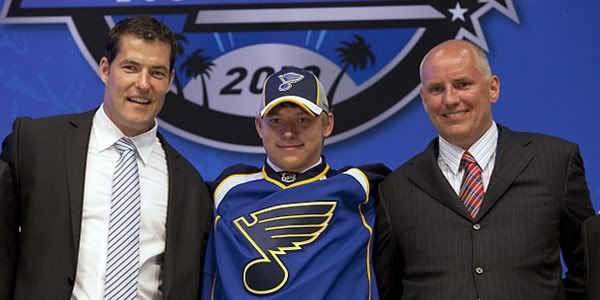 That emphasis on thick and explosive body types was nowhere more evident than in last year's draft, where Armstrong and the Blues' scouts collaborated to evaluate and select Russian prospect Vladimir Tarasenko (shown at left between Armstrong and GM Doug Armstrong).
Tarasenko, known as "The Tank" or "T-90" to Blues' fans, is a thick-bodied player with powerful legs that make him a solid skater and strong on his skates. The emphasis on powerful body types also manifests itself in other aspects of a prospects' game that the Blues look for.
Per Armstrong, the most important exercises to him are the ones that measure leg strength, like vertical leap and standing broad jump, as well as the dreaded bike tests -- the Wingate Cycle Ergometer, which measures a player's power output during a 30-second burst, and the VO2 Max test, which measures a player's endurance.
"I think you always look for the leg power," Armstrong said. "Bench pressing in hockey doesn't correlate to too much. When it comes to the leg stuff and the endurance stuff, that tells you about him as a hockey player. That's what you're looking at, those exercises. There are a few exercises here that look pretty good but don't really correlate to what we like."
The Blues' emphasis on work ethic and hockey sense are already well-known around the league. When players can combine those mental aspects of the game with solid performances in the physical tests that measure leg strength -- and thus stamina and skating ability -- you're looking at players who are more likely than many others to hear their names called when Gary Bettman announces that "the St. Louis Blues are on the clock."
---
2011 SCOUTING COMBINE TEST RESULTS
Following are the results of the tests identified by Bill Armstrong as being the ones most significant to the Blues in their physical evaluation of prospects:
Anaerobic Fitness: Peak Power Output (watts/kg)
| | | | |
| --- | --- | --- | --- |
| Rank | Score | Player | Team |
| 1 | 15.9 | TY RATTIE | Portland (WHL) |
| | 15.9 | JONATHAN RACINE | Shawinigan (QMJHL) |
| 3 | 15.7 | PHILLIPPE HUDON | Choate-Rosemary (USHS-CT) |
| 4 | 15.4 | VLADISLAV NAMESTNIKOV | London (OHL) |
| | 15.4 | MAXIMILIEN LE SIEUR | Shawinigan (QMJHL) |
| 6 | 15.3 | TOBIAS RIEDER | Kitchener (OHL) |
| 7 | 15.2 | DUNCAN SIEMENS | Saskatoon (WHL) |
| 8 | 15.1 | SCOTT MAYFIELD | Youngstown (USHL) |
| | 15.1 | BRETT RTICHIE | Sarnia (OHL) |
| 10 | 15.0 | LUCAS LESSIO | Ottawa (OHL) |
Anaerobic Fitness: Mean Power Output (watts/kg)
| | | | |
| --- | --- | --- | --- |
| Rank | Score | Player | Team |
| 1 | 11.9 | LUCAS LESSIO | Oshawa (OHL) |
| 2 | 11.6 | JONATHAN RACINE | Shawinigan (QMJHL) |
| 3 | 11.4 | TY RATTIE | Portland (WHL) |
| 4 | 11.2 | ALEXANDER RUUTTU | Jokerit U20 (FIN Jr) |
| | 11.2 | MAXIMILIEN LE SIEUR | Shawinigan (QMJHL) |
| 6 | 11.1 | JOEL ARMIA | Ässät (FIN) |
| | 11.1 | DOUGIE HAMILTON | Niagara (OHL) |
| 8 | 11.1 | MARK SCHIEFELE | Barrie (OHL) |
| 9 | 11.0 | DUNCAN SIEMENS | Saskatoon (WHL) |
| | 11.0 | VLADISLAV NAMESTNIKOV | London (OHL) |
Anaerobic Fitness: Fatigue Index
| | | | |
| --- | --- | --- | --- |
| Rank | Score | Player | Team |
| 1 | 33.7 | NICK COUSINS | Sault Ste. Marie (OHL) |
| 2 | 34.8 | JONATHAN HUBERDEAU | Saint John (QMJHL) |
| 3 | 36.7 | JOEL ARMIA | Ässät (FIN) |
| 4 | 37.9 | ZAC LARRAZA | USNTDP U-18 (USHL) |
| 5 | 38.4 | ZACK PHILLIPS | Saint John (QMJHL) |
| 6 | 39.2 | MIIKA SALOMAKI | Kärpät (FIN) |
| 7 | 39.4 | SEAN KURALY | Indiana (USHL) |
| 8 | 39.5 | CONNOR MURPHY | USNTDP U-18 (USHL) |
| | 39.5 | LUCAS LESSIO | Oshawa (OHL) |
| | 39.5 | SVEN BÄRTSCHI | Portland (WHL) |
Aerobic Fitness: VO2max (ml/kg/min)
| | | | |
| --- | --- | --- | --- |
| Rank | Score | Player | Team |
| 1 | 68.7 | SVEN BÄRTSCHI | Portland (WHL) |
| 2 | 67.9 | RYAN TESINK | Saint John (QMJHL) |
| | 67.9 | OSCAR KLEFBOM | Färjestad BK (SWE) |
| 4 | 66.9 | ZACK PHILLIPS | Saint John (QMJHL) |
| 5 | 65.6 | PHILLIP DANAULT | Victoriaville (QMJHL) |
| 6 | 65.1 | SEAN KURALY | Indiana (USHL) |
| 7 | 64.5 | MIIKA SALOMAKI | Kärpät (FIN) |
| 8 | 64.2 | ALAN QUINE | Peterborough (OHL) |
| 9 | 63.8 | AUSTEN BRASSARD | Belleville (OHL) |
| 10 | 63.6 | DAVID MUSIL | Vancouver (WHL) |
Aerobic Fitness: Test Duration
| | | | |
| --- | --- | --- | --- |
| Rank | Score | Player | Team |
| 1 | 14:00 | DAVID MUSIL | Vancouver (WHL) |
| | 14:00 | ADAM LARSSON | Skellefteå (SWE) |
| 3 | 13:00 | GREGORY HOFMANN | Ambri-Piotta (SUI) |
| | 13:00 | BRANDON SAAD | Saginaw (OHL) |
| | 13:00 | DOUGIE HAMILTON | Niagara (OHL) |
| | 13:00 | LAURENT BROSSOIT | Edmonton (WHL) |
| 7 | 12:30 | PATRICK KOUDYS | Rensselaer (ECAC) |
| 8 | 12:17 | MARCEL NOEBELS | Seattle (WHL) |
| 9 | 12:15 | JAMESON OLEKSIAK | Northeastern (HEA) |
| 10 | 12:06 | SETH AMBROZ | Omaha (USHL) |
Musculoskeletal: Standing Long Jump (in)
| | | | |
| --- | --- | --- | --- |
| Rank | Score | Player | Team |
| 1 | 119.3 | JONATHAN RACINE | Shawinigan (QMJHL) |
| 2 | 115.5 | CONNOR MURPHY | USNTDP U-18 (USHL) |
| 3 | 115.0 | TRAVIS EWANYK | Edmonton (WHL) |
| | 115.0 | JOHN GIBSON | USNTDP U-18 (USHL) |
| 5 | 114.5 | SCOTT MAYFIELD | Youngstown (USHL) |
| 6 | 114.0 | ADAM LOWRY | Swift Current (WHL) |
| | 114.0 | JOE MORROW | Portland (WHL) |
| | 114.0 | LUKE LOCKHART | Seattle (WHL) |
| | 114.0 | OSCAR KLEFBOM | Färjestad BK (SEL) |
| 10 | 112.0 | STEPHEN MICHALEK | Loomis-Chaffee (USHS-CT) |
Musculoskeletal: Vertek Vert Jump/Pause (in)
| | | | |
| --- | --- | --- | --- |
| Rank | Score | Player | Team |
| 1 | 31.5 | MAXIMILIEN LE SIEUR | Shawinigan (QMJHL) |
| 2 | 29.8 | JONATHAN RACINE | Shawinigan (QMJHL) |
| 3 | 29.5 | TRAVIS EWANYK | Edmonton (WHL) |
| | 29.5 | ADAM CLENDENNING | Boston University (HEA) |
| 5 | 29.3 | JOE MORROW | Portland (WHL) |
| 6 | 28.8 | LUKE LOCKHART | Seattle (WHL) |
| 7 | 28.5 | COLIN SULLIVAN | Avon Old Farms (USHS-CT) |
| 8 | 28.3 | JOHN GIBSON | USNTDP U-18 (USHL) |
| | 28.3 | J.T. MILLER | USNTDP U-18 (USHL) |
| | 28.3 | VINCENT TROCHEK | Saginaw (OHL) |
Musculoskeletal: Vertek Vert Jump/No Pause (in)
| | | | |
| --- | --- | --- | --- |
| Rank | Score | Player | Team |
| 1 | 30.5 | MAXIMILIEN LE SIEUR | Shawinigan (QMJHL) |
| 2 | 30.3 | JOE MORROW | Portland (WHL) |
| | 30.3 | VINCENT TROCHEK | Saginaw (OHL) |
| 4 | 30.0 | ADAM CLENDENNING | Boston University (HEA) |
| 5 | 29.8 | ROCCO GRIMALDI | USNTDP U-18 (USHL) |
| | 29.8 | JONATHAN RACINE | Shawinigan (QMJHL) |
| | 29.8 | LUKE LOCKHART | Seattle (WHL) |
| 8 | 29.5 | TRAVIS EWANYK | Edmonton (WHL) |
| 9 | 29.3 | ZAC LARRAZA | USNTDP U-18 (USHL) |
| 10 | 29.0 | COLIN SULLIVAN | Avon Old Farms (USHS-CT) |
Musculoskeletal: Vertek Leg Power Average (Lewis)/ Pause (watts)
| | | | |
| --- | --- | --- | --- |
| Rank | Score | Player | Team |
| 1 | 1865 | JOE MORROW | Portland (WHL) |
| 2 | 1841 | JAMESON OLEKSIAK | Northeastern (HEA) |
| 3 | 1717 | JOHN GIBSON | USNTDP U-18 (USHL) |
| 4 | 1693 | MAXIMILIEN LE SIEUR | Shawinigan (QMJHL) |
| 5 | 1682 | MARK McNEILL | Prince Albert (WHL) |
| 6 | 1650 | TYLER BIGGS | USNTDP U-18 (USHL) |
| 7 | 1638 | COLIN SULLIVAN | Avon Old Farms (USHS-CT) |
| 8 | 1605 | BRETT RITCHIE | Sarnia (OHL) |
| 9 | 1604 | BRANDON SAAD | Saginaw (OHL) |
| 10 | 1602 | ZAC LARRAZA | USNTDP U-18 (USHL) |
Musculoskeletal: Vertek Leg Power Average (Lewis)/ No Pause (watts)
| | | | |
| --- | --- | --- | --- |
| Rank | Score | Player | Team |
| 1 | 1886 | SCOTT MAYFIELD | Youngstown (USHL) |
| 2 | 1859 | JAMESON OLEKSIAK | Northeastern (HEA) |
| 3 | 1743 | MARK McNEILL | Prince Albert (WHL) |
| 4 | 1717 | JOHN GIBSON | USNTDP U-18 (USHL) |
| 5 | 1716 | JOE MORROW | Portland (WHL) |
| 6 | 1665 | TYLER BIGGS | USNTDP U-18 (USHL) |
| 7 | 1664 | MAXIMILIEN LE SIEUR | Shawinigan (QMJHL) |
| 8 | 1663 | BRANDON SAAD | Saginaw (OHL) |
| 9 | 1652 | COLIN SULLIVAN | Avon Old Farms (USHS-CT) |
| 10 | 1646 | ZAC LARRAZA | USNTDP U-18 (USHL) |
Musculoskeletal: Vertek Leg Power Peak (Sayers)/ Pause (watts)
| | | | |
| --- | --- | --- | --- |
| Rank | Score | Player | Team |
| 1 | 6765 | MAXIMILIEN LE SIEUR | Shawinigan (QMJHL) |
| 2 | 6604 | JAMESON OLEKSIAK | Northeastern (HEA) |
| 3 | 6560 | JOHN GIBSON | USNTDP U-18 (USHL) |
| 4 | 6532 | JOE MORROW | Portland (WHL) |
| 5 | 6371 | COLIN SULLIVAN | Avon Old Farms (USHS-CT) |
| 6 | 6351 | ADAM CLENDENNING | Boston University (HEA) |
| 7 | 6298 | JONATHAN RACINE | Shawinigan (QMJHL) |
| 8 | 6286 | MARK McNEILL | Prince Albert (WHL) |
| 9 | 6243 | TYLER BIGGS | USNTDP U-18 (USHL) |
| 10 | 6224 | ZAC LARRAZA | USNTDP U-18 (USHL) |
Musculoskeletal: Vertek Leg Power Peak (Sayers)/ No Pause (watts)
| | | | |
| --- | --- | --- | --- |
| Rank | Score | Player | Team |
| 1 | 6714 | JOE MORROW | Portland (WHL) |
| 2 | 6664 | JAMESON OLEKSIAK | Northeastern (HEA) |
| 3 | 6613 | MAXIMILIEN LE SIEUR | Shawinigan (QMJHL) |
| 4 | 6596 | MARK McNEILL | Prince Albert (WHL) |
| 5 | 6560 | JOHN GIBSON | USNTDP U-18 (USHL) |
| 6 | 6455 | ZAC LARRAZA | USNTDP U-18 (USHL) |
| 7 | 6450 | COLIN SULLIVAN | Avon Old Farms (USHS-CT) |
| 8 | 6430 | ADAM CLENDENNING | Boston University (HEA) |
| 9 | 6366 | BRANDON SAAD | Saginaw (OHL) |
| 10 | 6322 | TYLER BIGGS | USNTDP U-18 (USHL) |