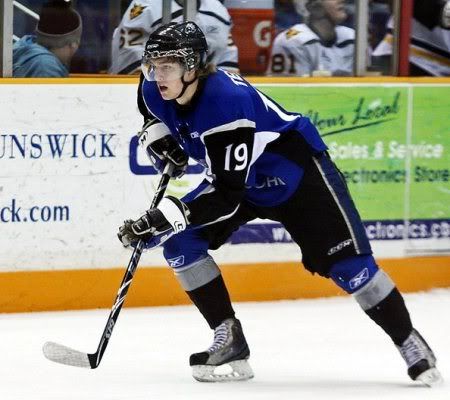 With the 162nd overall selection, the Blues looked to the powerful Saint John (NB) Sea Dogs for a linemate of 2010 draftee Stephen Macaulay, and chose center Ryan Tesink from the QMJHL and Memorial Cup champs.
Not the biggest of players at 5' 11 and 160 pounds soaking wet, Tesink is nonetheless a hard worker and a solid defensive checking-line player. The Hamilton "Spectator" website recently ran an article highlighting ten possible "sleeper" picks in this year's draft, and filed this report on the Saint John native:
"A Memorial Cup champion with the Sea Dogs, Tesink doesn't get the same fanfare as fellow draft-eligible forwards Jonathan Huberdeau and Tomas Jurco. He's reliable defensively, a strong skater, has the ability to play an energy game and was a fixture on the Saint John penalty kill. Ranked as the 47th North American skater."
The "Hockey's Future" website recently ran an interview with Tesink (LINK here), which included this capsule scouting report:
Tesink tallied eight goals and 27 assists in 59 games this past season. His modest offensive numbers are partially the result of playing checking-line minutes on a team stacked with skilled second, third and fourth-year players. His plus-26 rating is indicative of his polished defensive game. At just 5'11, 157 pounds, Tesink has plenty of room to pack on the pounds, something he will have ample opportunity to accomplish playing another couple seasons in the QMJHL.
LINK to Tesink profile at NHL.com.