St. Louis Game Time PROSPECT SUNDAY
By Brian Weidler, "Game Time" Prospect Department
---
BLUES' 2011 DRAFT REVIEW, PART ONE: Second and Third Rounds.
Blues add eight drafted prospects, trade with Rangers for Russian prospect Grachev.
It did not take long for the Armstrongs -- GM Doug and chief scout Bill (no relation) -- to put their own stamp on a Blues' amateur drafting process long dominated by Jarmo Kekalainen.
In their first draft since 2002 without Kekalainen running the show, the Blues made a clean break from many of Kekalainen's trends in this draft. The Blues went for mainly major junior players in this draft (five of eight selections, with 41st-overall pick Dmitrij Jaskin possibly bound for major junior next year as well) and did not draft a single American-born player.
In nine drafts under Kekalainen (2003-2010), the Blues selected a total of 69 players; only 23 of those, or one-third, were major junior players at the time of their selection, and 19 of the 69 total players selected by the Blues under Kekalainen were Americans. This year is the first year since 2004, and only the 11th time in team history (going all the way back to 1969), that the Blues did not select at least one American-born player in the annual Entry Draft.
Day Two trade adds to Blues' stable of Russians.
The Blues went to the European well three times in this draft, and also traded a third-round pick for a European-born player who has been establishing himself in North America for the last three seasons. Big (6' 4, 225 lbs.) left winger Evgeny Grachev, a third-round pick (75th overall) of the Rangers in 2008 and junior teammate at Brampton (OHL) of Blues' prospect enforcer Anthony Peluso, was acquired for the Blues' pick at 72nd overall in this draft. In this video, Grachev (#91 Green) tallies a hat trick for the Connecticut Whale in AHL play this past season:
The native of Khabarovsk, Russia has eight games of NHL experience under his belt (0-0-0, minus-3 with New York in 2010-11), and has struck for 28 goals and 66 points in 153 AHL games over the last two seasons. Still just 21 years old, Grachev is poised for a breakout year, and adds good size and depth on the left side for the Blues' organization.
After the jump, get the scoop on the first four of the eight prospects that the Blues drafted into the organization this weekend.
Blues cover all bases with first four picks.
Lacking a first-round selection for the first time since 2002, the Blues sat through Friday night's first round of the 2011 Entry Draft without making an impact. Major and minor trades were consummated, including a swap of picks that the Blues could possibly have bettered. The Ottawa Senators, who like the Blues held multiple second-round picks, traded picks at 35th and 48th overall to Detroit in exchange for Detroit's pick at 24th overall; the Blues held picks at 32nd, 41st and 46th going into the draft.
With no deals made by the Blues on Friday, they held the second pick of the day on Saturday, and wasted little time in calling the name of Portland Winter Hawks (WHL) forward Ty Rattie as their first pick in 2011. Rattie, a skilled RW from Airdrie, Alberta, was ranked 17th in North America by Central Scouting and skated on Portland's second line last year, where he benefitted from the presence of skilled linemates Sven Bärtschi (chosen 13th overall by Calgary) and center Craig Cunningham (chosen 97th overall by Boston in 2010) to put up career-high numbers at 28-51-79 (plus-20, 55 PM) in 67 games for the Hawks.
When playoff time came along, Rattie stayed on the same high level, chipping in nine goals and adding 13 assists for 22 points in 21 games as the Hawks made a deep run. Rattie was a plus-11 in the playoffs with 22 PIM and a power-play tally, and scored the game-winner in the Ed Cheynoweth Cup Final series opener against the Kootenay (Cranbrook, BC) Ice. That would be the only game the Hawks would win in that series, however, as the ice took the next four games to claim the WHL crown.
The Bruins 2011 Draft Watch blog featured Rattie in November 2010, with an unnamed NHL scout posting these comments on the Blues' new prospect:
Last year he spent a lot of time doing those flashy little bantam moves that just don't work at this level. I'm seeing him be a lot more creative and smart with the puck this year. Now, he's keeping things relatively simple, but playing a responsible game that isn't going to open himself up for bad turnovers or cost his team.
He's a natural point producer; very skilled and creative. I've been pretty impressed with what I've seen so far. We're looking at a more complete player from what he was as a rookie.
"The Hockey News 2011 Draft Preview" edition ranked Rattie 33rd overall, and posted these comments about him:
What he lacks in speed and fluid skating, he makes up for with slick skills and an ability to make things happen in tight spaces ... "When his name is all over the scoresheet, what are you going to say?" a scout said. "He might be one of those guys someone grabs because he scores. It's hard to score in (the WHL), so somebody might say, 'why not take him?' " ... "He's not the prettiest skater," another (scout) said, "But because he's got the talent, it doesn't hurt him at this level and probably won't at the next level."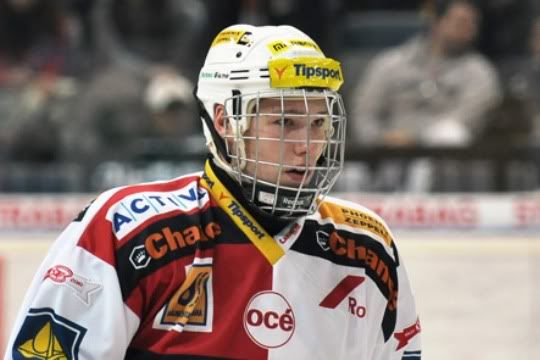 With their next pick at 41st overall, the Blues opted to once again dip into the European well, selecting big winger Dmitrij Jaskin. Born the son of veteran defenseman Alexej Jaskin (who with his HC Vsetin mates won the Czech Extraliga championship six times in seven seasons between 1994-95 and 2000-01) in Omsk, Russia, Jaskin holds dual Russian/Czech citizenship, and represents the Czech Republic in international competition.
Jaskin's major junior rights are owned by the Calgary Hitmen of the WHL, who selected him 58th overall in the 2010 CHL Import Draft (LINK to article), and the whispers are that the Blues are very interested in seeing Jaskin come to North America to develop. Calgary has produced several NHL prospects in recent years, including Blues' picks Brett Sonne, Tyler Shattock and Cody beach, and former Blues' winger Dave Lowry is part of the coaching staff for the Hitmen.
The following video highlights show Jaskin scoring a hat trick against Russia in the 2010 U-20 Four Nations Tournament, held last November in Karlovy Vary, Czech Republic:
NHL Central Scouting ranked Jaskin 5th among European skaters, and "The Hockey News 2011 Draft Preview" issue ranked Jaskin 30th overall, noting that "skating and the quickness of his first step are areas that Jaskin needs to improve upon, but with his size and competitive nature, he brings a lot to the table. Plus, he's at his best in traffic." The Scouting Report.org had Jaskin ranked 34th overall, and filed this report on him:
Jaskin is a tough player to get a read on as he has a tremendous skill-set, but doesn't bring it consistently enough. The big Czech winger had an up and down season and had a lot riding on the Under 18's, where he was fairly average over the course of the tournament. His season never quite took off after an early season injury, but when he's on, he is a talented winger who can play with a bit of jam. His status as a surefire first round pick has probably come and gone, but there's a lot to like for any team that is picking in the late part of the first round.
With their third pick in the second round, the 46th overall selection obtained from Buffalo in the Brad Boyes trade, the Blues went back to the rough-and-tumble Western League to pluck towering (6' 4, 191 lbs.) defenseman Joel Edmundson from the Moose Jaw Warriors.
The big left-shooting blueliner from Brandon, Manitoba is not a player that's going to pile up a lot of points in major junior, minor pro or the NHL. Rather, Edmundson does the little things, and does the dirty work necessary to put the clamps on opposing attackers when they threaten his end of the ice. It's worth noting that Edmundson did manage to tally ten goals and 35 points in 44 games with the Brandon Wheat Kings Major Midget AAA club in 2009-10 -- after which he jumped straight to the 'Dub for 2010-11 -- but that level of offense is probably the absolute maximum output that one could expect from a fully-developed Edmundson at the pro level, in 5-10 years.
WHL observer Eldon McDonald at The Hockey Spy website calls him "McWarrior" for his tenacity, dedication and toughness, while ranking him 49th overall for the 2011 Draft. Central Scouting ranked the tough blueliner 33rd in North America in their Final rankings, a jump up of 36 places from their Midterm rank of 69th, and our friends at The Scouting Report.org website also ranked Edmundson 49th overall, while filing this report on him:
After playing midget hockey last year, Edmundson made the jump to the WHL this year. At 6'4 and growing, Edmundson has a large frame that will appeal to many teams. Not only is he a big guy, but Edmundson plays the game much the same way that his teammate (and 2010 NHL 1st rounder) Dylan McIlrath does. Tough and strong, Edmundson makes life hard for opposing players. Edmundson is a decent skater and is able to move the puck up ice. While there has been some improvement in his production from the start of the year, Edmundson still projects as a defensive player that is hard to play against.
With the second round completed, and their first pick in the third round sent to the Rangers for Grachev, the Blues used the pick acquired from Tampa Bay in the Eric Brewer trade (88th overall) to select the third-ranked goaltender in North America according to Central Scouting, Jordan Binnington of the Owen Sound Attack.
Binnington's regular-season numbers (46 GP, 27-12-12, 3.05 GAA, 89.9% saves rate) were only so-so, and his aggregate playoff numbers (7 GP, 4-2-0, 3.21 GAA, 89.7% saves rate) little better... but when the Attack needed some Defense in the OHL Championship Final series, Binnington raised his game.
With Owen Sound trailing the Missisauga St. Michael's Majors three games to two in the Final, Attack head coach (and former Blue) Mark Reeds turned to Binnington to save the day. and the Toronto native came through with a 1.94 GAA and 94.3% saves rate in the final two games, allowing just four goals on 70 shots over 123:27 of playing time in back-to-back 3-2 victories to give the Attack the 2011 OHL championship.
Then in the Memorial Cup tournament, Binnington stayed hot to lead all goaltenders in the tourney with a 1.42 GAA and 95.1% saves rate, allowing just five goals on 103 shots over 211 minutes of playing time and posting the tournament's only shutout. He also won the Hap Emms memorial Trophy as the tournament's Outstanding Goaltender, and was the goaltender on the tournament All-Star Team, but the Attack finished a distant fourth in the tournament behind champion Saint John (QMJHL), host Mississuaga (OHL) and WHL champion Kootenay.
Back in late September 2010, The Scouting Report.org filed a report on potential "sleepers" for the 2011 Draft from the OHL's Western Conference, and Binnington made that list despite less-than-stellar 2009-10 numbers as a rookie. "TSR" noted than Binnington was "still pretty lanky and his strength in goal and ability to go post to post and maintain good positioning needs some improvement, but he does have the ability to make acrobatic saves and has shown on a few occasions as a 16 year old, that he can single handedly keep his team in the game."
In their profile of Binnington for this year's draft, NHL.com quoted Central Scouting's goaltending expert, former NHL'er Al Jensen, as saying:
He's a good-size goalie with very good net coverage. He has very good strength in his crease. His best asset is his positional play and net coverage. He has very good leg extension in his butterfly, and plays big even when in the butterfly, as he's able to stop shots with his shoulders and gloves while in the butterfly position. An area that Jordan could improve on is his lateral quickness, but it's getting better.
---
Later on most of these same SLGT stations...
Later today, be sure to check out the second part of our 2011 Blues' Entry Draft Review, where we'll focus on the Blues' picks in the fourth, fifth, sixth and seventh rounds. Until then, remember... "If we do not prepare for ourselves the role of the hammer, there will be nothing left but that of the anvil." Auf wiedersehen.