By Brian Weidler, "Game Time" Prospect Department
___________________________________________________________________________
PROSPECT TRANSACTIONS THIS WEEK
11-26-12: LW Stefan Della Rovere reassigned from Peoria (AHL) to Evansville (ECHL) by St. Louis (NHL), on conditioning assignment.
11-30-12: RW Cody Beach reassigned from Peoria (AHL) to Evansville (ECHL) by St. Louis (NHL).
12-01-12: G Paul Karpowich recalled to Peoria (AHL) from Evansville (ECHL) on an emergency basis.
___________________________________________________________________________
PROSPECT INJURY REPORT
10-27-12: RW Mackenzie Maceachern (Chicago/USHL) out indefinitely with concussion symptoms.
.@tomorrowsblues Ponich cleared for contact practice today. Fairchild still at least 2 weeks away. Barriball not on the horizon.

— Dave Eminian (@icetimecleve) December 1, 2012
12-01-12: LW Jaden Schwartz and RW Sebastian Wännström out of Peoria (AHL) lineup indefinitely with flu symptoms.
___________________________________________________________________________
TARASENKO WATCH
Vladimir Tarasenko's SKA St. Petersburg club lost all three games they played this week, and were outscored 13-6 for the week.
Tarasenko was held off the scoresheet all week, no points, minus-2, and a Holding penalty at 18:00 of the first period in a 6-1 loss to Spartak Moscow on Nov. 30. He averaged just 14:19 of ice time in each of the three games this week, consistent with the 14:15 per game he has been getting in 21 games for SKA this year.
Wondering, we are, if T-90 regrets dropping that reported demand for an "out clause" to bail on SKA and go play in Peoria if he wasn't getting suitable ice time in Mother Russia...
___________________________________________________________________________
LUNDSTRÖM, BINNINGTON STANDING TALL IN THE NET
The Blues have built a quality stable of prospect goaltenders through the Entry Draft in recent years. Jake Allen (34th overall 2008) and Paul Karpowich (185th overall 2008) are getting loads of playing time in the AHL and ECHL, respectively, and two other netminding prospects -- both drafted in 2011 -- are gearing up to challenge Allen and Karpowich for spots next season.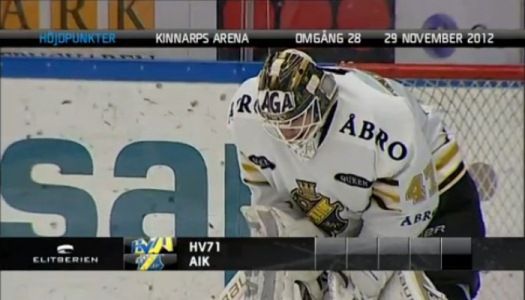 After riding the pine for almost a month with AIK Solna in the Elitserien, prospect Niklas Lundström (132nd overal 2011) got a chance to show his stuff against the current leaders in the Swedish elite league... and showed very well despite taking a 3-2 loss in a game that came down to a shootout.
On Nov. 29, Lundström made his first start since Nov. 3 for AIK, and was thrown to the chainsaws... the chainsaw that is HV71 (Husqvarna), that is. HV71 currently leads the Elitserien with a 16-6-6 record and a goal differential of plus-17. AIK, meanwhile, is second-to-last in Elitserien play, facing a date with the relegation pool at season's end thanks to a 6-13-7 record and a minus-23 goal differential.
Lundström faced 38 shots in regulation and OT and was beaten just twice, both times by former NHL'er and first-round pick Marcus Nilsson from a spot just to the top left of Lundström's crease. The only tally on the shootout also came from a former NHL'er, Jason Krog, who solved Lundström with a spin move and backhander from in close to give HV71 the win.
LINK to game summary at "swehockey.se" website.
LINK to video at "Elitserien Play" website (commentary in Swedish). From 1:00 to 1:18 are some nice highlights of Lundström making some big saves.
Lundström also got a start yesterday, Dec. 1, against Skellefteå AIK, in which he posted a 4-3 win, turning aside 36 of 39 shots. The consecutive starts were Lundström's first back-to-back appearances since Nov. 1 and 3, and only his third and fourth appearances in total since Oct. 9.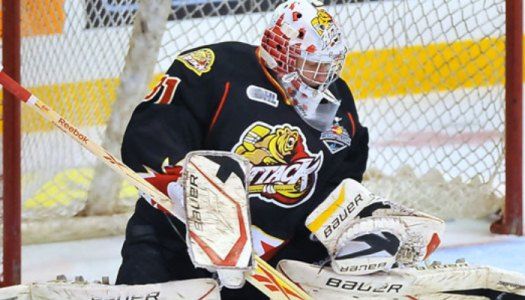 And back on this side of the pond, how good a season is Jordan "Binnasty" Binnington having in the OHL? Well, consider that the OHL plays a 68-game schedule, and Binnington's Owen Sound club has played 28 games, meaning that they're almost halfway through the regular season. At this point of the season, Binnington ranks in the top two of every significant goaltending category in the league except for minutes played (where he's still in the Top Ten at seventh overall, with 1397 minutes played in 23 games).
Binnington's 2.15 GAA is second in the league behind London's Jake Patterson at 2.12, and Patterson has played less than half the minutes Binnington has (679 to 1397) and faced almost 450 fewer shots (323 to 771).
His save percentage of 93.5% leads the league (721 saves on 771 total shots against), three-hundredths of a point better than London's Kevin Bailie at 93.2% (537 saves on 576 shots against). With 16 wins, Binnington is tied for the OHL lead with Oshawa's Daniel Altshuler, and three shutouts ties him for the league lead with Guelph netminder Garret Sparks.
Binnington is on a Entry Level "slide" contract this year, and he will almost certainly finish the 2012-13 season in Peoria unless Owen Sound goes deep into the OHL playoffs this spring. He reaches his 20th birthday in July 11, and together with Lundström (who will turn 20 on January 10, and who's SEL contract expires after this season) could well form a solid Kiddie Corps in net for Peoria in 2013-14 and push Jake Allen hard.
___________________________________________________________________________
FEATURES THIS WEEK
At the season's Quarter Pole, the Peoria Rivermen are consistently inconsistent on both offense and defense. Scoring and special teams are the primary concerns. Injuries have also taken a toll. Details and discussion at 3:00 PM Central.
Major junior prospects are in the spotlight once again this week. Euro d-man Teemu Eronen also had a pretty good week... but was it enough for the Finn to crack the "Fab Five" for only the second time this year? Details and discussion at 4:00 PM Central.

All the prospect scoring, penalty, and goaltending statistics a Blues' fan could want... minor pro, Europe, major junior and college. Details and discussion at 5:00 PM Central.