By Brian Weidler, "Game Time" Prospect Department
---
PROSPECT PROMOTIONS / DEMOTIONS:
01-29-12 -- F Chris Porter returned to St. Louis (NHL) from conditioning assignment to Peoria (AHL).
PROSPECT TRADES:
None to report this week.
PLAYERS ON SICK CALL:
02-04-12 -- F Philip McRae (Peoria/AHL) out indefinitely with facial injuries. (LINK).
01-09-12 -- F Jay Barriball and D Jake Gannon (Peoria/AHL) remain on IR with concussions. (LINK).
01-08-12 -- C Jori Lehtrera (Sibir Novosibirsk/KHL) out for the season with a broken leg. (LINK).
PLAYERS RETURNED TO DUTY:
02-03-12 -- F Tyler Shattock (Peoria/AHL) returned from upper body injury.
02-03-12 -- D Brock Beukeboom (Niagara/OHL) returned from unspecified injury.
PLAYERS ON SUSPENSION:
None to report this week.
---
LEGACY PLAYER ON GTPD RADAR FOR 2012 DRAFT:
He's not a member of the Blues' system -- yet -- but "legacy" player Timothe Bozon is definitely a guy that we here at the Game Time Prospect Department have on our radar for the 2012 NHL Entry draft... and we feel strongly that the Blues should have him on theirs, too.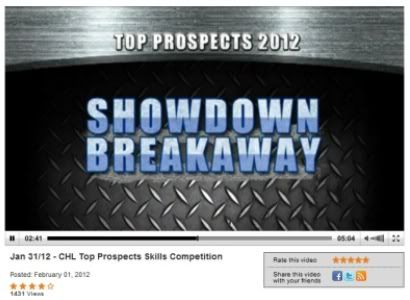 Bozon is the son of Philippe Bozon, who picked up 16 goals and 41 points in 144 NHL games with the Blues in the early 90's. Timothe was born in St. Louis during papa Philippe's most productive NHL season in 1993-94, grew up in Switzerland, plays for France in international tournaments like the 2011 U-18 Division I World Junior Championships, and is currently scoring at better than a point-per-game clip for the WHL's Kamloops Blazers.
Bozon's scoring exploits earned him a berth in the annual CHL Top Prospects Game, which was played this year in Kelowna, BC, just down the road from Bozon's present home base of Kamloops.
We found some video of the Skills Competition, in which Bozon participated, on the WHL website; sorry, no direct link, but click HERE for the video, and fast-forward to the 2:55 mark to see Bozon's amazing stickwork and balance on a scoring attempt in the Showdown Breakaway event.
Bozon will also stickhandle in more conventional fashion at 3:24 of the video, and score after some nifty fakes right at the top of the crease.
This is a solid all-round player with evident puckhandling skills, and the word is that he's pretty good on faceoffs as well. Bozon was ranked 39th in North America by Central Scouting at midterm, and will likely climb up a bit for the final rankings if he continues on his current pace. This currently looks like about as solid a second-round pick as the Blues could make.
---

St. Louis is home to the Blues, both the hockey club and that uniquely American style of music that draws on the sorrows and pain of everyday life.
This song is not, strictly speaking, a blues tune... but it is an original written and performed by one of the greatest blues-inspired bands of the British Invasion era, which featured at various times three of the greatest blues-inspired rock guitarists ever to pick a string.
Plus, the lyrics of this song are reflective of a man with the blues, and reflective of how your GTPD is feeling right now and has been feeling for quite some time.
The band is The Yardbirds, the guitarists in this particular performance are Eric "Slowhand" Clapton and Jeff Beck, and the song is "Heart Full Of Soul," which goes out to someone who has been seen here at the Game Time site from time to time...
Check it out.
Rush also does a pretty nifty cover of this particular tune.
If you're interested in the blues, check out "Those Lowdown Blues" on the 'Net every Sunday night from 7 to midnight (St. Louis time). Your Game Time Prospect Department heartily endorses this program.
---
FEATURES THIS WEEK:
RIVER READINGS
Ben Bishop and the Rivermen come back strong from the AHL All-Star break to post two big wins over division opponents. Details at 2:00 PM Central Time.

TRENDING UP
Goaltenders dominate the "Fab Five" for this week, taking three spots and an honorable mention; Jake Allen is the odd man out. Details at 3:00 PM Central Time.

WEEKLY PROSPECT STATISTICS REVIEW
The most complete weekly source of Blues' prospect scoring and goaltending stats available anywhere in one place on the Internet. Details at 4:00 PM Central Time.