By Brian Weidler, "Game Time" Prospect Department
---
Just like General MacArthur, I Have Returned...
First of all, thanks to everyone who is reading this right now. There are going to be some changes made here, and they start right now... I will no longer be referring to myself as a plural. The "Game Time" Prospect Department is me, Brian, and that's how it's going to be from here on out.
Also, I'm thinking it's time for a change to the background picture used in the header above. I want this to be a picture that I've actually taken, as the one above is, and I want this to be reflective of your preferences. So here are thumbnails of five potential new background shots for the header (you can click on the link provided with each picture for a larger view). Please vote in the poll below for the picture you like best, and the winning shot will be the header for next week and the weeks to follow.
LINK to Header 01.
...
...
LINK to Header 02.
...
...
LINK to Header 03.
...
...
LINK to Header 04.
...
...
LINK to Header 05.
...
...
Based on feedback from you -- some of it positive, some not so much -- there will be less of the features "above the fold," and more after the jump. I was informed, not very politely, that some people don't want to see the entire feature on the front page all at once... so there will be more jumping in the future, unless you tell me to do otherwise.
Today's 12:00 noon start time for Prospect Sunday will be the start time going forward, and there will be a total of five weekly features, including this "omnibus" page. Details below.
Finally, thanks from the bottom of my heart for the support and well-wishes I received from several of you during my hiatus. This is still something I love doing, and I hope it's something you love seeing.
---
PROSPECT PROMOTIONS / DEMOTIONS:
04-15-12 -- G Jake Allen called up to St. Louis (NHL) from Peoria (AHL). LINK.
PROSPECT TRADES:
None to report this week.
PLAYERS ON SICK CALL:
02-24-12 -- D Jani Hakanpää (Blues Espoo/SM-Liiga) out for the remainder of the season with a knee injury. (LINK, in Finnish).
01-09-12 -- F Jay Barriball and D Jake Gannon (Peoria/AHL) remain on IR with concussions. (LINK).
01-08-12 -- C Jori Lehtera (Sibir Novosibirsk/KHL) out for the season with a broken leg. (LINK).
PLAYERS RETURNED TO DUTY:
None to report this week.
PLAYERS ON SUSPENSION:
None to report this week.
---
CHANGES COMING:
The plan going forward is to make this a separate feature, like "River Readings" and "Trending Up." We will be bringing back the Player File graphics, like this one for Jani Hakanpää (in a larger and more readable size)...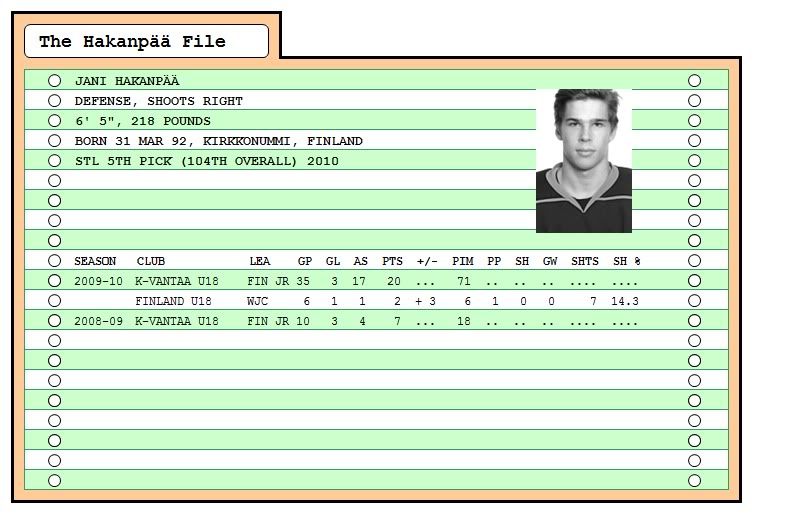 ...and we will dig a little deeper for biographical information on the players as well, again in response to feedback received from a good friend of this website, this feature, and your GTPD.
The "new" feature will debut next week with 2010 draftee Stephen Macaulay in the spotlight, and will appear in the 2:00 CDT time slot.
...
...
---
FEATURES THIS WEEK:
RIVER READINGS
The Rivermen were officially eliminated from the AHL playoff race last night, following a devastating 6-1 shellacking by Charlotte at home on Friday the 13th. Has the inconsistency of the Rivermen in their AHL lifetime been due to a lack of first-rounders skating for them, compared to other teams? Details at 1:00 PM Central Time every week in the future, and after the jump today.

TRENDING UP
There will no longer be any "regulars" on the "Fab Five;" five players will make the cut each week based on their performances, with a maximum of three Honorable Mentions each week if warranted. Details on this week's "Fab Five" at 3:00 PM Central Time every week in the future, and after the jump today.

WEEKLY PROSPECT STATISTICS REVIEW
One of the most valuable pieces of reader feedback that I received has been a suggestion to break up the prospect stats a little bit. Rather than update stats from the entire organization each week, break it down into smaller chunks so as to not present you, the reader, with an overload of stats, or with a big page of numbers that can be daunting to read through.
So, prospect statistical updates will be done on a rotating basis, and the chart has a new look as well. The entire organization will be updated on a monthly basis, as follows:
-- Week One, Peoria and Alaska stats, plus updates on any prospects on callup to the NHL.
-- Week Two, junior players from the OHL, QMJHL, WHL and USHL.
-- Week Three, collegiate players.
-- Week Four, Europeans.
Depending on the results of the 2012 Entry Draft, the college player stats may be combined with the junior stats for next season. As of now, the Blues have only one prospect still in college, Max Tardy of Minnesota-Duluth. The other college prospects have either turned pro (Jaden Schwartz) or are seniors (Paul Karpowich, Trevor Nill). In any case, look for prospect stats updates at 4:00 PM Central Time every week in the future, and after the jump today.
---
AFTER THE JUMP:
On the other side, our weekly features in smaller, "bite-sized" format. We're beginning the Stats Update this week with the major junior players, since Peoria was eliminated from playoff contention last night. Look for our Rivermen Season In Review feature in two weeks, when the minor pro stats rotation comes up.
RIVER READINGS
The Peoria Rivermen will be on the outside looking in at the 2012 Calder Cup playoffs, marking the fourth time in seven AHL seasons that the Rivs have missed the postseason dance.
Peoria did themselves and their playoff chances no favors this weekend, getting bombed 6-1 by Charlotte in their final home game of the year on, appropriately enough, Friday the 13th. Today's game vs. the Chicago Wolves is therefore rendered meaningless, and the only topic of interest regarding the game may be the goaltending, since Jake Allen was called up to the Blues this morning. Does Jared Bednar (who's position as head coach may be in jeopardy for his failure to get the Rivs into the playoffs) start Sharks' prospect Alex Stalock in a courtesy tip of the cap to San Jose for loaning him to the Rivs when Ben Bishop was traded, or do they throw Blues' prospect Jordan Binnington a bone and give him a start for the last game of his ATO contract?
Also, in last night's Blues-Sharks GDT, there was an interesting late discussion (beginning at 9:58 PM in the post featuring Brian the Dog from "Family Guy") about why the Rivermen have been so inconsistent as a team. Under discussion was the fact that the Blues have not sent many of their recent first-round picks to Peoria for any length of time, and that has led to Peoria's roller-coaster performance.
Consider that Friday's opponent, Charlotte, had three former first-round picks on the ice while the Rivermen had none, and that Ian Cole is the only former first-round selection to have seen significant ice time for the Rivermen this year.
Discuss this issue further, if you like, in the comments below.
---

TRENDING UP
...
...
Very briefly...
THIS WEEK'S STANDOUTS:
| | | | | |
| --- | --- | --- | --- | --- |
| Cody BEACH | Joel EDMUNDSON | Ty RATTIE | Ryan TESINK | Yannick VEILLEUX |
| | | | | |
| Moose Jaw (WHL) | Moose Jaw (WHL) | Portland (WH) | Saint John (QMJHL) | Shawinigan (QMJHL) |
| ** 2 games played this week | ** 2 games played this week | ** 3 games played this week | ** 2 games played this week | ** 3 games played this week |
| ** 0 G. 0 A, even | ** 0 G, 0 A, plus-1 | ** 1 G, 2 A, minus-1 | ** 3 G, 1 A, plus-2 | ** 0 G, 3 A, plus-2 |
| ** 2 PM, 0 PP, 0 SH, 0 GW | ** 2 PM, 0 PP, 0 SH, 0 GW | ** 0 PM, 0 PP, 0 SH, 0 GW | ** 4 PM, 0 PP, 0 SH, 1 GW | ** 5 PM, 0 PP, 0 SH, 0 GW |
---

WEEKLY PROSPECT STATISTICS REVIEW
...
...

| | | | | | | | | | | | | | | | |
| --- | --- | --- | --- | --- | --- | --- | --- | --- | --- | --- | --- | --- | --- | --- | --- |
| Player | Ps/C | Hgt | Wgt | DOB | 2011-12 Club/Lg | GP | G | A | Pts | +/- | PIM | PP | SH | GW | Pt/G |
| BEACH, Cody | RW/R | 6-06 | 188 | 08-08-92 | Moose Jaw (WHL) | 58 | 15 | 41 | 56 | +12 | 229 | 7 | 0 | 2 | 0.966 |
| ... PLAYOFFS | | | | | Moose Jaw (WHL) | 8 | 4 | 2 | 6 | + 1 | 12 | 1 | 0 | 0 | 0.750 |
| GARDINER, Max | C/L | 6-02 | 190 | 05-07-92 | Dubuque (USHL) | 49 | 12 | 10 | 22 | - 8 | 29 | 0 | 0 | 2 | 0.449 |
| ... PLAYOFFS | | | | | Dubuque (USHL) | 0 | 0 | 0 | 0 | 0 | 0 | 0 | 0 | 0 | 0.000 |
| MACAULAY, Stephen | C/L | 6-02 | 190 | 04-20-92 | Saint John (QMJHL) | 60 | 15 | 20 | 35 | +14 | 56 | 3 | 1 | 3 | 0.583 |
| ... PLAYOFFS | | | | | Saint John (QMJHL) | 8 | 5 | 4 | 9 | + 6 | 4 | 1 | 0 | 1 | 1.125 |
| RATTIE, Ty | RW/R | 6-00 | 173 | 02-05-93 | Portland (WHL) | 69 | 57 | 64 | 121 | +23 | 54 | 26 | 4 | 9 | 1.754 |
| ... PLAYOFFS | | | | | Portland (WHL) | 8 | 13 | 7 | 20 | +10 | 6 | 2 | 0 | 0 | 2.500 |
| TESINK, Ryan | RW/L | 6-00 | 166 | 05-21-93 | Saint John (QMJHL) | 36 | 13 | 27 | 40 | +23 | 54 | 2 | 3 | 3 | 1.111 |
| ... PLAYOFFS | | | | | Saint John (QMJHL) | 8 | 5 | 5 | 10 | + 6 | 16 | 2 | 0 | 0 | 1.250 |
| VEILLEUX, Yannick | LW/L | 6-02 | 197 | 02-22-93 | Shawinigan (QMJHL) | 59 | 27 | 31 | 58 | +21 | 69 | 11 | 0 | 6 | 0.983 |
| ... PLAYOFFS | | | | | Shawinigan (QMJHL) | 9 | 5 | 6 | 11 | + 6 | 15 | 2 | 0 | 1 | 1.222 |
| | | | | | | | | | | | | | | | |
| --- | --- | --- | --- | --- | --- | --- | --- | --- | --- | --- | --- | --- | --- | --- | --- |
| Player | Ps/C | Hgt | Wgt | DOB | 2011-12 Club/Lg | GP | G | A | Pts | +/- | PIM | PP | SH | GW | Pt/G |
| BEUKEBOOM, Brock | D/R | 6-02 | 197 | 04-01-92 | Niagara (OHL) | 47 | 5 | 11 | 16 | +22 | 49 | 2 | 0 | 0 | 0.340 |
| ... PLAYOFFS | | | | | Niagara (OHL) | 10 | 2 | 1 | 3 | + 3 | 4 | 0 | 0 | 0 | 0.300 |
| EDMUNDSON, Joel | D/L | 6-04 | 200 | 06-28-93 | Moose Jaw (WHL) | 56 | 4 | 19 | 23 | +13 | 91 | 0 | 0 | 2 | 0.411 |
| ... PLAYOFFS | | | | | Moose Jaw (WHL) | 9 | 3 | 2 | 5 | + 6 | 6 | 0 | 0 | 1 | 0.556 |
| | | | | | | | | | | | | | | | |
| --- | --- | --- | --- | --- | --- | --- | --- | --- | --- | --- | --- | --- | --- | --- | --- |
| Player | Ps/C | Hgt | Wgt | DOB | 2011-12 Club/Lg | GP | Mins | GA | GAA | W | L | OT | SO | Shts | Sv % |
| BINNINGTON, Jordan | G/L | 6-02 | 167 | 07-11-93 | Owen Sound (OHL) | 39 | 2304 | 115 | 2.99 | 21 | 17 | 1 | 1 | 1225 | 0.906 |
| ... PLAYOFFS | | | | | Owen Sound (OHL) | 2 | 120 | 10 | 5.00 | 0 | 2 | 0 | 0 | 73 | 0.863 |