The NHL Draft, unlike similar events in the NFL and NBA, is designed first and foremost to build organizations for the medium- and long-term future, and not to fill immediate roster needs as the NFL and NBA Drafts do.
The St. Louis Blues have become one of the NHL's top organizations at using the draft ti build for the future, and in this year's draft the Blues' braintrust once again stuck to the time-tested formula by selecting not a high-scoring offensive whiz, as many had projected, but rather a smooth-skating defenseman who plays the right side... where the Blues are set for the foreseeable future with Alex Pietrangelo, Kevin Shattenkirk, and Roman Polak.
With their first pick in the 2012 Entry Draft, at 25th overall, the Blues went to the United States Hockey League champion Green Bay Gamblers to select offensive defenseman Jordan Schmaltz. Schmaltz, a 6' 2, 189-pound native of Verona, Wisconsin, is committed to attend the University of North Dakota in the fall, and was selected to the USHL First All-Star Team after finishing second among defensemen in scoring this season (10 G, 31 A in 55 games).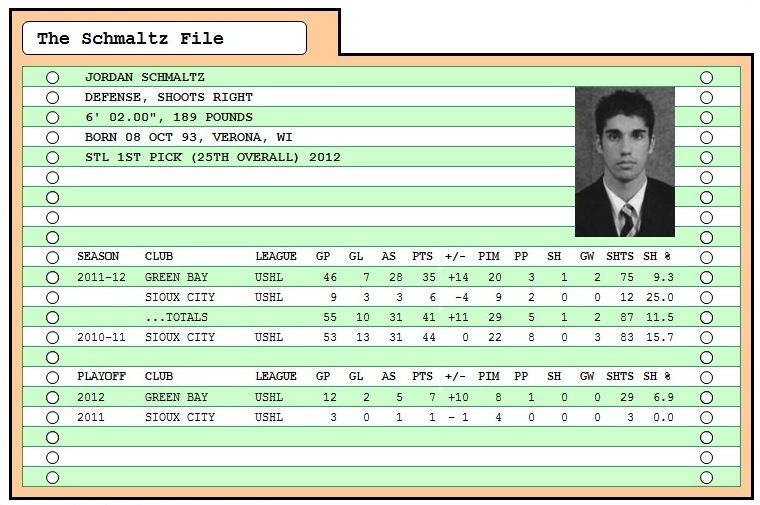 Schmaltz was ranked 34th in North America by the NHL's Central Scouting Service in their Final rankings, and also by "The Hockey News" in their 21012 Draft Preview. International Scouting Services, in their 2012 Entry Draft Guide, had the lanky blueliner ranked 45th overall, and compared his upside and potential to Phoenix Coyotes' defenseman Keith Yandle.
"The Hockey News" notes that Schmaltz, after leading all USHL defensemen in scoring in 2010-11 with the Sioux City (IA) Musketeers, is still a very productive defender on a much deeper team after being traded earlier this season to Clark Cup champion Green Bay, and that he is "using his power play acumen and smarts for weapons." Schmaltz excels at puck control -- a scout noted in "THN" that, at one viewing, Schmaltz "had the puck half the game." -- and, while he's not a particularly physical defenseman, Schmaltz "knows how to break up plays at the right time."
ISS rated Schmaltz as "Very Good" in the categories of Size/Strength, Skating, Puck Skills, Shot, Offensive Play and Hockey Sense. His Defensive Play and Competitiveness were both rated as "Good," with only his Physical Play rated "Below Average," as Schmaltz must still fill out his 6' 2 frame and learn to use his size against players who will be bigger and stronger than many of his USHL foes.
The ISS scouting report went on to note that Schmaltz' strengths are his excellent offensive instincts, his hard and accurate shot, and his skating and mobility. His physical play and assertiveness is cited as an area of Schmaltz' game which needs improvement, and the ISS scouts agree that Schmaltz has "poise, ability to move the puck, and (to) manage and control the game from a transition standpoint." His NHL upside is as a Top 4 offensive-minded defenseman, according to the staff at ISS.
Here's a package of video highlights for Schmaltz, courtesy of the USHL:
Schmaltz excels as a power play specialist. In 108 career USHL games, he has scored 23 goals and added 62 assists fior 85 total points, and half of those points have been scored on the power play. In his USHL career, Schmaltz has scored 13 times with the man advantage while chipping in 30 assists.