By Brian Weidler, "Game Time" Prospect Department
---
The NHL Draft, unlike similar events in the NFL and NBA, is designed first and foremost to build organizations for the medium- and long-term future, and not to fill immediate roster needs as the NFL and NBA Drafts do.
The St. Louis Blues have become one of the NHL's top organizations at using the draft to build for the future, and in this year's draft the Blues' braintrust once again stuck to the time-tested formula by using their first four selections on players who are bound for high-level university programs, and who are all in a range of two to four years out from making their pro debuts.
With their second pick in the 2012 Entry Draft, at 56th overall, the Blues selected a potential power forward from one of the better college prep programs in New England. Sam Kurker stands just a shade under 6' 2, tips the scales at 198 pounds, and has racked up 52 goals in 49 games over the last two seasons for St. John's Prep in suburban Boston.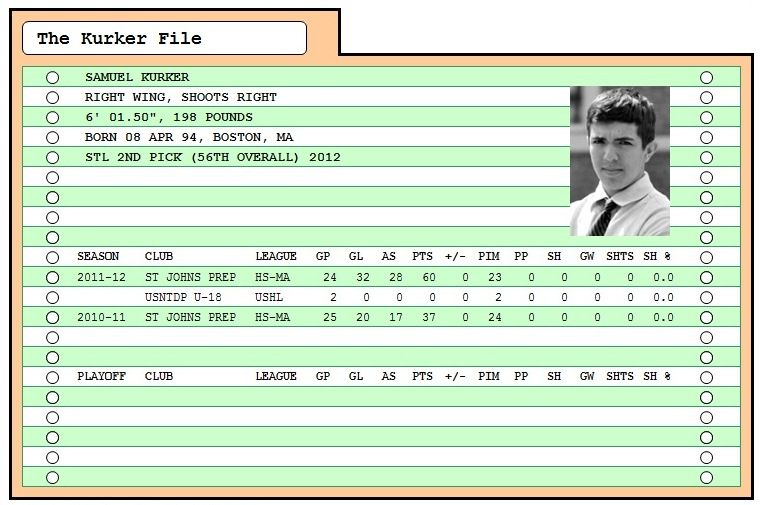 Kurker was ranked 36th in North America by the NHL's Central Scouting Service in their Final rankings (up from 41st overall at Midterm), but was not ranked by "The Hockey News" in their 2012 Draft Preview. International Scouting Services, in their 2012 Entry Draft Guide, had Kurker 90th overall; only first-round pick Jordan Schmaltz (45) and physical defenseman Nick Walters (86) were ranked higher among Blues' draftees by ISS.
The Hockey Writers.com website has a pretty comprehensive profile of Kurker posted HERE. In it, veteran New England hockey writer Steve Kendall notes that, while Kurker "is not close to NHL ready, he certainly has the potential – and the size and strength – that has teams thinking he could be a solid north-south style forward in the future."
The Boston-area native skated for Team USA at the Ivan Hlinka Tournament last fall, and caught the eye of scouts there even though he was held off the scoresheet. He then went on to tally 32 goals in 24 games for St. John's Prep this season, and capped off his year by committing to skate for legendary coach Jack Parker at Boston University. There are conflicting reports that Kurker will begin his BU career either this fall, or in 2013; he was also drafted 134th overall by the Indiana Ice of the USHL in the junior league's 2012 Entry Draft, so that route is open to Kurker should he make the decision to delay his college debut for a year.
College Hockey Prospective.com also has an in-depth profile posted for Kurker, and quotes his prep coach, Kris Hanson, as saying:
"I am confident that Sam's style of play will translate well to the pro game. Sam has the frame and ability to be an effective power forward at that level. It is exciting for Sam and St. John's Prep, that we may be looking at the second player in two years to be drafted out of our program. Sam knows there is much work to still be done, but he is up to the task."
ISS rated Kurker as "Very Good" in the Hockey Sense category, and "Good" in the categories of Size/Strength, Skating, Puck Skills, and Shot. Their scouting report on Kurker reads as follows:
Kurker is a player who has been consistently getting better. Good sized developing power forward with nice size and some jam to his game. As he gets stronger he will be able to execute better off his already very good instincts. He battles hard, supports well in his own end and works hard in both directions. He can still improve his skating, especially his acceleration and overall power, but has potential to provide very good depth and adapt to any role for a club.