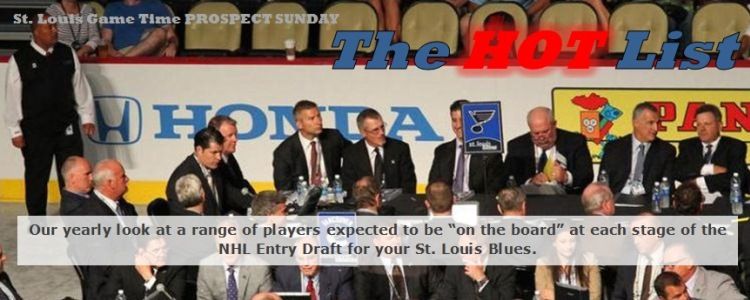 By Brian Weidler, "Game Time" Prospect Department
___________________________________________________________________________
DO YOU FEEL A DRAFT?
Your "Game Time" Prospect Department does, and this is by far the most interesting and exciting time of the NHL season for us here at Prospect HQ West.
As of today, the Blues have six selections in the upcoming NHL Entry Draft -- 47th overall (2nd round), 83rd overall (3rd round), 94th and 113th overall (4th round), 173rd overall (6th round) and 203rd overall (7th round).
The Blues have no first-round pick, having dealt that to Calgary in the Jay Bouwmeester package, and it's a longshot at this point that Doug Armstrong will attempt to acquire a first-rounder at the Draft in Newark next Sunday.
The Blues have used three picks in the last two drafts to select goaltenders, snagging Jordan Binnington at 88th overall and the recently-signed Niklas Lündström with the 132nd pick in the 2011 Draft, and selecting Quebecois Francois Tremblay at 147th overall in 2012. This year's goaltending crop is not considered to be as good as in recent years, but there is always a chance that the Blues will use a late pick to add a netminder to the prospect stable, so we will preview several goalies in today's "Hot List" as well.
Without further ado, then, your "Game Time" Prospect Department presents our view of the Blues 2013 Draft "Hot List." The column headed "CSS" indicates the player's rank in the NHL Central Scouting Final rankings, and the "ISS" column indicates the player's ranking by International Scouting Services.
___________________________________________________________________________
ROUND 2 (47TH OVERALL)
CSS
ISS
PLAYER
CLUB/LEAGUE
PS/SH
HT/WT
GP
GL
AS
PT
+-
PM
..
13 EUR
51 OVR
LINUS ARNESSON
DJURGARDEN JR (SWE)
D / L
6-02 / 190
13
1
3
4
+ 2
22
70 N/A
40 OVR
HUDSON FASCHING
USNTDP U-18 (USHL)
RW / R
6-02 / 214
65
11
25
36
+ 0
58
29 N/A
43 OVR
JOHN HAYDEN
USNTDP U-18 (USHL)
C / R
6-03 / 221
53
17
17
34
+ 0
80
25 N/A
47 OVR
MORGAN KLIMCHUK
REGINA (WHL)
LW / L
5-11 / 180
72
36
40
76
- 1
20
102 N/A
52 OVR
CARTER VERHAEGE
NIAGARA (OHL)
C / L
6-01 / 181
67
18
26
44
-12
22
16 EUR
50 OVR
LUKAS WALLMARK
SKELLEFTEA JR (SWE)
C / L
6-01 / 181
14
5
11
16
+ 5
18
ROUND 3 (83RD OVERALL)
CSS
ISS
PLAYER
CLUB/LEAGUE
PS/SH
HT/WT
GP
GL
AS
PT
+-
PM
..
14 EUR
76 OVR
VIKTOR CRUS RYDBERG
LINKOPING JR (SWE)
C / R
5-11 / 187
35
12
23
35
+10
24
12 EUR
81 OVR
MARKO DANO
SLOVAN BRATISLAVA (KHL)
C / L
5-11 / 183
37
3
4
7
- 4
26
75 N/A
77 OVR
ANTHONY FLORENTINO
SOUTH KENT SCHOOL (HS-CT)
D / R
6-00 / 209
62
21
32
53
+ 0
68
139 N/A
83 OVR
DOMINIK KUBALIK
SUDBURY (OHL)
LW / L
6-01 / 175
67
17
17
34
- 3
25
58 N/A
85 OVR
NICK MOUTREY
SAGINAW (OHL)
C-W / L
6-03 / 208
65
16
27
43
+ 2
44
21 EUR
88 OVR
RUSHAN RAFIKOV
YAROSLAVL JR (RUS)
D / L
6-01 / 185
53
1
9
10
+11
38
ROUND 4 (94TH AND 113TH OVERALL)
CSS
ISS
PLAYER
CLUB/LEAGUE
PS/SH
HT/WT
GP
GL
AS
PT
+-
PM
..
46 N/A
102 OVR
MYLES BELL
KELOWNA (WHL)
LW / R
6-00 / 210
69
38
55
93
+46
68
25 EUR
113 OVR
ANTON CEDERHOLM
ROGLE JR (SWE)
D / L
6-02 / 203
36
5
8
13
+27
64
49 N/A
94 OVR
MICHAEL DOWNING
DUBUQUE (USHL)
D / L
6-03 / 190
52
3
20
23
+16
107
181 N/A
127 OVR
CLINT LEWIS
USNTDP U-18 (USHL)
D / L
6-02 / 206
56
0
9
9
+ 0
29
83 N/A
91 OVR
J.C. LIPON
KAMLOOPS (WHL)
C / R
6-00 / 181
61
36
53
89
+34
115
85 N/A
143 OVR
ROBERTS LIPSBERGS
SEATTLE (WHL)
LW / L
5-11 / 195
64
30
28
58
-11
24
98 N/A
142 OVR
CONNOR RANKIN
TRI-CITY (WHL)
LW / L
6-00 / 195
71
32
26
58
+ 9
34
20 EUR
119 OVR
ANTON SLEPYSHEV
NOVOKUZNETSK / UFA (KHL)
LW / R
6-02 / 187
26
7
2
9
+ 2
4
42 N/A
93 OVR
ADAM TAMBELLINI
SOUTH SURREY (BCHL)
LW / L
6-02 / 170
52
36
29
65
+ 0
26
11 EUR
97 OVR
BOGDAN YAKIMOV
PENZA / IZHEVSK (VHL)
C / L
6-05 / 202
37
8
14
22
+12
16
ROUND 6 (173RD OVERALL)
CSS
ISS
PLAYER
CLUB/LEAGUE
PS/SH
HT/WT
GP
GL
AS
PT
+-
PM
..
160 N/A
162 OVR
ZACH GLEINKE
EAGAN HS (HS-MN)
LW / L
6-03 / 190
25
30
30
60
+ 0
19
79 N/A
153 OVR
JEREMY GREGOIRE
CHICOUTIMI / BAIE-COMEAU (QMJHL)
C / R
6-00 / 188
62
19
13
32
+ 9
100
180 N/A
154 OVR
HENRI IKKONEN
KINGSTON (OHL)
LW / L
6-00 / 183
61
22
29
51
+ 2
30
102 EUR
172 OVR
AMIL KRUPIC
ROGLE JR (SWE)
D / L
6-02 / 194
41
10
18
28
+10
28
66 N/A
179 OVR
TYLER LEWINGTON
MEDICINE HAT (WHL)
D / R
6-01 / 191
69
2
24
26
+14
131
118 NA
173 OVR
SERGEI TOLCHINSKY
SAULT STE MARIE (OHL)
LW / L
5-09 / 160
62
26
25
51
+8
12
ROUND 7 (203RD OVERALL)
CSS
ISS
PLAYER
CLUB/LEAGUE
PS/SH
HT/WT
GP
GL
AS
PT
+-
PM
..
100 N/A
200 OVR
GREG BETZOLD
PETERBOROUGH (OHL)
C-W / L
6-02 / 195
67
9
23
32
-11
32
N/R
185 OVR
ALEX GUDBRANSON
SAULT STE MARIE (OHL)
D / R
6-03 / 205
65
3
11
14
+ 0
62
158 N/A
192 OVR
ZACH HALL
BARRIE (OHL)
C / L
5-11 / 182
63
24
57
81
+ 9
38
178 N/A
182 OVR
WILLIE RASKOB
SHATTUCK ST MARY'S (MN-HS)
D / R
5-10 / 187
57
9
40
49
+ 0
28
42 EUR
181 OVR
TIMOTEJ SILLE
SKALICA JR (SVK)
RW / L
6-03 / 178
43
33
38
71
+37
10
N/R
186 OVR
FREDERIK TIFFELS
MUSKEGON (USHL)
LW / L
6-00 / 190
50
3
22
25
+13
10
GOALTENDERS
CSS
ISS
PLAYER
CLUB/LEAGUE
PS/CT
HT/WT
GP
MN
GA
AV
S%
SO
..
9 NAG
N/R
ANTOINE BIBEAU
PRICE EDWARD ISL (QMJHL)
G / L
6-02 / 210
46
2521
118
2.81
.911
5
4 EUG
N/R
MARCUS HOGBERG
LINKOPING JR (SWE)
G / L
6-03 / 196
23
1369
55
2.41
.917
2
23 NAG
N/R
EETU LAURIKAINEN
SWIFT CURRENT (WHL)
G / L
6-00 / 179
60
3507
140
2.40
.922
1
27 NAG
N/R
JACKSON WHISTLE
KELOWNA (WHL)
G / L
6-01 / 185
21
1166
38
1.96
.931
1