xyz
======================================================================
For this week's edition of "The '14 File," we're going to take a closer look at a few draft-eligible players with St. Louis roots.
As an added bonus, we'll check up on a couple of Finnish defensemen also eligible for this year's draft. As noted previously, the Blues have chosen a defenseman from Finland in each of the four drafts headed up by Team Armstrong (GM Doug and chief scout Bill) since 2010, and the chances are good that they will do so again this year.
Connor CHATHAM
RANKINGS
Position
Right Wing
Future Considerations
83
Shoots
Right
Hockey Prospect Black Book
77
Height
6' 02.00"
Int'l Scouting Services
54
Weight
224 lbs
CSS Prelim
OHL B
Born
Oct. 30, 1995
CSS Midterm
30 N Am
Where
Belleville, IL
CSS Final
46 N Am
SEASON
CLUB
GP
GL
AS
PT
+-
PM
PP
SH
GW
2013-14
Plymouth (OHL)
54
13
18
31
-17
51
2
0
1
Playoffs
Plymouth (OHL)
5
3
0
3
- 2
6
1
0
0
2012-13
Omaha (USHL)
63
18
17
35
-12
71
6
0
3
SCOUTING REPORT
International Scouting Services 2014 NHL Draft Guide
SKILL: Competitive two way winger who plays a mature game. SCOUTING REPORT: Chatham plays a solid steady game at both ends of the rink. He has good size and mass but is not an overly aggressive player. He is willing to mix it up at times and utilize his size to lean on opponents but it is not the center of his game. He is willing to stick up for teammates and engage physically when prompted to. He is a puck possession type player in the offensive zone who protects the puck very well. Chatham's pro future will be to provide a solid up-and-down game on the wing. He does not possess top level offensive skills but has the potential to score dirty goals at the next level as well as help out on the penalty kill. NHL POTENTIAL: Third line two-way power forward/penalty killer.
Blake CLARKE
RANKINGS
Position
Left Wing
Future Considerations
N/R
Shoots
Left
Hockey Prospect Black Book
N/R
Height
6' 01.25"
Int'l Scouting Services
125
Weight
199 lbs
CSS Prelim
OHL A
Born
Jan. 24, 1996
CSS Midterm
93 N Am
Where
Chesterfield, MO
CSS Final
134 N Am
SEASON
CLUB
GP
GL
AS
PT
+-
PM
PP
SH
GW
2013-14
Saginaw (OHL)
33
1
8
9
0
18
0
0
0
North Bay (OHL)
21
1
2
3
- 2
8
0
0
0
Playoffs
Saginaw (OHL)
2
1
0
1
- 1
0
0
0
0
2012-13
Brampton (OHL)
68
19
32
51
- 2
42
7
0
6
Playoffs
Brampton (OHL)
5
3
3
6
- 1
8
1
0
0
SCOUTING REPORT
Hockey Prospect.com 2014 NHL Draft "Black Book"
Going into this season after an extremely successful rookie campaign, Clarke had very high expectations placed upon him. However, what occurred this season could best be described as enigmatic. After scoring two goals in his first 5 games in the OHL last season, it took the entire season for Clarke to put up the same total this season ... Blake isn't an energetic, physically engaging player as he more relies on positional play in the offensive zone. He gets himself open for passes, and also distributes the puck moderately well, and will cycle the puck if there isn't an intelligent available lane. With that said he isn't much of a playmaker, and more so gets the puck to teammates who can make something happen rather than doing it himself ... Watching Clarke on the power play there is a real appreciation for his positional awareness. He continuously gets himself open, and available for passes. He plays a real 200-foot game, and works hard on the backcheck. Clarke was able to contribute on a consistent basis with his ability to force turnovers, and send the puck going the other way ... Blake is a tough player to predict because he has shown potential in both the offensive and defensive zone but his major decline in offensive contribution can't be ignored.
Drew VOGLER
RANKINGS
Position
Goaltender
Future Considerations
132
Catches
Left
Hockey Prospect Black Book
N/R
Height
6' 00.50"
Int'l Scouting Services
N/R
Weight
200 lbs
CSS Prelim
NAHL C
Born
Jul. 22, 1996
CSS Midterm
31 N/A G
Where
Florissant, MO
CSS Final
N/R
SEASON
CLUB
GP
MN
GA
SA
AV
REC
S%
SO
2013-14
Topeka (NAHL)
22
1202
46
481
2.30
10-9-2
.904
3
2012-13
Cleveland Barons U18 (T1EHL)
36
1903
94
1079
2.67
22-14-0
.913
3
SCOUTING REPORT
"Future Considerations" 2014 NHL Draft Guide
Steady and consistent, Vogler was one of the more impressive goaltenders seen this season with his ability to step in the nets and just play a solid game. He has average size, but uses what he has effectively in net. He positions soundly in goal, and covers his angles and his crease very well. He comes out aggressively to challenge shooters and does a good job staying strong in the net and holding his position well. Very balanced and strong on his skates, he moves around quickly to set up for shots. He is strong when moving laterally, making his body big and taking up the net. He has a strong push and gets post-to-post quickly. He has strong rebound control and is able to stop play by covering the puck. He swallows it in his chest, and tracks shots through traffic impressively. He has good hands, with a quick glove and mobile blocker. Vogler has a confident, poised way about him in net that seems to compose his team around him. His posture is strong and his awareness for the game is impressive. He plays the puck fairly well and communicates well with his defensemen. NHL POTENTIAL: Project Starting Goaltender. NOTE: Committed to Merrimack College (ECAC) for 2015-16 season.
As noted, the Blues seem to make a habit lately of selecting defensemen from Finland for the prospect stable, and this year's draft has a couple of pretty promising prospects from that country. Joni Tuulola, a 6' 2, 180-pounder who -- like famed composer Jean Sibelius -- hails from the southern resort town of Hämeenlinna, is an offensive-minded blueliner who spent most of the 2013-14 season with the HPK U-20 club in his hometown. In 47 games, Tuulola posted a respectable 8-16-24 scoring line (plus-15, 34 PM, 2 PPG, 1 SHG). He also had a two-game "cup of coffee" with the HPK Liiga club, during which he scored one goal and was a plus-2.
Tuulola was ranked 47th in Europe by NHL Central Scouting at Midterm, and rose to 41st for their Final rankings. "Future Considerations" ranks him 128th overall, while ISS has him at 93rd overall, noting that he is a "smart, effective two-way defender who does everything well (and) limits risks."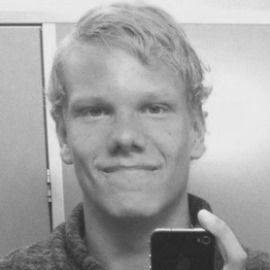 Tuulola's countryman Eetu Sopanen represents something of a contrast in styles. Sopanen missed a good chunk of the 2013-14 season due to an unspecified injury, but did managed three goals and nine points in 15 games (plus-3, 18 PM, 1 PPG) with Pelicans Lahti in the Nuorten SM-Liiga, Finland's top junior league. Sopanen's size -- 6' 5, 225 pounds -- is what makes him most attractive to NHL scouts, and he did manage to get into a game for the host Finns in the recent U-18 World Junior Championships, where he was held scoreless but managed a plus-1 in Finland's 6-1 win over Scandinavian rival Denmark.
Sopanen made an 11-point jump in the Central Scouting rankings, going from 42nd at Midterm to 31st in the Final rankings, but was not ranked by any of the three scouting services consulted by your GTPD this season.