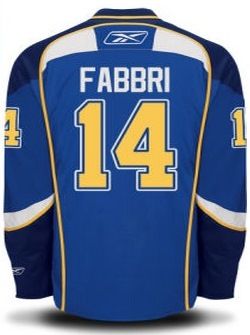 With the 21st pick in the 2014 NHL Entry Draft, the St. Louis Blues are pleased to select forward Robbie Fabbri of the Guelph Storm in the Ontario Hockey League.
The left-shooting native of Mississauga, Ontario is a smaller center (5' 10, 170 pounds) with excellent skating, puck skills, competitiveness and hockey sense. Fabbri's size and skillset -- he's a top-notch playmaker as well as a scorer, and is excellent on faceoffs -- are very reminiscent of former Blues' great Doug Gilmour.
Robbie FABBRI
RANKINGS
Position
Center
Future Considerations
15
Shoots
Left
Hockey Prospect Black Book
24
Height
5' 10.00"
Int'l Scouting Services
8
Weight
170 lbs
CSS Prelim
OHL B
Born
Jan. 22, 1996
CSS Midterm
25 N Am
Where
Mississauga, ON
CSS Final
21 N Am
SEASON
CLUB
GP
GL
AS
PT
+-
PM
PP
SH
GW
2013-14
Guelph (OHL)
58
45
42
87
+45
55
14
0
11
PLAYOFFS...
16
13
15
28
+16
12
6
1
2
2012-13
Guelph (OHL)
59
10
23
33
+13
38
0
0
0
PLAYOFFS...
5
0
1
1
- 1
4
0
0
0
SCOUTING REPORT
"Future Considerations" 2014 NHL Draft Guide
STRENGTHS: A small, but feisty, two-way goal scorer. Fabbri is extremely fast, and sees the ice very well. He anticipates plays and uses his small size to squeeze through holes or around opponents into open areas to give his teammates a passing option. He battles hard and is more than willing to grind it out in the corners and more often than not, comes away with the puck. He jumps on loose pucks and uses his speed to separate himself from opponents in a foot race. Fabbri has tremendous hand speed with the puck and has flashes of creativity, deking defenders one on one. He has the ability to get out of tight quarters under pressure and remain in control of the puck. At top speed, he maintains control of the puck and makes excellent passes. Plays with pace. Fabbri uses his limited size and shifty feet as an asset as he dodges checks to continue with the puck. He is not afraid a take a hit and accepts them regularly in order to make a play. He has tremendous vision and can see passing lanes across the ice through a swarm of legs and players' sticks. Fabbri makes hard and accurate passes. He plays his part well in the defensive zone and offers support to the defenders, often helping to lead the breakout. He is not bothered by pressure and shows a lot of patience with the puck. He is a high-possession player with a pass-first mentality, but will often unleash a hard shot when he has the chance. Fabbri has a nose to get to the net and great hockey sense, often recognizing opportunities before his linemates do. Once he has the puck, he is very strong and doesn't let it go. Fabbri is also decent at the dots winning most of his draws. He protects the puck extremely well using his strength and has the wiry upper body strength to extend his reach on the puck with one hand if need be. He is a shifty skater and has a ton of mobility. Add that to his overall speed and hockey sense, and Fabbri can change the pace and outcome of the game when he steps on the ice. WEAKNESSES: The biggest negative is the obvious size and strength issue Fabbri faces, not that it matters to him and how he plays the game. It does not matter if he is 5-foot-10 and 165 pounds soaking wet if he proves himself by scoring a goal a game at this level. Some NHL teams who value (or overvalue) size will not even look at this prospect until their second or third pick. It does not matter that he shows a feisty, never-give-up battle level in his game. His size scares these teams as just one hard, square check could knock him out of the game for good. Fabbri also shows a bit of an undisciplined side that will hopefully improve with time and maturity. He has laid some borderline dirty hits and made some questionable decisions that have cost him and his team on the ice. On a few occasions during games, he gets caught cheating his way out of the zone, which can cost him at higher levels of play. SCOUTS QUOTE: "Fabbri is a goal scorer. He has all the skills and talent to be a dynamic scorer at the NHL level. He shows a quick release with accurate results. He doesn't need a lot of space to find the back of the net. He is also one of the fastest players in this draft class." NHL POTENTIAL: Top-Six Goal-Scoring Forward.
SCOUTING REPORT
"Hockey Prospect" 2014 NHL Draft Black Book
Fabbri is an elite offensive center from the Guelph Storm. He is constantly displaying a high level of offensive instincts, providing a threat to score whenever he is on the ice. Robby was an offensive dynamo this season, falling just short of 50 goals after having to sit out a 10 game suspension mid-way through the season ... Although he scored a lot of highlight reel goals, he was also a very effective playmaker putting up similar assist numbers as well. He showed great chemistry with Kerby Rychel and Zach Mitchell centering one of the top offensive lines in the league. Robby is also strong in the faceoff circle taking numerous key draws late in games of all situations ... One underrated aspect of his game is his skating ability, he is deceptively fast and shows good burst entering the offensive zone allowing him to beat defenders wide or up the middle depending on the situation. He has one of the best sets of hands in tight in the draft class this season leaving both opponents and teammates in awe on numerous occasions ... Fabbri is also lethal on the power play utilizing a heavy shot with a quick release coming down off the high wall or finding teammates back door ... While his offensive accolades jump off the page he is also a very reliable defender and is constantly helping out down low in the defensive zone and picking up forwards in key scoring positions. He is very good at not playing where the puck is instead playing where it is going to be which allows him to find holes and openings in all areas of the ice ... Although considered to be undersized for the center role at the National League level, Fabbri consistently plays much larger than he is, initiating contact all over the ice including a number of big body checks one of which resulted in the aforementioned suspension. Fabbri also shows a very high compete level and a willingness to play through injury. He does have a tendency to put himself into tough areas of the ice where opponents are able to finish him with big checks but he works hard to get up every time and shows no fear taking a hit to make a play for his teammates but will have to work on this in order to stay healthy at the next level ... Fabbri is such a clutch big game player and one whom the Storm would lean on to get the offence rolling or to make a play on many key goals throughout the season. He had an exceptional playoff run in the Ontario Hockey League capped off by winning the Wayne Gretzky trophy as MVP of the playoffs ... Robby continues to improve each season and has proved doubters wrong at each level he has reached. He is expected to be a first round pick this year. He needs to work at putting weight onto his frame this offseason in order to be better prepared for the next level... QUOTABLE: "Not a huge kid but he did get slightly bigger and he did everything in his power this season to play himself into being selected in the first round." – Mark Edwards, Director of Scouting, HockeyProspect.com
SCOUTING REPORT
International Scouting Services 2014 NHL Draft Guide
Size/Strength
Below Average
Strengths
Skating
Excellent
1. Skating.
Puck Skills
Excellent
2. Compete level.
Shot
Very Good
3. Shot release.
Offensive Play
Very Good
Weaknesses
Defensive Play
Very Good
1. Size.
Physical Play
Good
2. Keeping composure.
Competitiveness
Excellent
Hockey Sense
Excellent
SKILL: High pace forward who is dangerous attacking with the puck. SCOUTING REPORT: Fabbri has played his way into first round territory after starting off being ranked in the mid- second round area. Fabbri has shown ISS scouts all season long a strong trend up in his development and confidence. A deep playoff run in the OHL playoffs as well as playing with high caliber players in Guelph gives him valuable experience. After scoring 45 goals in the regular season, Fabbri has shown consistent production on the score sheet. What separates him from other smaller skilled players is his compete level and pace of play. He is usually the first one on the puck and works in all three zones. He needs to keep his composure better at times but ISS scouts love the edge he shows. NHL POTENTIAL: Top 6 forward and offensive contributor. STYLE COMPARES TO: Doug Gilmour.