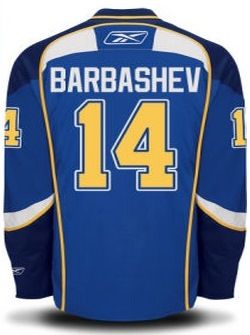 With the 33rd pick in the 2014 NHL Entry Draft, the St. Louis Blues are pleased to select forward Ivan Barbashev of the Moncton Wildcats in the Quebec Major Junior Hockey League.
The 6' 1, 185-pound native of Moscow is a skilled, hard-working player. According to Chris Mooring, Chief Maritimes Scout for International Scouting Services, Barbashev "plays a pro-style game" with "a great combination of hockey sense and (a) power game. He wants to make a difference on every shift."
Ivan BARBASHEV
RANKINGS
Position
Center/Left Wing
Future Considerations
16
Shoots
Left
Hockey Prospect Black Book
13
Height
6' 01.00"
Int'l Scouting Services
19
Weight
185 lbs
CSS Prelim
QMJHL A
Born
Dec. 14, 1995
CSS Midterm
12 N Am
Where
Moscow, Russia
CSS Final
18 N Am
SEASON
CLUB
GP
GL
AS
PT
+-
PM
PP
SH
GW
2013-14
Moncton (QMJHL)
48
25
43
68
-11
27
9
1
4
PLAYOFFS ...
6
4
6
10
+ 2
8
1
0
1
Russia (WJC U-20)
7
1
1
2
+ 1
0
0
0
0
2012-13
Moncton (QMJHL)
68
18
44
62
+ 9
36
2
0
3
PLAYOFFS ...
5
1
2
3
- 3
0
0
0
0
Russia (WJC U-18)
7
3
6
9
+ 7
4
1
0
1
SCOUTING REPORT
"Future Considerations" 2014 NHL Draft Guide
STRENGTHS: Barbashev is a very intriguing prospect who displays a very complete offensive game, combining size with skill and intelligence to make him a threat each time he has possession of the puck in the offensive zone. He is also a responsible defensive player whose compete level is very high ... Barbashev moves very well on the ice, especially for someone of his size and strength. His stride is very effective and he does seem to have a fairly speedy top gear once he gets moving. His balance is impressive and combined with his size, he is difficult to separate from the puck when in possession ... Barbashev shows excellent poise with the puck. Patience combined with confidence makes him a threat to be dangerous with the puck in the offensive zone. He does not frequently use difficult moves and dekes, but rather uses his reach and body positioning to make it difficult for defenders trying to get the puck from him ... He has excellent pass-receiving abilities both on his forehand and backhand, and displays a soft touch while handling the puck. Barbashev likes to get the puck on net and see where things go from there, an instinct that should transition well to higher levels of play. Multiple times a game, he throws it on net from unlikely angles in the hopes of generating rebounds in traffic. Good instincts and hockey sense. His wrist shot has a quick release, strong accuracy and solid power behind it ... He has a solid frame and good balance on his skates. He isn't a big hitter by any means, but he does very well on the physical side of the game. Finishes his checks well. He is not afraid to engage in physical play whatsoever and often benefits when the game is more physical due to his preferred style. He is able to use his size very efficiently to protect the puck ... A smart player who rarely makes a bad pass, Barbashev's passes are often on the tape with good velocity, and he can move the puck very quickly upon receiving it. Barbashev is a very team-oriented player. He is relied upon in all situations and shows excellent work ethic each time he is on the ice. He plays well in all three zones and is capable of playing whatever style of play the game requires. WEAKNESSES: Barbashev isn't the most electrifying player and will not get you out of your seat with flashy moves or plays that often, but where he lacks elite-level offensive skills, he makes up for in his versatility and often with his drive. Acceleration is not a damning weakness per se, but it is definitely something he will need to continue to work on in order to keep up in the professional game. With added strength, his first few steps will get more powerful and quicker ... Like most kids his age, he also suffers bouts of inconsistent play and lacking effort away from the puck. With that said, when he is on his game, there are few better scrappy, two-way prospects in this draft. He can cross the line of aggressive and dirty with some of his physical play and gets himself and his team into trouble. SCOUTS QUOTE: "Barbashev's shot has a pro-caliber release. This is as scrappy a Russian as I've seen in the Q, more than Zykov. He would be pushing back and forth, challenging the league's tough guys. This guy has no fear and plays like a WHL checker trying to stay out of the press box." NHL POTENTIAL: Top-Six Two-Way Center.
SCOUTING REPORT
"Hockey Prospect" 2014 NHL Draft Black Book
The top pick in the 2012 CHL Import Draft, Barbashev really exploded in his second year with the Moncton Wildcats. He registered 68 points in only 48 games on a team where he was clearly identified as their main offensive weapon. He has a complete package of speed, skills and physical abilities. He is able to carry the puck effectively into the offensive zone quite easily. He's a strong skater with a low center of gravity, explosive enough to get past defenders who get caught flat-footed. It's really tough to get the puck out of his stick as he protects his puck pretty well and he can drive the net hard. His strength is great, which gives him solid balance on his skates ... He will find soft areas quickly and always keeps his feet moving in the offensive zone. The Moncton Wildcats' product is not exceptionally dynamic, but he can get to that extra gear very quickly. He has the ability to create plays from the hash marks and he proved to us that he can be an effective in the cycle game. When he was able to control the puck down low, which happened quite often this year, his great vision provided multiple scoring opportunities for his teammates. In that regard, we see him more as a playmaker than as a pure finisher, although he has a quick release on his deadly wrist shot off the rush. Barbashev has also displayed his great offensive hockey sense, reading and reacting well to find open ice or to create plays. His quick hands allow him to create room for himself in the offensive zone. On top of that, he is not afraid to get his nose dirty in the traffic in order to deflect pucks or to crash the opposing net ... One of the biggest things that we really liked about his game is the fact that he is a complete player. He was often the first man back in his zone and we liked his hustle in both ends of the ice. He covers the point effectively when he needs to and he's willing to support his defensemen down low. Overall, he is quite reliable in his own end. Although he will not be labelled as a grinder, he finishes his checks on a regular basis. We noticed that when he gets involved physically, his overall game is better. Barbashev can simplify the skills and speed game to a chippy North-South game and be as effective. He was outstanding in the QMJHL playoffs where he registered 10 points in six games facing a strong Blainville-Boisbriand Armada team. He took his game to another level. Our scouts saw him on multiple occasions this season and all agreed that Barbashev is hard-working and will rarely take a night off. We feel his high-end attributes and attitude on the ice make him a first round talent for the 2014 NHL Draft ... QUOTABLE: "He doesn't play like your average player from Russia." -- NHL Scout ... QUOTABLE: "We are careful drafting Russians but in Barbashev's case we would probably be a lot quicker to pull the trigger on draft day." -- NHL Scout
SCOUTING REPORT
International Scouting Services 2014 NHL Draft Guide
Size/Strength
Good
Strengths
Skating
Very Good
1. Good hands around the net.
Puck Skills
Good
2. Puck protection.
Shot
Very Good
3. Work ethic.
Offensive Play
Very Good
Weaknesses
Defensive Play
Good
1. Creativity.
Physical Play
Very Good
2. Acceleration and quickness.
Competitiveness
Excellent
Hockey Sense
Very Good
SKILL: A hard-working two-way player who makes his entire team better every shift he skates. SCOUTING REPORT: Basbashev is not your typical Russian; he plays a NA style power game. Strong on the puck, high compete level, great 200' game, very good hockey sense, great hands, especially around the net, and is always engaging opponents in battles. He was a leader on the ice for the Moncton Wildcats and finished second in team scoring. He played in all situations, including point on the PP, but where he dominates is along the wall and in front of the net. He showed instant chemistry with fellow Russian and late addition to the Wildcats, Vladimir Tkachev. He played a bottom six role for Team Russian at the U20 World Juniors, his play was solid yet unspectacular, but his compete level was there every shift. NHL POTENTIAL: Top 6 forward, leader on the ice. Perfect second line center. STYLE COMPARES TO: Brayden Schenn.